Centeno '19 Honored in Iowa for Undergraduate Environmental Research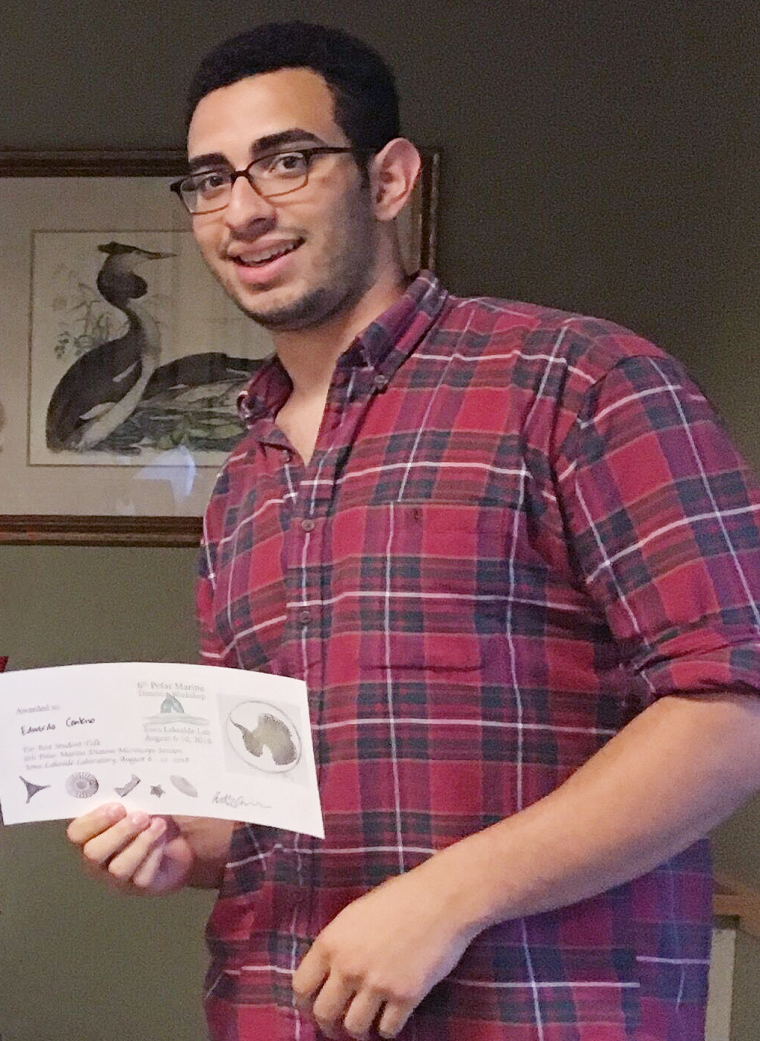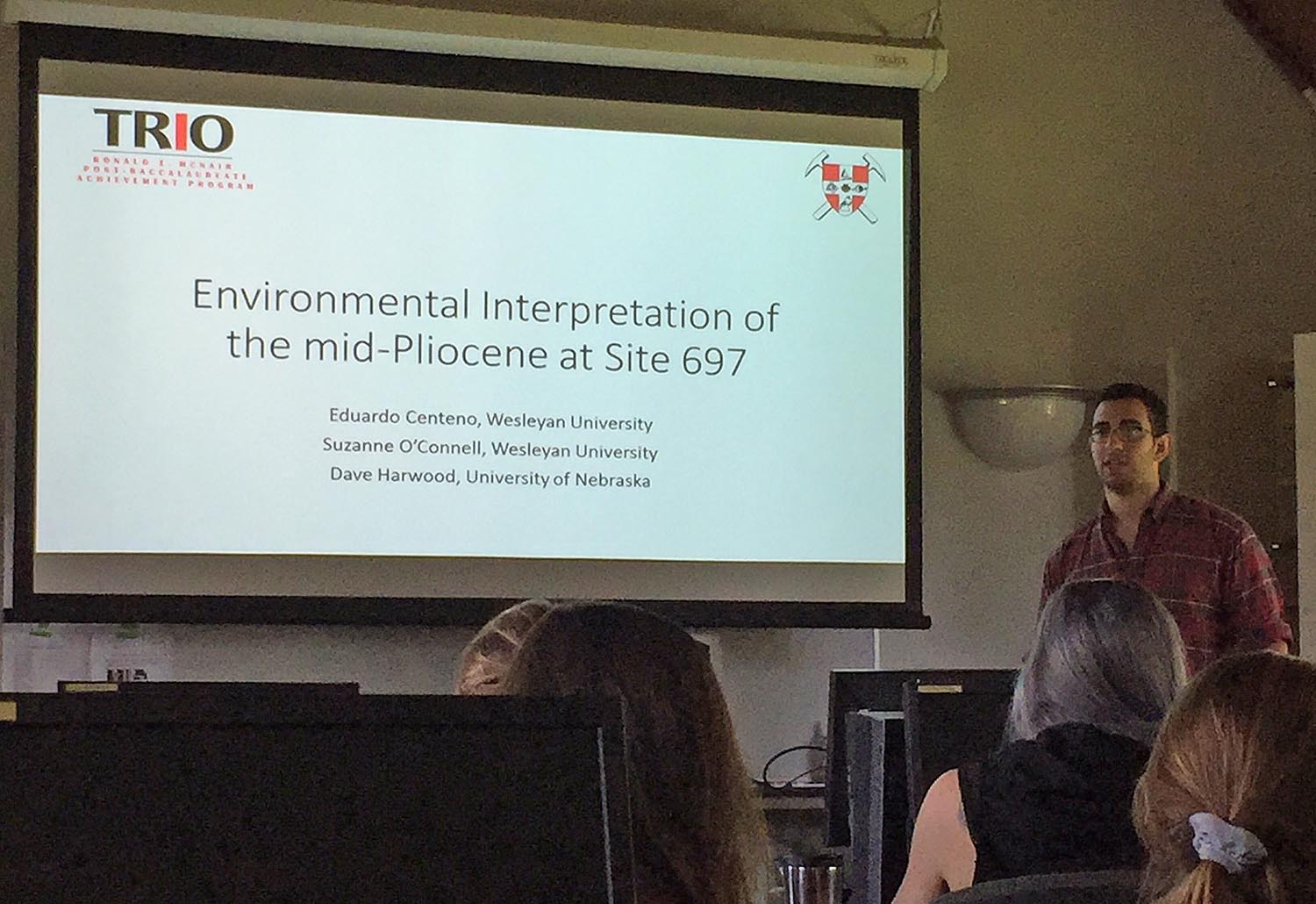 Wesleyan earth and environmental sciences major Eduardo Centeno '19 was honored for presenting the "best undergraduate talk" at the 6th Polar Marine Diatom Workshop (PMDW), held Aug. 6–10 at Iowa State University. The honor also earned him a featured appearance on Iowa Public Radio.
Centeno, a McNair Scholar, discussed his research titled "Environmental Interpretation of the mid-Pliocene at Site 697." For this study, Centeno examined the diatoms (fossils of algae) off of the coast of the Antarctic Peninsula using a marine sediment core drilled at a location known as Site 697.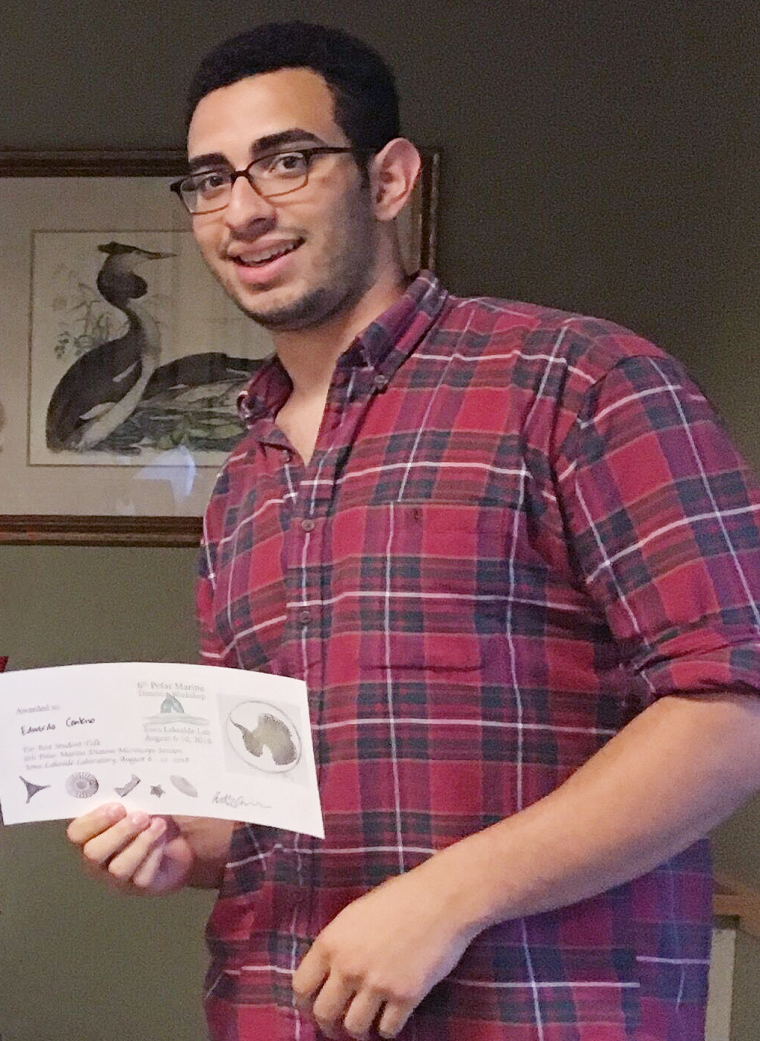 "Diatoms are really important microscopic plants that have been estimated to produce about 20 to 40 percent of the world's oxygen," Centeno explained. "They grow pretty much anywhere light and water are present and they're great tools for geoscientists to explore climate change in the past because they are really sensitive to environmental conditions."
As the climate changes over time, so does the diverse diatom record. For his project, Centeno is investigating an important change in the diatom record ~3.5 million years ago that was immediately followed by a global glaciation event.
"My evidence shows that during these events, when Earth had a similar CO2 concentration to the present and was only 2–3˚C warmer, Site 697 had a lot less ice than is seen today," he said. "It's amazing that Antarctica looked so different during a time period that scientists are using as an analog for the changes we might encounter in the coming century."
Centeno will continue working on this research with his advisor, Suzanne O'Connell, professor of earth and environmental sciences. After graduating, he plans to continue diatom research in a PhD program.
The Polar Marine Diatom Workshop integrates highly experienced senior-level, mid-career, and early career scientists with graduate and undergraduate students in order to pass on the finer aspects of taxonomy. Participants discussed diatom assemblages from a wide range of environmental settings, including sea ice and marginal ice zones, open ocean waters, upwelling zones, benthic marine habitats and nonmarine communities, all focused on Arctic and Antarctic settings.
"The workshop was amazing. I've been to multiple conferences, but there were very few people doing similar research," he said. "The PMDW gave me an opportunity to collaborate and interact with professors and graduate and undergraduate students from all over the world who do the same exact research I have been doing. This very niche research community was extremely welcoming and accepting, so I'm excited to continue working with diatoms."