SHOFCO Recipient of Hilton Humanitarian Prize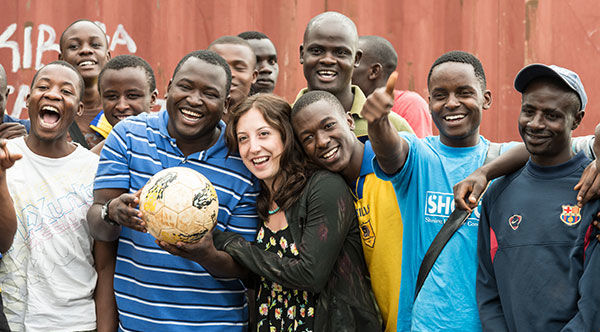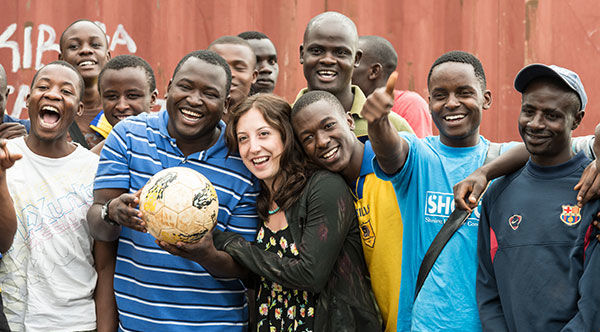 Shining Hope for Communities (SHOFCO), a grassroots nonprofit organization directed by Kennedy Odede '12 and Jessica Posner '09, has been awarded the 2018 Conrad N. Hilton Foundation's Hilton Humanitarian Prize. Selected by a distinguished panel of independent international jurors, SHOFCO will receive $2 million in unrestricted funding, joining 22 other notable organizations that have received the Hilton Humanitarian Prize over the last two decades.
Based in Kibera—one of the largest slums in Africa—SHOFCO was founded by Odede as a teenager in 2004 with 20 cents and a soccer ball. The organization describes its mission as catalyzing large-scale transformation in urban slums by providing community-wide critical services and advocacy platforms, as well as education and leadership development specifically for women and girls. In 2007, Odede met fellow Wesleyan student Posner, who was studying abroad. Together they devised the model that SHOFCO utilizes today.
While growing up in Kibera, Odede saw firsthand the devastating consequences of living in urban informal settlements, known locally as slums. However, instead of thinking about how to escape his environment, he saw the potential to transform his community by working side-by-side with his neighbors within the slum. SHOFCO's programs, which include health care, education, and economic empowerment for women and girls, and sustainable delivery of clean water through a cutting-edge aerial piping system, are always demand-driven and community-led. Through these programs, SHOFCO strives to create sustainable, systemic change within urban slums. What began as a grassroots movement in 2004 has since ignited transformation and hope for more than 220,000 people across six Kenyan slums.
"The jury's selection of SHOFCO to receive the 2018 Hilton Humanitarian Prize really speaks to the power of local actors, and signals a nod to the next generation of humanitarian and development leaders," said Hilton Foundation President and CEO Peter Laugharn in a press release. "SHOFCO is a remarkable example of citizen-led change, created by people living in very challenging conditions. As Africa and the world urbanize and more informal settlements are created, SHOFCO provides an inspiring example of local creativity and solutions."
"We are thrilled and honored to receive the 2018 Hilton Humanitarian Prize," Odede said in a press release. "We will use this tremendous opportunity to start an endowment to ensure the long-term financial health and sustainable growth of our work. This will allow SHOFCO to remain driven by community needs and leadership, not donor demands, now and in the future. The endowment will strengthen our work in partnership with community leaders and help us expand our investments to transform urban slums."
In his Aug. 22 "Roth on Wesleyan" blog, Wesleyan President Michael Roth '78 said he "remembers vividly when Kennedy, Jessica, and a group of their Wesleyan friends came to my office to describe the women's health clinic they were opening to complement the school for girls they had started in Kibera, Kenya."
"Kibera is Kennedy's home, and it was there that he and Jessica met when she was studying abroad," Roth wrote. "Kennedy enrolled at Wesleyan and the two had long had the intention of returning to Kibera to help future generations of Kenyans receive a quality education and have access to health care. Many of us at Wesleyan have been involved with SHOFCO and are deeply moved by this recognition from the Hilton Foundation, which will further strengthen this great organization."
SHOFCO will be honored at the Hilton Humanitarian Symposium and Prize Ceremony Oct. 19 in Los Angeles. Read more about Odede in this Aug. 29 NPR article.