Wesleyan Welcomes 71 New Faculty in 2018-19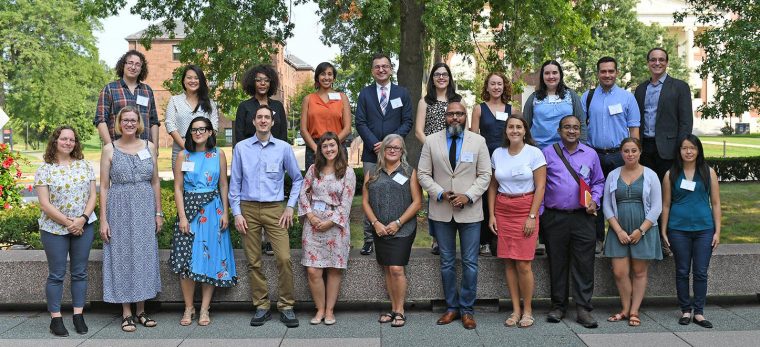 This fall, Wesleyan welcomes 71 new faculty, including 15 tenure-track faculty, 10 professors of the practice, 1 adjunct, and 45 new visiting faculty.
"Academic Affairs, in conjunction with a number of departments and centers, ran successful searches for a number of new professor of the practice positions this year in order to expand the curriculum in particular areas such as writing, education studies, physics, and others, where these faculty could be of great value," explained Joyce Jacobsen, provost and senior vice president for academic affairs.
Bios of the new ongoing and full-time visiting faculty are below:
Anthropology
Joseph Weiss, assistant professor of anthropology, received his BA from the University of British Columbia, and his MA and PhD in anthropology from the University of Chicago. He comes to Wesleyan from a position as curator of western ethnology at the Canadian Museum of History. Weiss is a sociocultural and political anthropologist whose scholarship explores intersections between indigenous sovereignty, time, and ecology. He has conducted fieldwork with the Haida community of Old Massett, in Western Canada, since 2010. His first book, Shaping the Future on Haida Gwaii: Life Beyond Settler Colonialism (University of British Columbia Press), refutes settler colonial ideas of indigenous people as futureless by foregrounding Haida self-determination in reckoning with pressing political, social, and environmental change. Weiss is currently working on two projects: the first an oral history of the relationships between the Haida community and the Canadian Forces Station Masset, a naval radio base on Haida territory (1943–97); the second an ethnographic project tracing the category "Indigeneity" and its ecological imaginaries at the United Nations. His research has been funded by the Wenner-Gren Foundation and the American Philosophical Society, among others, and he has collaborated with the University of Chicago and the Field Museum of Natural History on a project examining relationships between indigenous people and museums. Weiss's teaching interests include global indigeneity, temporality, ecological politics, ethnographic methods, anthropological theory, research ethics, and museum anthropology. This semester, he is teaching The Anthropology of Time and Toxic Sovereignties: Life after Environmental Collapse.
Art and Art History
Talia Andrei, assistant professor of art history,  is a specialist in medieval and early modern Japanese painting. She received her BA from Rutgers University (2003), and both her MA (2005) and PhD (2016) from Columbia University. In between finishing her MA and starting her PhD, she undertook two years of intensive Japanese language study in Japan, and then another three years working as a specialist in Japanese art at Bonham's auction house in New York. Her dissertation focused on a genre of painting known as sankei mandara or "pilgrimage mandalas," which are portable representations of Shinto and Buddhist sacred sites, carried around the country for use in fundraising. Her work is intensely interdisciplinary, lying as it does at the intersection of art history, cartography, history of religions, and social and economic history. Her publications include "Sankei Mandara: Layered Maps to Sacred Places," which appeared in a special issue of Cross Currents: East Asian History and Culture Review devoted to cartography and culture in pre-modern East Asia (2017); "Ise Sankei Mandara and the Art of Fundraising in Medieval Japan" in Art Bulletin (2018); and "Kanjin to chū-kinsei Nihon no zōkei: Kiyomizudera to Ise sankei mandara no kenkyū" (Temple Solicitation and the Making of Medieval-Modern Japan–A Study of Kiyomizudera sankei mandara and Ise sankei mandara)" in the journal Kokka (2018). She has already charted out two new projects, one tracing the transformative effect of inexpensive illustrated guidebooks and the spread of literacy on pilgrimage practices in the Edo period, and another project on "star mandalas" (hoshi mandara), a hitherto unstudied genre of astrological/cosmological painting. Andrei was awarded a two-year Mary Griggs Burke Postdoctoral Teaching Fellowship at Columbia (2016–18); at Wesleyan, she will teach courses on the full range of East Asian art history.
Alexander Osborn '06, visiting assistant professor of art, is from Brookline, Mass. He studied printmaking at Wesleyan and received his MFA from Mason Gross School of the Arts at Rutgers University. He has held residencies at Vermont Studio Center; Epicenter in Green River, Utah; and the Robert Blackburn Printmaking Workshop. He has worked in numerous print shops including the Brodsky Center and Bowne & Co. Stationers in New York's South Street Seaport, where he led recovery efforts after Hurricane Sandy and managed custom printing and merchandise production. As an instructor, Osborn has taught letterpress, book arts, and graphic design courses at Mason Gross School of the Arts. He has served as a guest lecturer in art courses at Smith College, Pratt Institute, and Columbia University. In 2018 he cofounded The Press, a printing concern based in Sunset Park, Brooklyn, that specializes in artist publications.
Astronomy
Roy Kilgard, associate professor of the practice in astronomy, earned his PhD in physics from the University of Leicester in a program that involved alternating semesters between England and the Harvard-Smithsonian Center for Astrophysics in Cambridge, Mass. After a postdoc at the Center for Astrophysics, Kilgard joined Wesleyan's Astronomy Department in 2007. He has had a half-dozen job titles in the intervening years before his appointment as associate professor of the practice this year. His research background is in high-energy astrophysics with an emphasis on stellar black hole formation and evolution. Other research interests include supermassive black hole evolution, astrostatistics, and history of astronomy. Kilgard also is a popular guest at science fiction conventions, where he speaks on the intersection of science and popular culture.
Center for the Americas
Kasey Jernigan, the Andrew W. Mellon Postdoctoral Fellow in Native American Studies (American Studies), received her PhD in anthropology, with a graduate certificate in Native American Indian studies, in June 2018 from the University of Massachusetts, Amherst. She earned her MPH in epidemiology from the University of Oklahoma Health Sciences Center and completed the National Institutes of Health Native Researchers' Certificate Program at Oregon Health and Sciences University. Her dissertation research, "Obesity, Cultural Identity, and Food Distribution Programs in the Choctaw Nation of Oklahoma," examines the linkages between obesity, cultural identity, and food distribution programs among tribal communities in Oklahoma. Her research has been funded by the Ford Foundation, the Wenner-Gren Foundation, the USDA's Economic Research Service RIDGE Center for Targeted Studies at Purdue University, and the Northwest Native American Research Center for Health.
Andrew Walker, the Andrew W. Mellon Postdoctoral Fellow in Caribbean Studies (Latin American Studies) received a PhD in history from the University of Michigan in 2018 and a BA in French studies and history from Duke University in 2011. His current manuscript project, entitled "Strains of Unity," explores the abolition of slavery and the formation of the Haitian state in Santo Domingo (today the Dominican Republic) during the 1822–44 Unification of Hispaniola. His second project follows a remarkable 1816 case brought by the Admiralty Court of Haiti against a U.S. warship-turned-Cuban-slaving-brig, whose American crew had sailed for Port-au-Prince after staging a mutiny off the coast of Cape Verde. In addition, Walker is working on two ongoing collaborative projects with interdisciplinary teams of researchers. The first focuses on the origins of three creole languages. The second explores the illegal enslavement and forced introduction into the United States of people who had long lived as free in the wake of the Haitian Revolution. Walker's research in Dominican, Haitian, Spanish, French, British, and U.S. archives has been supported by the Fulbright Association, the Eisenberg Institute for Historical Studies, and the Race, Law, and History Program at the University of Michigan Law School.
Center for the Humanities
Catherine Damman, an Andrew W. Mellon Postdoctoral Fellow, researches the sometimes-generative, sometimes-eruptive relationship between performance and the history of art over the course of the 20th century, spanning diverse practices such as experimental dance, theater, film, and music. Damman received her PhD in art history from Columbia University in 2018, and her doctoral research was supported by the Chester Dale Fellowship at the Center for Advanced Study in the Visual Arts (CASVA) at the National Gallery of Art, Washington, D.C. She is at work on a manuscript that reexamines the formation of "performance" in American discourses—both artistic and academic—in the 1970s. An article on the co-constitutive role of expressive dance and sound poetry for Zurich Dada artists can be found in The Germanic Review. Her critical writing on performance and contemporary art appears in Artforum, Bookforum, Art in America, Art Journal, and Women & Performance, as well as in commissioned texts for the Walker Art Center, the Institute of Contemporary Art London, and MoMA PS1.
Heather Vermeulen, an Andrew W. Mellon Postdoctoral Fellow, received her PhD in African American studies and American studies, with a certificate in women's, gender & sexuality studies, from Yale University in 2017. Her current research relates 18th- and 19th-century archival documents from British colonial Jamaica to literature and arts of the African diaspora, with a focus on slavery, ecology, and queer kinship. Vermeulen's article "Thomas Thistlewood's Libidinal Linnaean Project: Slavery, Ecology, and Knowledge Production" appeared in the March 2018 issue of Small Axe. "Mortal Coils and Hair-Raising Revolutions: Styling 'Race' in the Age of Enlightenment" is forthcoming in A Cultural History of Hair in the Age of Enlightenment, 1650–1800 (Bloomsbury), edited by Joseph Roach and Margaret Powell. She was lead curator and catalog author for the exhibition Prospects of Empire: Slavery and Ecology in Eighteenth-Century Atlantic Britain at the Lewis Walpole Library (Nov. 17, 2014–May 1, 2015). She is currently at work on a book project tentatively titled Queer Kin-aesthetics and the Plantation Grotesque, as well as articles on artists Ellen Gallagher, Wangechi Mutu, and Torkwase Dyson. Vermeulen has received fellowships and awards from Yale University's Beinecke Rare Book & Manuscript Library, MacMillan Center for International & Area Studies, Gilder Lehrman Center for the Study of Slavery, Resistance, & Abolition, Lewis Walpole Library, and Fund for Lesbian & Gay Studies.
Center for Pedagogical Innovation
Amy Grillo, associate professor of the practice in education studies, holds a BA in education studies and studio art from Brown University, a master's in counseling and consulting psychology and a doctorate in education from the Harvard Graduate School of Education. She has taught students at every level, from preschool through doctoral, has been a dean at Marlboro College and, for the past 20 years, has taught undergraduate and graduate courses in education and psychology at Antioch New England Graduate School, Vermont College, Hampshire College, and Mount Holyoke College. Grillo has also done educational research for Children's Television Workshop and consulted with school districts on gender equity. Grillo is currently engaged in qualitative research on self-directed learning as well as action research on prison-based education that puts students in charge of designing their own educational pathways. She works with nonprofit and activist groups aimed at elevating the teaching profession and preserving public education in the United States using film and digital media for grassroots networking, and is currently consulting on a multistate legislative strategy to try to return governance of the teaching profession to teachers. At Wesleyan, Grillo will be teaching courses in education studies and working with the Center for Pedagogical Innovation.
Chemistry
René Buell, postdoctoral fellow in chemistry, received her master's degree in chemistry from Indiana University for research on developing novel redox non-innocent ligands for small molecule activation under the guidance of Professor Kenneth Caulton. She earned her PhD in chemistry, with a focus on chemistry education, at the University of New Hampshire. Working with Professor Samuel Pazicni, Buell investigated the role of reading comprehension and prior knowledge on learning chemistry concepts through reading. She also examined the epistemological beliefs held by general chemistry students, with the goal of understanding the factors that influence the growth in sophistication of their beliefs about knowledge and learning in the college environment. At Wesleyan, Buell will be developing project-based laboratory activities for the general chemistry lab classes, with an emphasis on utilizing the scientific method in a research context and on creative thinking.
Chun Ho (Jason) Lam, visiting assistant professor of chemistry, completed his PhD in the Department of Chemistry at Michigan State University, where he worked on electrochemical conversion of biomass to liquid fuels. He then moved to the Center for Green Chemistry and Green Engineering at Yale University for a postdoctoral appointment. As a postdoctoral fellow, he developed a protocol to convert crude glycerol from biodiesel refineries into lactic acid, a building block for biodegradable plastics. Outside of the laboratory, Lam has also taught an online certificate program on the practice of green chemistry to post-baccalaureate professionals in the University of Washington's Continuing Education Programs. At Wesleyan, Lam will be teaching laboratory courses in general and organic chemistry, as well as contributing to the restructuring of the chemistry lab curriculum.
Alison O'Neil, assistant professor of chemistry, received her BS while doing proteomics research with Professor Anna Tan-Wilson at Binghamton University. She then went on to join the Research and Development Team at LigoCyte Pharmaceuticals (now Takeda Vaccine) working on a vaccine for Norovirus. She then joined the chemistry and biochemistry department at Montana State University and earned her PhD under Professor Trevor Douglas. O'Neil's private sector and graduate work was based on designing materials based on viral capsid assemblies. For her postdoctoral studies, she worked on modeling and understanding neurodegenerative diseases using human stem cells at Harvard University. While at Harvard, O'Neil authored collaborative work with Google, Vertex, and Biogen Idec. She is also affiliated with the neuroscience and behavior program. Her interdisciplinary research will combine her biochemistry and stem cell training to investigate the role of protein aggregates in the progress of neurodegeneration.
College of East Asian Studies
Mengjun Liu, assistant professor of the practice in Chinese, is a native of Beijing, China. She received her MA in linguistics and applied linguistics at Nanjing Normal University, China. Since 1998, she has taught Chinese at Fairfield University, Wesleyan University, Connecticut College, and Boston University. She also taught Chinese in summer school at Middlebury College in Vermont and Duke University Study in China program for many years. She returned to Wesleyan University as a visiting assistant professor in 2014. She has published the audio set for Chinese for Dummies, and was also a co-compiler for Chinese Grammar Made Easy.
College of the Environment
Antonio Machado-Allison, the Menakka and Essel Bailey '66 Distinguished Visiting Scholar in the College of the Environment for the 2018–2019 academic year is a distinguished professor in the faculty of science, Institute of Tropical Zoology, of the Universidad Central de Venezuela, Caracas. Machado received his PhD in 1982 from George Washington University in Washington, D.C., doing his research on piranhas and their allies at the U.S. National Museum, Smithsonian Institution. He is a prolific author having published 38 books, book chapters, and monographs in Venezuelan presses; 33 books, book chapters, and monographs in international presses; 77 peer-reviewed journal articles in Venezuelan journals; and 34 peer-reviewed journal articles in international journals. For his extensive and far-reaching scholarship and his service to scientific and humanitarian programs, Machado was elected to the Venezuelan Academy of Natural Sciences, Physics, and Engineering.  He currently serves as the Home Secretary of the Academy. Machado's work will contribute critically to next year's Think Tank topic:  Ecocentrism: Valuing the Other. Machado has written extensively on conservation and management priorities in South American aquatic ecosystems and about the value of biodiversity for humans.
Dance
Julie Mulvihill, visiting assistant professor of dance, holds a PhD in dance theory and practice from Texas Woman's University, with a research focus of dance making within groups. She is interested in how we communicate, contribute, and shift roles as we create possibilities and make decisions toward a collaborative dance direction. Each dance-making moment may ask different responses from its makers creating a dialogue of shared experience. Her most recent article, COLLABORATION: An Activity of Responsible Citizenship, which will appear in the September 2018 issue of Journal of Dance Education, explores how principles of responsible citizenship might contribute to a pedagogy of collaboration in dance making. This research also opens the potential for considering rehearsal as a pedagogical space. Dance-making practices profoundly inform Mulvihill's ideas and philosophies about teaching and learning. Her teaching experiences greatly impact her research ideas and vice versa. Mulvihill has taught extensively, danced and shown work throughout the U.S., as well as presented workshops and papers at conferences all over the world. She also holds a teaching certification in the Alexander Technique from Chesapeake Bay Alexander Studies. Mulvihill has studied, practiced, and taught all kinds of movement in all kinds of ways with all kinds of people.
Joya Powell, visiting assistant professor of dance, is a native Harlemite, a choreographer and educator passionate about community, activism, and dances of the African diaspora. Hailed by The New York Times as a "radiant performer," throughout her career she has danced with choreographers such as Paloma McGregor, Katiti King, Neta Pulvermacher, and Marsha Parrilla. In 2005 Powell founded Movement of the People Dance Company, dedicated to creating socially conscious contemporary dance theater. Her work has appeared in venues such as: BAM, Lincoln Center, SummerStage, La Mama, The Bronx Museum of the Arts, The Dance Complex (Cambridge), Mudlark Theater (New Orleans), Movement Research @ Judson Church, among others. She has choreographed such plays as: The Brothers Size by Tarell Alvin McCraney (Luna Stage, New Jersey), Fit for a Queen by Betty Shamieh (The Classical Theatre of Harlem), JOB by Thomas Bradshaw (The FLEA Theater). Powell has taught and studied internationally in Brazil, Puerto Rico, Cuba, and Israel. Her research revolves around art as activism, decolonizing dance, and race relations in the Americas. Awards and recognition include: The 2016 Outstanding Emerging Choreographer Bessie Award, 2016–17 Dancing While Black Fellow, Women in Motion Commissioned Artist 2017–18. She received her MA in dance education from New York University and her BA in Latin American studies and creative writing from Columbia University.
Economics
Ayesha Ali, visiting assistant professor of economics, received her PhD in economics from Lancaster University in the United Kingdom. Prior to that, she attended the University of Illinois at Chicago, where she received an MA in economics, and the University of Nebraska at Lincoln, where she received her under­graduate degree. Before coming to Wesleyan, she was a postdoctoral fellow in the Health Services and Policy Research Group in the Department of Preventive Medicine at the University of Tennessee Health Science Center. At Wesleyan, she will teach classes in health economics and the economics of religion.
Gillian Brunet, assistant professor of economics, received her PhD in economics from the University of California at Berkeley and her undergraduate degree in mathematics and government from Smith College. Brunet comes to Wesleyan after spending the 2017–18 academic year as a postdoctoral fellow at the National Bureau of Economic Research in Cambridge, Mass. Her research and teaching interests span economic history, macroeconomics, and public economics, focusing in particular on the macroeconomic effects of fiscal policy. During the coming year Brunet will teach courses on macroeconomics and U.S. economic history, including a course on the economics of Alexander Hamilton.
Xiaoxue Zhao, visiting assistant professor of economics, completed both her undergraduate degree in economics and political science and PhD at Yale University, where she is a postdoctoral associate in the Department of Economics. Zhao specializes in development economics, political economy, and applied microeconomics, focusing primarily on the Chinese economy. She wrote her PhD thesis on "Land Institutions under Communal Tenure: Evidence from China." During the coming year, she will teach microeconomic analysis and economic development.
English
Marina Bilbija, assistant professor of English, received her PhD in English and Africana studies at the University of Pennsylvania in 2014. Before coming to Wesleyan, she held postdoctoral fellowships at Harvard and Tufts University. Her research focuses on Afro-diasporic print cultures in the 19th and early 20th century and bridges the concerns of African American and global anglophone literary studies and book history. Her current book manuscript, The Black Anglosphere: Afro-diasporic Print Networks and the Making of the Anglophone World, examines the emergence of a new transnational black literary and political public—a black Anglosphere—in the late 19th and early 20th century. She shows how this black Anglosphere grew out of a vibrant culture of citation, advertising, and reprinting between black and anti-racist editors in Britain, the U.S., and Nigeria. Bilbija's work has appeared in the Annals of the American Academy of Political and Social Science, Oxford Bibliographies, South Atlantic Review, and Modern Fiction Studies.
John Murillo, assistant professor of English, received his BA in philosophy from Howard University and his MFA in creative writing from New York University. He is the author of the poetry collections, Up Jump the Boogie, finalist for both the Kate Tufts Discovery Award and the Pen Open Book Award, and Kontemporary Amerikan Poetry, forthcoming from Four Way Books. Murillo's poems have appeared in Best American Poetry, Ploughshares, Poetry, Prairie Schooner, River Styx, and elsewhere. His honors include a Pushcart Prize, two Larry Neal Writers Awards, the J Howard and Barbara MJ Wood Prize from the Poetry Foundation, and fellowships from the Bread Loaf Writers Conference, Cave Canem Foundation, the Fine Arts Work Center in Provincetown, the National Endowment for the Arts, The New York Times, and the Wisconsin Institute for Creative Writing.
Danielle Vogel, assistant professor of the practice in creative writing, is the author of Between Grammars (Noemi 2015), the artist book Narrative & Nest (Abecedarian Gallery 2012), and the e-chapbook In Resonance (Essay Press 2017). As a writer, Vogel explores the bonds between language and presence, between a reader and a writer, and how a book, as an extended architecture of a body, might serve as a site of radical transformation. Her visual work, which celebrates the archives of memory stored within language, has been exhibited most recently at The Nordic House in Reykjavik, Iceland, RISD Museum, MICA, Temple and Pace Universities, The University of Arizona's Poetry Center, and Abecedarian Gallery. As a professor, Vogel specializes in documentary poetics, visual poetry, eco-poetry, the lyric essay, memory and memoir, cross-genre works, interdisciplinary and book arts. She holds a PhD from The University of Denver, an MFA from Naropa University, and has taught across genres and the visual arts at the Jack Kerouac School of Disembodied Poetics, The University of Washington at Bothell, Brown University, and Wesleyan University.
Government
Kelly Senters, visiting assistant professor of government, studies decentralization, subnational fragmentation, democratic transitions, corruption, and gender politics in Latin America. She is developing a book manuscript from her dissertation research on the causes and consequences of subnational fragmentation—a process by which local communities split into two or more new communities. She studies the effects of subnational fragmentation on political participation in local elections and on the quality of public primary education in Brazil. Beyond this project, Senters's research considers the dynamics of local- and national-level political regime transitions, public attitudes toward corruption, and the political representation of women. The Lemann Foundation, the Tinker Foundation, and the United States Department of Education have contributed funding to her research. Senters has been published in Latin American Politics and Society, The Handbook of Brazilian Politics, and The Handbook on Geographies of Corruption. Senters received her PhD in political science from the University of Illinois at Urbana-Champaign in 2018 and her BA in government and international affairs from Lafayette College in 2013.
Mathematics and Computer Science
Sara Kališnik Verovšek, assistant professor of mathematics, received her BS in mathematics at the University of Ljubljana. She was enrolled in two PhD programs and completed one PhD at the University of Ljubljana and the other at Stanford University. After that, she did a one-year postdoc at Brown University followed by a one-year postdoc at the Max Planck Institute in Leipzig, Germany. She works in the field of applied topology and the goal of her research is to use methods from pure mathematics (such as algebraic geometry and tropical algebra) to study data.
Peter Merkx, visiting assistant professor of mathematics, received his PhD in mathematics from the University of California, Santa Barbara, where he studied with Professor David R. Morrison. His primary research concerns the intersection of algebraic geometry and mathematical physics. His work is part of a significant focus in the string theory community to more fully understand superconformal field theories. By studying the algebraic geometry of three complex-dimensional elliptically fibered Calabi-Yau varieties, he has worked with physicists towards completing the classification of these theories in six dimensions. He is currently working on a final phase of this classification that involves determining all permitted such theories with so-called "frozen singularities." More broadly, Merkx is interested in the structure of the string landscape, Calabi-Yau moduli spaces, and naturally related finite group actions. This fall, he will be teaching single and multivariable calculus courses.
Sebastian Zimmeck, assistant professor of computer science, has research interests focused on information security and privacy. His main study is the design and implementation of privacy-enhancing technologies. He is leveraging machine learning techniques as well as static and dynamic program analysis to improve the compliance of mobile and web apps with increasingly complex legal requirements. He is particularly interested in exploring privacy and security in the ad tech and financial domains. Before coming to Wesleyan, Zimmeck was a postdoctoral associate at Carnegie Mellon University and studied computer science at Columbia University. He also studied privacy and intellectual property law and advised companies in these areas as an attorney with Freshfields Bruckhaus Deringer. He was a Google Research Fellow at the Berkeley Center for Law & Technology and was admitted to practice law in California and Germany (both admissions currently inactive).
Molecular Biology and Biochemistry
Cori Anderson, assistant professor of the practice in molecular biology and biochemistry , received her bachelor of science degree from Wheaton College and her PhD in biological sciences at Dartmouth College. Anderson comes to Wesleyan with extensive research and teaching experience. Her doctoral work was with Amy Gladfelter at Dartmouth, where she used fluorescence microscopy and molecular genetics to investigate mechanisms underlying variation in the timing of nuclear divisions, even when located within the same cell environment—a process referred to as nuclear asynchrony. Prior to beginning her PhD research, Anderson worked in Schiffer's laboratory at the Argonne National Laboratory doing protein biochemistry, as well as molecular genetics work as an undergraduate in Nadine Folino-Rorem's laboratory at Wheaton College. Anderson has coauthored five publications and presented her research at numerous international meetings. Since obtaining her PhD, Anderson worked three years as an instructor in lab-based courses at Dartmouth College, and she has worked the past two years as an assistant professor of biology at Concordia College in Minnesota, where she taught and developed courses in cell biology and genetics. Anderson will be joining the faculty in January 2019, contributing to the MB&B curricula in areas of biochemistry and molecular/cell biology, with a particular passion for inquiry-based methods in science education.
Music
John Dankwa PhD '18, adjunct assistant professor of music, holds a PhD in ethnomusicology from Wesleyan University. He was a visiting artist-in-residence at the music department, teaching undergraduate courses in West African music and culture. Dankwa is a multi-instrumentalist with specializations in several West African musical instruments including drums, xylophones, trumpets, harps, and flutes. He is a drum poet, and has composed and performed for several world and African leaders, including the former Secretary General of the United Nations, Kofi Annan, Thebo Mbeki of South Africa, and Benjamin William Mkapa of Tanzania. His research interests focus on affects in African instrumental music performance, the communicative function of African xylophones and drums, and the representation of African music in the globalized world.
Philosophy
Axelle Karera, assistant professor of philosophy, earned a PhD from Pennsylvania State University in 2015 and a BA from York University in 2009. She is a multilingual and cosmopolitan intellectual who writes and teaches on the critical philosophy of race, 20th-century francophone and continental philosophy, feminist philosophy, and Africana philosophy. Her dissertation, "Retheorizing Fanon through Derrida, Deleuze, and Mbembe," takes up themes of violence, interpretation, hospitality, deconstruction, and postcolonial thought. Karera's background—as a native of Rwanda, a witness to genocide, and an international migrant—informs her work and adds urgency to her nuanced questions about xenophobia, violence, and the crises of globalization. She is the 2014 recipient of the Kockelmans Award in Philosophy from Penn State, and taught at Florida Atlantic University before moving to Wesleyan for a one-year visiting position followed by a Mellon Postdoctoral Fellowship at the Center for the Humanities.
Physics
George Paily, assistant professor of the practice in physics, completed his PhD at Pennsylvania State University in 2013. Since then he has been teaching at Allegheny College and Franklin & Marshall College, where he taught across the undergraduate curriculum from introductory courses to advanced courses in statistical physics and general relativity. His doctoral research in the theory of gravity explored deforming Einstein's general relativity and effective actions in quantum gravity. At Wesleyan this year he will be teaching general physics and the associated laboratories. 
Min-Feng Tu, assistant professor of the practice in physics, completed her PhD at California Institute of Technology in the summer of 2018. In 2017 she received the R. Bruce Stewart Prize for Excellence in Teaching Physics at Caltech. Her doctoral research was in theoretical condensed matter physics exploring ways to control the conducting properties of graphene by using adatoms to create 2D topological insulators. At Wesleyan this year, she will be teaching introductory physics and the associated laboratories.
Psychology
Marcus Leppanen, postdoctoral fellow in psychology will be working with Kyungmi Kim and Chuck Sanislow on research questions related to memory. Leppanen received his BA from the University of Wisconsin, Milwaukee, and his PhD from the University of Louisville, where he worked on issues related to the effects of contextual factors on the likelihood of remembering having remembered, and individual differences related to more or less accurate memory for prior remembering. He has two publications in leading academic outlets and has several papers in preparation. He will be teaching an advanced course in his area of research in the spring.
Alexis May '05, assistant professor of psychology, will be joining the psychology department this fall. May received her BA in psychology and neuroscience and behavior from Wesleyan, her MA and PhD from the University of British Columbia, and was a clinical psychology resident at the Warren Alpert Medical School of Brown University. Before arriving back at Wesleyan she was a postdoctoral fellow at the National Center for Veterans Studies in the Department of Psychology at the University of Utah. May uses observational, experimental, and meta-analytic methods to understand the etiology and trajectory of suicidal thoughts and behaviors in the service of improving prevention and intervention. May already has over 20 peer-reviewed papers in this area of research in some of the leading outlets in the field and she has attracted external grant funding for her work. Her teaching interests are in psychopathology. May will be teaching two advanced seminars in her area of research this year.
Religion
Andrew Quintman, associate professor of religion, comes to Wesleyan having taught at Princeton University for three years and Yale University for nine. He holds a BA in philosophy and Tibetan studies from Hampshire College and an MA and PhD in Buddhist studies from the University of Michigan at Ann Arbor. A scholar of Buddhist traditions in Tibet and the wider Himalayan region, Quintman attends in particular to questions of literary production, circulation, and reception. He is the author of The Yogin and the Madman: Reading the Biographical Corpus of Tibet's Great Saint Milarepa (Columbia University Press, 2014), which won three major awards; the Penguin Classics translation of The Life of Milarepa (2010), currently in its tenth reprinting; and two edited volumes in Tibetan studies. His current research, which is supported by two major grants, tracks the relationship between 17th-century monastic literature, art, and architecture. He will be teaching a new FYI class on the Dalai Lama, in addition to courses in Buddhist practice, art, and literature.
Russian, East European, and Eurasian Studies
Roman Utkin, assistant professor of Russian, East European and Eurasian studies, was educated in Russia and the United States, earning an undergraduate degree in philology at Kazan State University in 2007 and a PhD in Slavic languages and literatures at Yale University in 2015. A specialist in 20th-century Russian and Soviet poetry, prose, and visual culture, he enjoys teaching and writing on queer theory, exile, comparative modernisms, and performance studies. His current book project examines the patterns of migration and cultural flows between Eastern and Central Europe and shows how refugees from Soviet Russia formed a unique diasporic community, a modernist diaspora, in Weimar Berlin. A native speaker of Tatar and Russian, Utkin serves on the board of the Committee on Advocacy for Diversity and Inclusion within the Association for Slavic, East European, and Eurasian Studies. He is also a founding member of Q*ASEEES, the Society for the Promotion of LGBTQ Studies in Eastern Europe and Central Asia. Prior to joining the Wesleyan faculty, Utkin taught at Davidson College.
Science in Society Program
Mitali Thakor, assistant professor of science in society, received her PhD from the Massachusetts Institute of Technology's program in history, anthropology, and science and technology studies, and recently completed a two-year, postdoctoral fellowship at Northwestern University in sexuality studies and anthropology. Her research and teaching bring the resources of feminist and anthropological science and technology studies to bear on surveillance algorithms, robotics, and other digital technologies. Her primary ethnographic research explores the uses of facial recognition and artificial intelligence software and other algorithms deployed in the policing of child trafficking, pornography, and sex work; she is currently bringing this project to its culmination in a book, Facing the Child. She also works on various aspects of robotics, including ethnographic explorations of how people engage with and make sense of robots and drones, which will be the focus of her spring seminar, Queer Robotics.
Sociology
Mario Hernandez, visiting instructor of sociology, comes from The New School for Social Research. He is a researcher and educator focusing on themes in urban sociology, race and ethnicity, art, design, and culture. Hernandez is currently completing his dissertation work on the gentrification process in the Bushwick neighborhood of Brooklyn, in New York City. His work centers on the political, economic, and cultural implications of the resurgence of American cities. In particular, he investigates the role of artists in the revitalization and branding of cities and its implications for the neighborhood of Bushwick. Hernandez was born and raised in the San Francisco Bay Area.
Theater
Katherine Brewer Ball, assistant professor of theater, holds a PhD in performance studies from New York University and an undergraduate degree from Occidental College. She has been a postdoctoral fellow and a visiting assistant professor at Wesleyan prior to this tenure-track appointment. She also serves as faculty for the Institute for Curatorial Practice and Performance in the Center for the Arts. Her book, The Only Way Out Is In: The Black, Brown and Queer Performance of Escape, is under contract with Duke University Press. Well-established as a prolific collaborator on campus for gender, race, and queer studies, Brewer Ball specializes in regarding performance from the perspectives of history, psychoanalysis, anthropology, and linguistics coupled with close reading of texts. Her research trajectory includes contemporary indigenous performance including sculpture, dance, and theater. Her teaching focuses on the performance event as central to the articulation of theory and meaning.
Corey Sorenson, visiting assistant professor of theater, holds an MFA from Temple University and has achieved subsequent mastery as an associate teacher of Fitzmaurice Voice Work and certification as an "actor combatant" by the Society of American Fight Directors.  He has been an advanced acting instructor for Excelsia College in Sydney, Australia; a lecturer at California State University, Northridge and Los Angeles; a professional acting coach in New York and Los Angeles; and a visiting assistant professor at Pomona College. His own career has included roles at the Old Globe Theater (San Diego), Walnut Street Theater (Philadelphia), recurring roles in major television series, and roles in film and new media. At Wesleyan, he will be teaching fundamentals of acting, advanced acting, and directing the faculty production in the spring. Based on his experience as a classically trained actor, he has developed his teaching to integrate new cross-disciplinary findings, particularly from psychology and neuroscience.
Writing Center
Tess Bird, the Andrew W. Mellon Postdoctoral Fellow for Writing in the Social Sciences, received an MSc in medical anthropology and a PhD in anthropology from the University of Oxford.  She earned a BA in women's, gender, and sexuality studies from the University of Connecticut.  Her research makes use of ethnographic fieldwork in Providence, R.I., and focuses on the way middle-class households adapt to change and negotiate uncertainty in their everyday material and social worlds, with a particular emphasis on health concerns. She works at the intersection of qualitative health research, policy, and creative entrepreneurship. Bird has also worked as a medical-legal researcher in occupational and consumer health and as an editor and developer for an online medical education platform.
Elizabeth Hepford, assistant professor of the practice in English as a second language, received her PhD in applied linguistics from Temple University and a master's in teaching ESL from Arizona State University. She earned a BS in journalism from the University of Kansas. Hepford's research focuses on second-language learner's development of complexity, accuracy, and fluency. She has also studied the commodification of multilingualism in the retail sector and the way that multilingualism affects criminal defendants' understanding of Miranda warnings. Hepford has taught English as a second language and the teaching of English as a second language at Temple University and previously taught English as a foreign language at the university level in Albania, Mexico, and Russia. 
Douglas Martin, assistant professor of the practice in creative writing, is a poet, novelist, short story writer and essayist who has published books in each of these genres. He holds a BA in English from the University of Georgia, an MFA in Creative Writing from the New School, and a PhD in English from the City University of New York. Martin's first prose-work, Outline of My Lover, was published to acclaim in America and subsequently in the UK, where it was named an "International Book of the Year" in the Times Literary Supplement. It has been translated into Japanese and Italian editions and adapted in part for the multimedia ballet and live film, "Kammer/Kammer," performed worldwide by the Forsythe Company. A collection of novellas spanning the work of painters Balthus and Francis Bacon and the poet Hart Crane, Your Body Figured, appears in English and Portuguese. His most recent publication, 2017's Acker, a book-length essay on the life and work of Kathy Acker, was reviewed favorably in The New York Times as "nothing short of a kind of strange magic…blend[ing] unmistakable (yet unshowy) erudition and intellectual rigor with disarming intimacy and self-revelation." December will see the release of a coedited volume, Kathy Acker: The Last Interview and Other Conversations, and a next novel, a lyrical intervention into the field of true crime accounting, Wolf, will be published Winter 2020. Martin has held various appointments as visiting professor and visiting writer at Wesleyan since 2008, teaching fiction, poetry, cross-genre classes, first-year seminars, and advising theses.
Lauren Silber, assistant professor of the practice in academic writing, received her PhD in English and American studies from the University of Massachusetts, Amherst. She earned a BA in English and economics from the University of Connecticut. Silber's research focuses on the politics of feeling and the work of belonging in recent U.S. immigrant fiction. She has taught literature courses as well as college writing and basic writing at the University of Massachusetts, Amherst. From 2015 to 2018, she was a writing center associate at Amherst College.