Tucker, Middlebrook '20 Study the History of U.K. Alkali Workers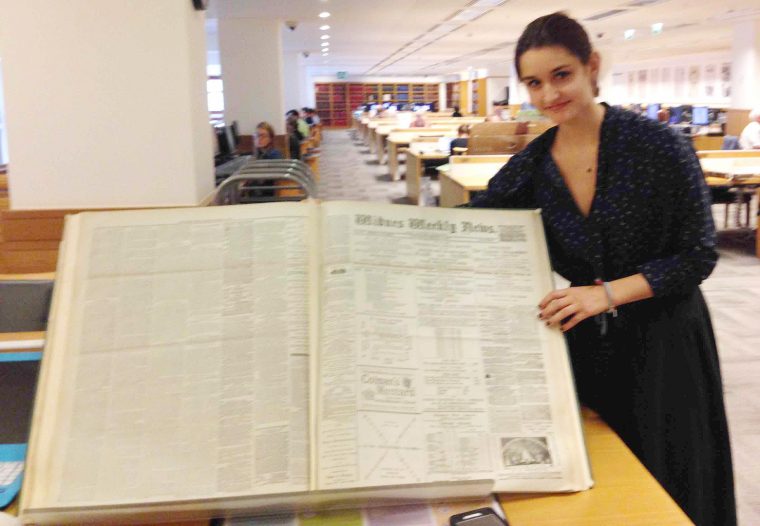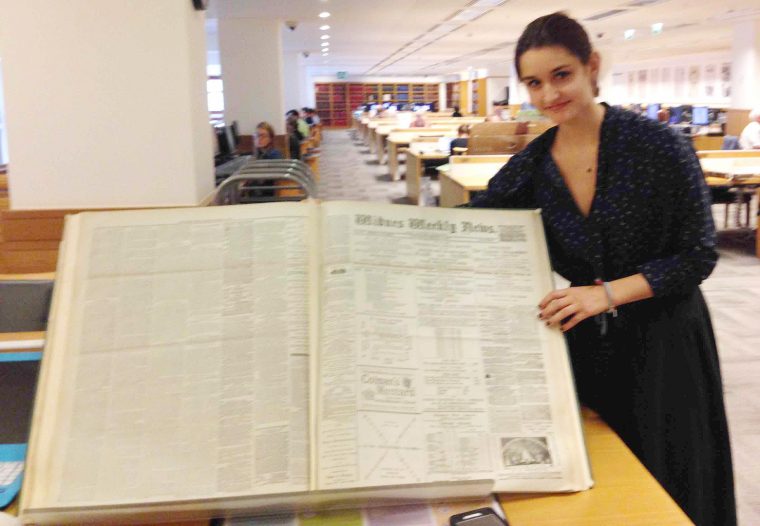 This summer, Mariel Middlebrook '20 gathered archival material on 19th-century alkali workers in London through a Wesleyan Student-Faculty Research Internship.
The Student-Faculty Internship program provides students with paid opportunities to work on research projects in collaboration with Wesleyan faculty.
As a recipient of the internship award, Middlebrook was able to work alongside Associate Professor of History Jennifer Tucker, who is collecting information on Widnes, an industrial town in Halton, Cheshire, Northwest England, that is known for being the birthplace of Britain's chemical industry in the late 1840s. (Tucker's article, "It's No Downton Abbey, but It's Just as Much a Part of English History" was published by the History News Network in June and highlights her current study on Widnes.)
"We examined local newspapers from the region to find out more about the lives of alkali workers. Newspapers from the late 19th century are a rich source of information about work-related injuries and deaths, the changing market for chemical products, and attempts by chemical workers to improve labor conditions," Tucker said.
Middlebrook, an anthropology and Spanish literature double major, took Tucker's Photography and the Law class during the spring 2018 semester and previously assisted with Tucker's research on the relationship between guns and photography in the 1860s.
"I had previously never heard of the alkali industry, but after spending a while doing archival research, I learned more about it and developed an interest," Middlebrook said. "I did solo research at the Wellcome Library, but I was able to find more sources when I met with Professor Tucker in the British Library and went through copies of the Widnes Daily News from the 1850s."
Middlebrook is one of five recipients of Student-Faculty Research Internship awards; the others were Gila Glattstein '20, Julian Johnson '19, Madeleine Sargent '19, and Asa Spurlock '20. Each did historical research in historical museums and libraries as well as online historical data research. Glattstein conducted research on the Scovill trade literature archive at the National Museum of American History, and other students researched photography and advertising archives for Colt, Winchester, and other gun manufacturers at the Connecticut State Archive in Hartford.
Tucker has supervised undergraduate students for the previous two summers and admits that the idea of directing undergraduate research in relation to her own work is a new experience. She applauds the internship program for giving students a summer funding opportunity and, at the same time, valuable historical archival research skills.
"Historians–we often work alone in archives, pursuing independent research, in contrast to scientists and artists, who often work in teams," Tucker said. "Their research assistance helped me gather information from a variety of sources and brought new things to my attention."
The experience is one she hopes to have again. "The Student-Faculty Research Internship program is a great way to bring faculty and students together around topics of shared interest, and an excellent way to foster humanities research at Wesleyan. I couldn't ask for better research assistants."