Students Partner with Physical Plant Employees to Learn Inner Workings of Campus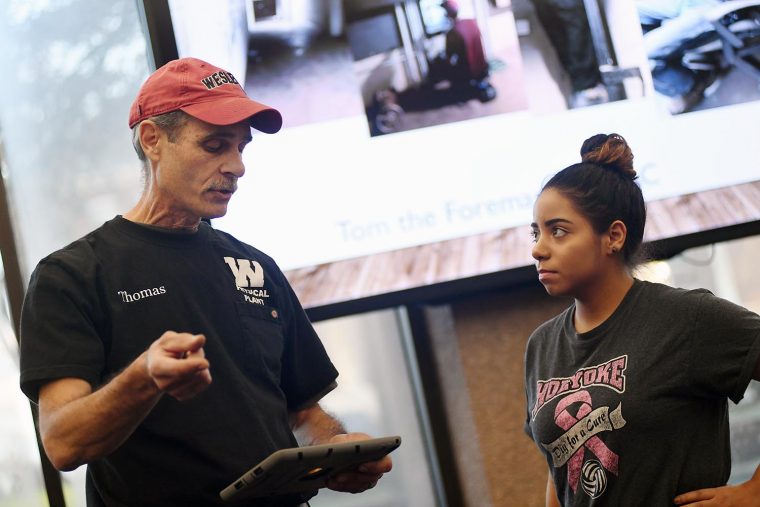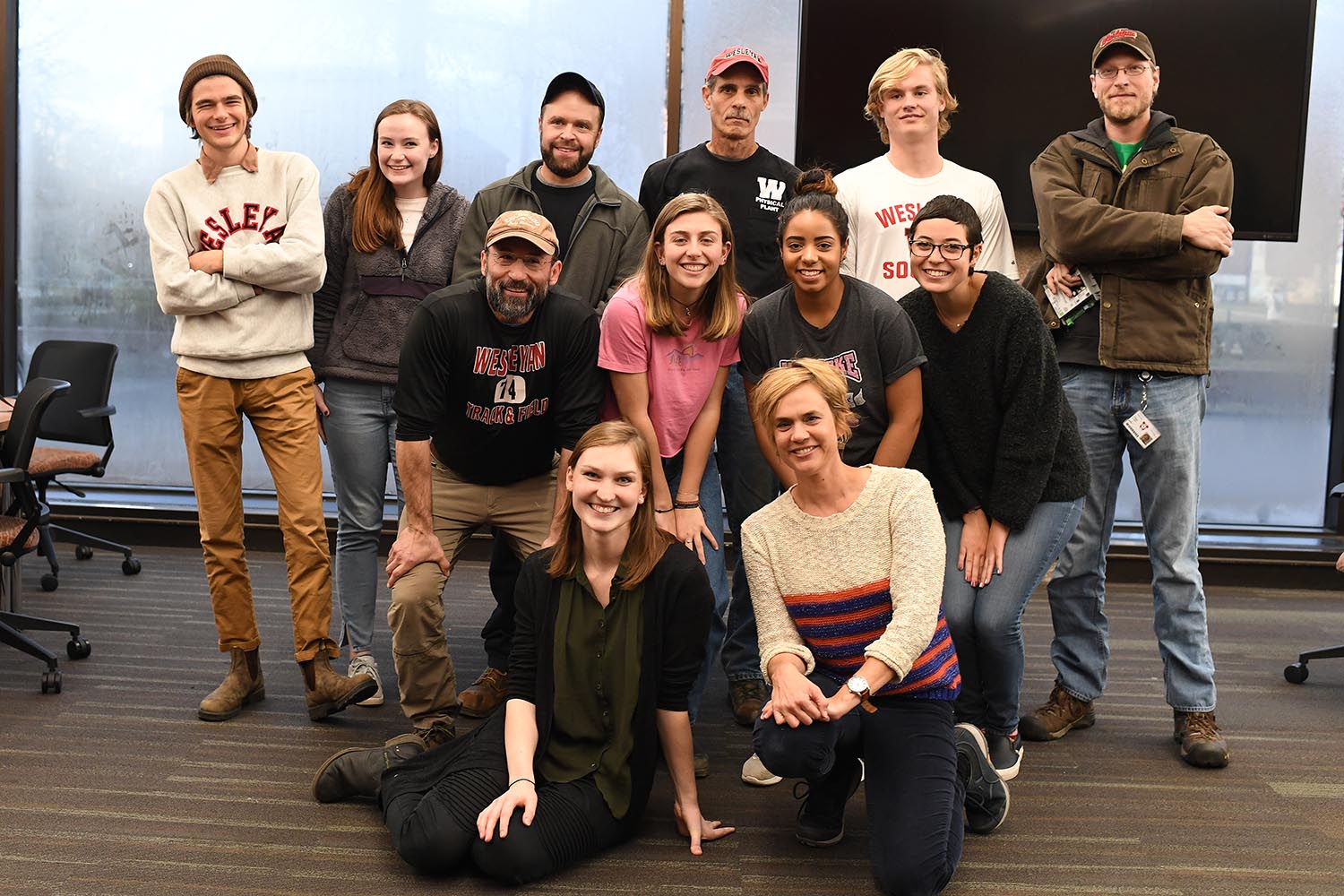 Six students in the Introduction to Environmental Studies course traded their notebooks, backpacks, and pens for wrenches, electronic temperature control meters, and even plungers as part of a special project involving staff from Wesleyan's Physical Plant.
Throughout the fall semester, the students partnered up with an electrician, a plumber, material handlers, temperature control mechanics, and others to learn about trades and to form friendships with the staff who keep Wesleyan running behind the scenes. On Nov. 29 the students presented their experiences—through talks, performances, music, and graphics—to fellow classmates and Physical Plant staff.
"Whenever a work order is submitted to physical plant—including very minor things like getting a bed adjusted, which is very difficult—somebody shows up to fulfill it. However, this is not just some random person," said Sammy Osmond '22, who shadowed material handlers for about 30 hours over the semester. "It is, without fail, Mario (Torres) or Kris (Patterson), or both. They are real people doing their job to make it easier for students to focus on their job—to study. Most students don't ever fully realize this reality. Physical Plant employees are not faceless. They're kind, funny, involved people doing their best to help students every day."
While Osmond teamed up with Torres and Patterson; Gaelin Kingston '22 and Lilley Gallagher '22 shadowed Dean Canalia, plumbing shop foreperson. Mia McKinney '22 worked alongside Energy Manager Joseph Dorrer; Camille Britton '20 was partnered with David Malone, HVAC/utility mechanic; and Tamara Rivera '21 partnered with Tom Macri, HVAC shop foreperson. Director of Physical Plant Operations Mike Conte supported and coordinated students as they began job shadowing. In addition, Senior Project Manager Steve Formica and Project Assistant Erica Wright offered students a course on building a house and contracting methods as part of the project.
"Physical Plant workers do all they can in order to provide us with comfortable living spaces," Rivera said. "Observing their rigorous determination while shadowing Tom made me feel guilty that I used to walk past them around campus and not even look in their direction. Now I am not able to look at Tom, Mike, Dean or any of the other Physical Plant workers as insignificant people. I know their names. I know their friendly personalities. I know how important their roles are and how impactful it is to my life as a student at Wesleyan. They have become friends to me."
The project, which involved embedding students into the work lives of Physical Plant employees, was coordinated by Gretchen LaMotte '18; Allison Orr, artistic director of Forklift Danceworks and Distinguished Fellow with the College of the Environment; and Barry Chernoff, the Robert Schumann Professor of Environmental Studies. LaMotte graduated last year with a degree in science in society with the environmental studies certificate and currently works with Orr at Forklift Danceworks in Austin, Texas.
This semester's project grew out of BUILD (2016), a dance thesis performance choreographed by Clara Pinsky '16 that took place in Usdan during lunch. Physical Plant employees constructed a room in the middle of Usdan, performing their work to music layered with recorded stories of their work and lives. Pinsky also spearheaded a student course in basic home maintenance skills led by Physical Plant, which will be offered again this spring.
"Our ability to solve environmental problems will require that groups of people from different walks of life, from different cultures or from different backgrounds, begin to work towards a common goal. This will depend upon mutual respect and understanding," Chernoff said. "Embedding our students with employees who care for Wesleyan's physical environment will provide our students not only with the appreciation for the critical role that physical-plant employees serve at Wesleyan, but also with an experience of how to develop connections across boundaries."
Photos of the class presentations are below: (Photos by Olivia Drake)