Wesleyan to Expand Hamilton Prize for Creativity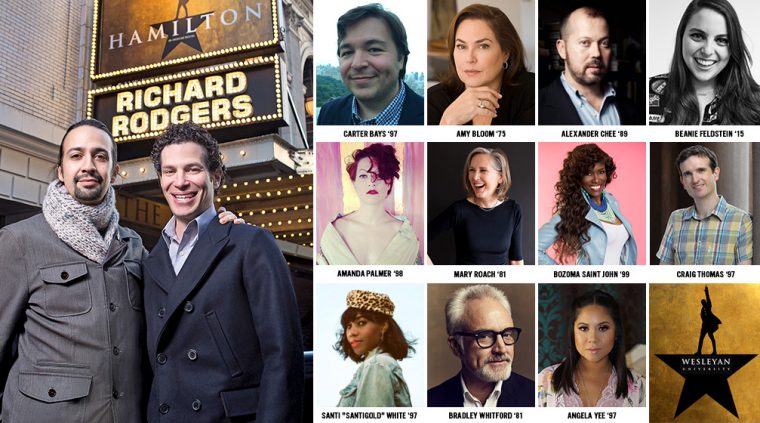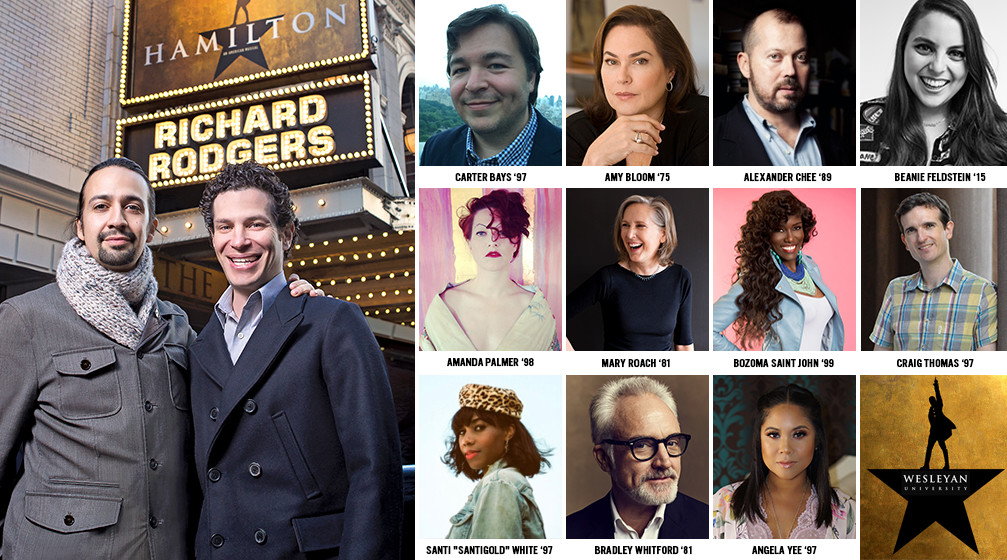 Wesleyan has announced that it will expand opportunities for incoming students under its Hamilton Prize for Creativity, which was established in the 2016–17 academic year in honor of Wesleyan alumni Lin-Manuel Miranda '02, Hon. '15 (writer/creator/original star) and Thomas Kail '99 (director) of the international phenomenon, Hamilton: An American Musical.
Over the past two years, more than a thousand students have submitted stories, poetry, songs, plays, and screenplays for consideration. A distinguished selection committee of Wesleyan alumni in the arts, headed by honorary chairs Miranda and Kail, reviewed submissions and chose one winner each year to receive a four-year, full-tuition scholarship to attend Wesleyan. Read about past winners here and here.
"In the first two years running the Hamilton Prize, the committee was mightily impressed by the caliber of submissions, and found it difficult to pick just one winner. The creative works by incoming students displayed such a range of talent, and comparing, say, a short story to a song, posed certain challenges," said Wesleyan President Michael Roth '78. "Therefore, this year we've decided to recognize superlative creativity in each category."
Wesleyan received more than 400 submissions for the Hamilton Prize this year. Entries will be considered in the categories of Prose, Poetry/Song, and Screenplay/Playwriting. As in past years, the grand Hamilton Prize winner will receive a four-year, full-tuition scholarship to attend Wesleyan. Honorable mentions will be awarded in each of the other categories, along with $5,000 grants to support the students' future creative endeavors. All three recipients will also be awarded free admission to the Wesleyan Writers Conference, which will be held on campus June 12–16.
"Producing creative work is a deeply personal process, and each of us expresses ourselves in a unique way," said Miranda. "It's been a privilege to cochair the Hamilton Prize Selection Committee and to read the work produced by so many talented young people. I look forward to seeing what members of the Wesleyan Class of 2023 share with us."
All-Star, All-Alumni Selection Committee Welcomes New Members
This year, actors Bradley Whitford '81 (The West Wing, Transparent, Get Out) and Beanie Feldstein '15 (Lady Bird, Neighbors 2: Sorority Rising), and radio personality Angela Yee '97 (cohost of the nationally syndicated morning radio show, "The Breakfast Club") will join the selection committee.
In addition to honorary chairs Miranda and Kail, returning committee members include:
• Bozoma "Boz" Saint John '99, chief marketing officer at Endeavor, and host and producer of the upcoming documentary series, Bozoma: Being Badass, on the Starz network
• Santi "Santigold" White '97, musician, record producer, visual artist, and humanitarian
• Carter Bays '97 and Craig Thomas '97, cocreators, executive producers, and writers of How I Met Your Mother
• Amanda Palmer '98, singer, musician, and writer
• Amy Bloom '75, author, most recently of White Houses, and the Shapiro-Silverberg Professor of Creative Writing at Wesleyan
• Mary Roach '81, author, most recently of Grunt: The Curious Science of Humans at War
• Alexander Chee '89, author of novels including Edinburgh and The Queen of the Night
Bios of all committee members can be found here. Images of the committee are available upon request.
"Collaborating with this phenomenal group of fellow alumni has been a joy," Kail said. "Wesleyan helped shape us into the people we are today, and I am thrilled to give back to these young people so they can experience the power of Wesleyan's broad liberal education to nurture creative potential."