Q&A: Sienkiewicz '03 on Dual Interests: Comedy and Global Media Studies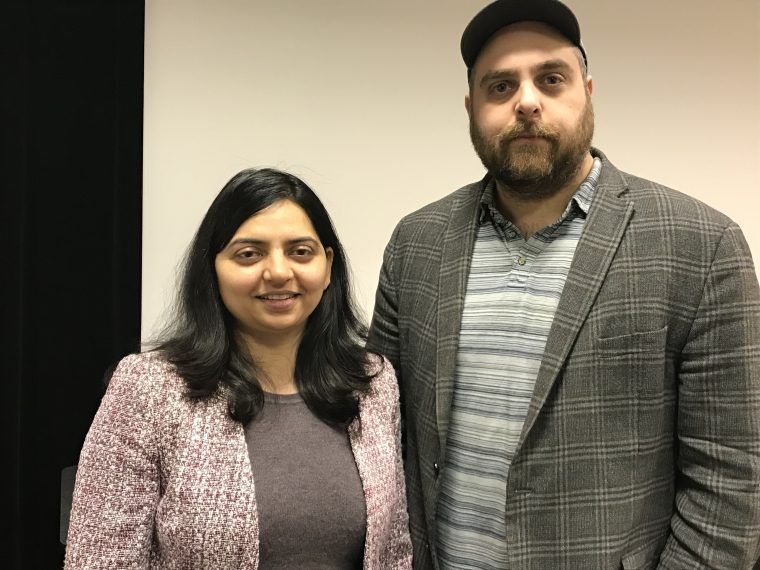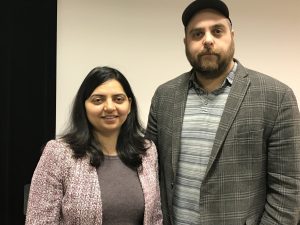 Earlier this semester Visiting Assistant Professor of Film Studies Swapnil Rai invited Matt Sienkiewicz '03 to be a guest lecturer in her class, FILM 328: Beyond the West. The course "examines the role that film…and other media play in shaping our sense of global, national, and local cultures and identities."
Sienkiewicz, associate professor of communication and chair of the department at Boston College, teaches courses in global media cultures and media theory. One of his eclectic areas of research looks at the West's investment in Middle Eastern broadcasting initiatives. In 2011 he produced a peer-reviewed documentary film, Live: From Bethlehem, which explored this topic, based on work that included six months of on-location research.
For Rai's class, Sienkiewicz discussed his book The Other Air Force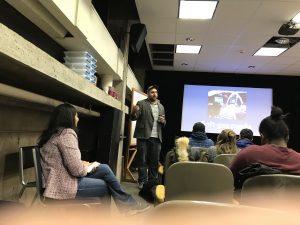 (Rutgers University Press, 2016), which looks at American influence on radio and television programming in the Middle East. He explained how he evaluates programming by using a scale, placing on one end U.S. influence as "soft power" (money supporting the programming but little attention given to oversight of the message), and on the other, "Psy-Ops" programming (marked by a more invasive interest in psychologically influencing the viewer toward adopting a pro-American point of view).
Additionally, Sienkiewicz also studies and teaches classes in the politics of contemporary American comedy. He is coeditor (with Nick Marx) of The Comedy Studies Reader (University of Texas Press, 2018).
He spoke to the Connection about his seemingly unlikely dual academic interests.
Q: When did you get interested in comedy?
A: I've always loved comedies. When I was 10 years old, my sister and I would perform Roger Rabbit routines on video. Alf was a must-see appointment each week.
When I got to Wesleyan, I saw a poster for auditions for a new improv troupe, New Teen Force, which was just starting in the fall of 1999. I didn't even know what improv comedy was, but the open-ended nature of it intrigued me. And after a few rounds of auditions, somehow, they picked me.
Q: When did comedy become an intellectual pursuit?
A: It definitely started at Wesleyan. The students who started New Teen Force gave me textbooks on improv theory. They were really serious about it and believed studying could help on stage.
I'm not sure whether the books did help, but they definitely got me thinking more deeply about what makes comedy work, what its potential value could be. We did long-form, story-driven improv; we were serious about what makes a scene funny, what makes a scene work, what makes a story come together. Also, my friend Sara Morrison '03 and I took over as coeditors of the Ampersand [the humor pages of The Argus]. I learned a lot from that experience and from Sara. Comedy became absolutely central to my Wesleyan experience.
Q: How did comedy translate into academics?
A: I double-majored in film studies and philosophy. In film, we'd study comedies, along with other genres; in philosophy I wrote some papers on aesthetics and different kinds of narratives that related to comedy.
Q: And after Wesleyan?
A: One of my first jobs out of school was working with Sascha Stanton-Craven '04 as a writer for a sitcom, Windy Acres, for Vermont Public Television. It won a regional Emmy in 2004, and I was nominated for best screenwriter. I took a lot from that experience to my PhD studies a couple of years later.
Q: So where did the Middle East focus come in?
A: Ultimately, I decided I didn't want to be in entertainment, so I applied to graduate school at the University of Wisconsin, where I split my academic career. Half my work is on really serious geopolitics, and the other work is like The Comedy Studies Reader or a book about Saturday Night Live or a paper on Family Guy or South Park.
Comedy is ingrained in everybody's everyday life, right? Whether it's an inside joke with your friend, a TV show that you can't miss. It's odd to me that the more serious-seeming field of geopolitics is actually more abstract, and comedy, the field that might seem more frivolous, is actually often more important in day-to-day experience.
Q: What do you make of the fact that The Simpsons mentioned a Trump presidency in 2008 in one episode?
A: Incongruity is a standard concept in comedic theory: two things are put together that are unexpected. Trump and political power, in this case. That's why the joke worked back then. We all harbor certain concerns and comedy plays with them. In The Comedy Studies Reader, we go back to Freud to explain how jokes function: You can use jokes to either defuse a problem or to simply release the tension. There's long been a fear of our political system being influenced by a candidate's celebrity status.
Q: Has comedy become more divisive?
A: Comedy unites people when they share a joke. But comedy also divides people by creating "in groups" and "out groups," like, "Oh, let's make a joke about this together, and we're the 'in group.'" The "out group" can respond with, "Let's mock those guys to show that we're a part of this crowd." This idea is actually something that I have been working on.
Q: How does that translate in the political arena?
A: I think the largely unacknowledged trend is that the right wing has learned to use a lot of the tactics—irony, for instance—that liberal comedians were using in the post 9/11 Bush years.
I'm writing a paper on the way jokes function on a show like Fox's Watters World. It has terrible racist elements, but in terms of its use of irony—with sarcastic takes on the news—it's similar to what we saw with The Daily Show in the early 2000s. In other words, the trend that I'm seeing is right-wing appropriation of what has traditionally been left-leaning, or at least liberal-leaning approaches, to comedy.
I think that liberals really want to say, "Comedy is ours." It's not. Frankly, if the joke can be told one way, it can be told the opposite way in almost all places.
In The Comedy Reader, we have a chapter on irony: some people have to take it one way, and other people have to take it a different way. If everybody understands it the same way, it's not irony.
Q: Do you worry about the future of comedy?
A: I worry about the overall policing of comedy from the left. Comedy functions on the edges, so it's a tool that will cut—the humor might injure some people and sometimes you have to apologize. But if you are so worried about saying something that could be taken in a way that can be offensive, you literally can't carry on with comedy, because the name of the game is to have multiple meanings at the same time.
Q: What comedy do you watch when you want to unwind?
A: Sascha Stanton-Craven '04 of my improv group is the editor for a bunch of my favorite shows. One of them is On Cinema at the Cinema, with Tim Heidecker and Greg Turkington. It's a parody of a movie review show, but really it's about these two characters interacting with each other in increasingly outlandish ways. There's a show within the show, called Decker, and a whole bizarre story world that goes along with it. So it's very meta, very funny. I can't explain it, just check it out.
I'm also into adult-oriented animation, like BoJack Horseman. One of the writers and producers is Kate Purdy '01 and it's brilliant.
I've seen every episode of The Office about 20 times. I mean, it's awesome. Whenever I'm too tired to watch or read something else, I watch The Office.