The Vanguard Class of 1969 Offers Reflections After 50 Years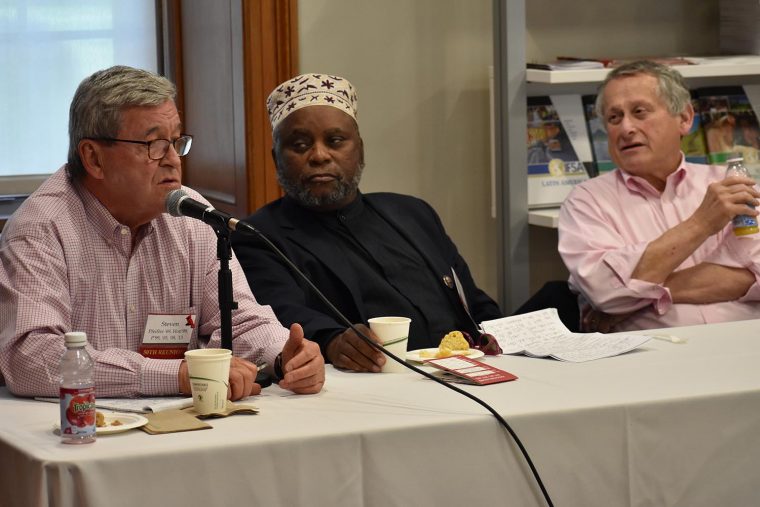 On Feb. 21, 1969, black students, faculty, and staff staged a historic takeover of Fisk Hall, Wesleyan's main academic building at the time, to protest racism and advocate for increased administrative support for people of color at the University. Dubbed the "Vanguard Class" for their place at the forefront of that movement, several members of the Class of 1969 reconvened at Fisk Hall on Saturday, May 25, 2019, to reflect on what being a part of that momentous event 50 years earlier has meant for them and for Wesleyan since.
Speaking to more than 100 attendees in a standing-room-only crowd, the panel included moderator Alford Young '88, Howard Brown '69, Barry Checkoway '69, Bernard Freamon '69, Steve Pfeiffer '69, and Rev. Edwin Sanders '69 and featured each panelist's personal recollection of the watershed moment, as well as a brief discussion of how life at the University for students and people of color—both on and off campus—continues to evolve today. That evolution has included Wesleyan faculty voting African American Studies into full departmental status in December 2018.
"At most 50th reunions, you are celebrating and remembering football games, or the glee club," said President Michael Roth '78 during his introduction. "Not at Wesleyan. We're unusual in that we celebrate the takeover of a building and waking up administrations to get them to do the right thing . . . and the Vanguard Class marks that important turning point in Wesleyan's history."
"We have here a panel of heroes, both for what they did at Wesleyan and what they've gone on to do," said Young, the Arthur F. Thurnau Professor of Sociology, Afroamerican and African Studies, and Public Policy (by courtesy) at the University of Michigan, and the panel's moderator. "They've demonstrated the capacity of agents of change, and they demonstrate the greatness of Wesleyan."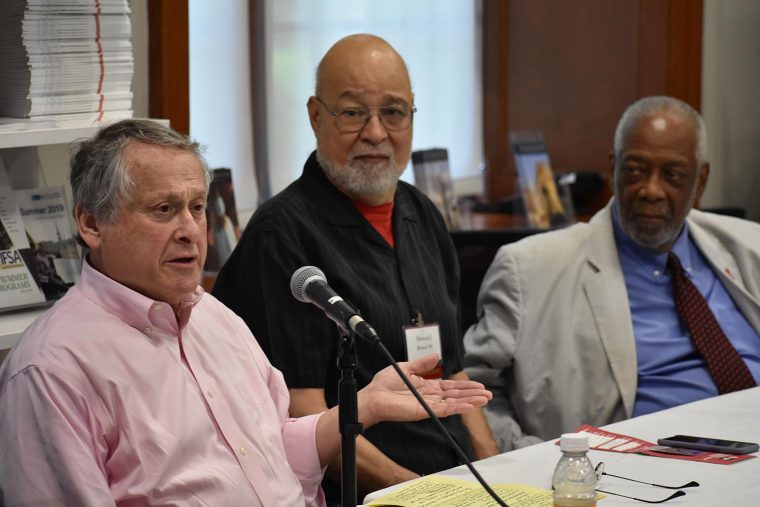 Remarks excerpted from the discussion:
Steve Pfeiffer '69, Hon. '99, P'99, '05, '08, '13
"During my time at Wesleyan, I was taken apart and put back together countless times. I grew up in a town in Chatham, New Jersey, that was all white. I got to Wesleyan and had Reverend [Edwin] Sanders on my hall; it was the first time I'd been around a black person . . . and I quickly discovered this was a place truly committed to equal access to black students to selective private education. Having been here at that time, seeing Dr. Martin Luther King, Jr. walk in and out of Olin Library, that was truly inspirational. I felt then, and later as a member of the Board of Trustees, that Wesleyan has had an uninterrupted and complete commitment to civil rights and racial justice [since the Fisk Hall Takeover]."
Bernard Freamon '69, P'94
"I came here and . . . we couldn't get our hair cut in Middletown. The barbers would not cut our hair. But it was the classes that came after us that had a fairly large number of non-white students. By 1969, when we took over the hall here, there was a fairly large cohort of black students. So the credit goes to those classes, as well, not just us. . . . Equality and equity came about through our experience. And I'm pleased and honored to have gone through that, and I congratulate the president and the University [on the progress since]."
Barry Checkoway '69
"I remember this building [Fisk Hall] very well. I came in one side in September and I came out the other side in April fluent in Spanish. And there were other things happening in this building. People were challenging the authority of a special, historical university. The Vanguard Class [consisted of] a handful of people who were not normal. They were not normal because they were exceptional. And they were the ones who ended up doing the real work on this campus."
Howard Brown '69
"I understood Vanguard to mean more than black. That is, I didn't understand it to be only black. . . . [At Wesleyan today] you have a place where everyone is welcome. Everyone is treated well."
Rev. Edwin Sanders '69
"There is [something else] that's been one of the greatest assets to the Wesleyan experience—the significance of being at a school where there were 1,200 students and 250 faculty. That created a learning environment that is really beyond comparison, and also a learning environment where there was a fine-tuning of the individual experience. . . . What I learned in classes where there were no more than 12 or 15 of us sitting around a table with a professor, having the opportunity for interaction and dialogue, to this day [continues to serve me]."