Wesleyan Awards 2019 Hamilton Prize for Creativity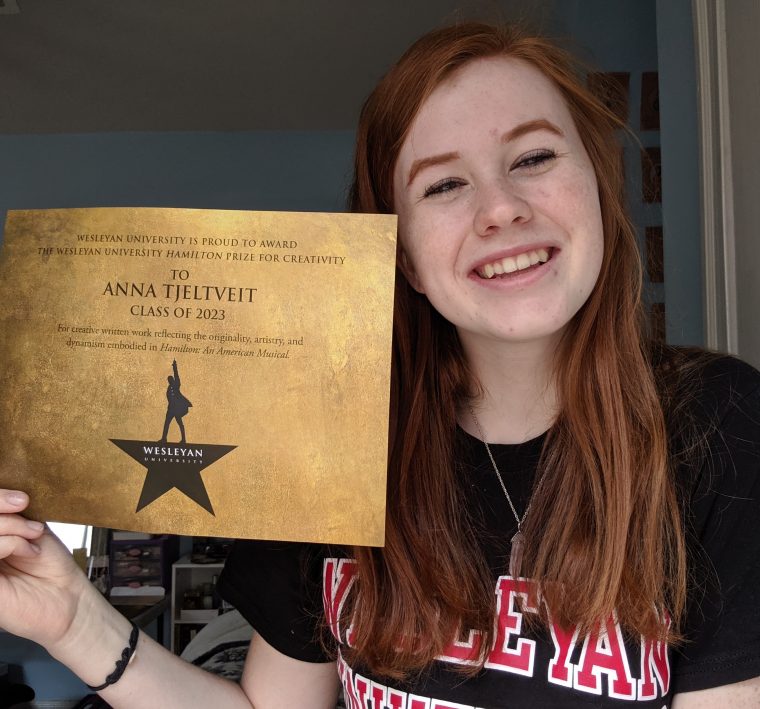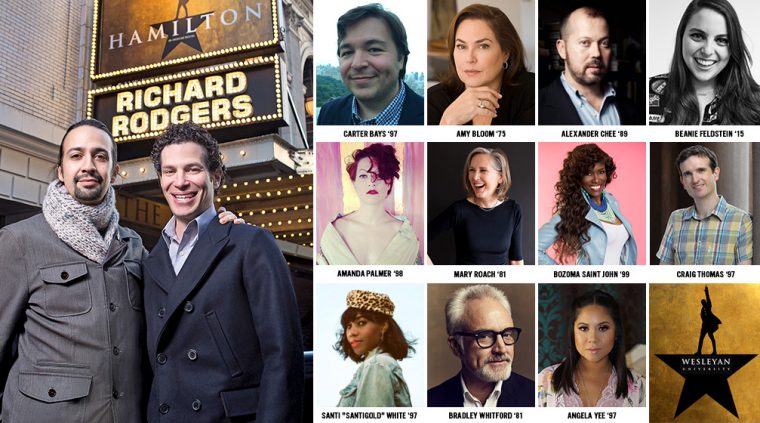 Wesleyan has awarded its prestigious Hamilton Prize for Creativity to three students whose creative written works best reflect the originality, artistry, and dynamism of Hamilton: An American Musical, created by Lin-Manuel Miranda '02, Hon. '15 and directed by Thomas Kail '99.
Anna Tjeltveit of William Allen High School in Allentown, Penn., was awarded the grand prize—a four-year, full-tuition scholarship to attend Wesleyan—for her one-act play titled "Five Steps." In addition, this year for the first time, Wesleyan awarded two honorable mentions along with $5,000 stipends. These went to Cole Goco of Arlington, Va., (H-B Woodlawn High School) for his web comic strip, "Billy the Pop," and to Benjamin Togut of New York, N.Y., (Columbia Grammar and Preparatory School) for his set of poems—"Arpeggios," "Pipe Dreams," "Frost," "Meditations," and "Verse." All the students will be members of Wesleyan's Class of 2023, beginning in the fall.
"Once again, we've been tremendously impressed by the imagination and boldness these students bring to their creative writing," said President Michael S. Roth. "We are pleased to recognize three exceptional works in different categories this year with the newly expanded Hamilton Prize."
The winning works were chosen from a pool of over 400 submissions this year. Faculty members reviewed entries, while an all-star selection committee of Wesleyan alumni in the arts, chaired by Miranda and Kail, judged finalists. Bios for all the committee members can be found here.
"What a joy it is to serve alongside this distinguished group of fellow alumni and get a glimpse at the next generation of creative minds," said Kail. "It's an honor to help these artists get their start at Wesleyan, as we all did."
About the Honorees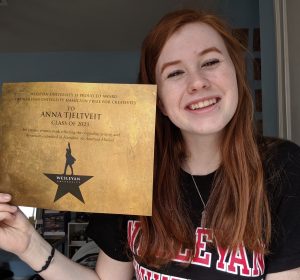 Tjeltveit's play, "Five Steps," tells a humorous modern-day story of Hades, the god of death, who seeks out help from a life coach, Persephone ("emphasis on the fun!"), when he finds his job of torturing humans has become stale and joyless. Persephone presents him with a five-step process guaranteed to bring happiness, beginning with positive mantras and daily green smoothies. Ultimately, Hades realizes that a one-size-fits-all approach to happiness is worse torture than any punishment he could create.
"It's not surprising that Lin-Manuel Miranda adored this mash-up of classical characters in a contemporary comedic situation," said Roth. "Anna's witty play is fun and sophisticated, showing her great promise as a creative writer. We can hardly wait to see what she does at Wesleyan."
Goco began working on his web comic strip, "Billy the Pop," the summer before seventh grade. The strip stars a talking popsicle named Billy, his human friend Harley, and their pet turtle, Pete. For years, Goco maintained a strict schedule of posting a new strip every other day, and has amassed a large body of 700 comics. He has released two book volumes of Billy strips, available for sale on Amazon.
Actress Beanie Feldstein '15, a member of the alumni selection committee, described "Billy the Pop" as "incredibly clever and sparkling" with "a strong visual style and voice."
Togut's poetry explores themes of queer identity, sexuality, and coming-of-age in an increasingly chaotic and divided world. Delving into the personal and political dimensions of isolation and queerness, his poetry sheds light on his own experiences while forcing readers to re-examine their own beliefs.
"'Arpeggios' is at once lush, illuminating, complex, and clear," actor and selection committee member Bradley Whitford '81 said of his favorite poem submitted by Togut. Quoting from it, he added, "'Finding beauty in that dissonance' is a crystalline articulation of the mission of every artist who ever picked up a pen or a paintbrush or brought a flute to their lips. I cannot believe a student wrote this. It is the work of an accomplished poet."
About the Hamilton Prize
The Wesleyan University Hamilton Prize for Creativity was established in 2016 in honor of Miranda and Kail's contributions to liberal education and the arts and named for the pair's hit Broadway musical, which that year won 11 Tony Awards, including Best Musical, Best Direction of a Musical, Best Book, and Best Original Score. Over the past two years, more than a thousand students have submitted stories, poetry, songs, plays, and screenplays for consideration for the prize. Read about past winners here and here.
"Every year, my hope in the future of the arts is renewed by reading the stories, poems, screenplays, and other works submitted by these young people," said Miranda. "I am delighted to recognize these three exceptionally talented writers, and look forward to seeing them continue to hone their craft at Wesleyan."
Learn more about the Hamilton Prize here.