4 Alumni Work to End Gun Violence Through Everytown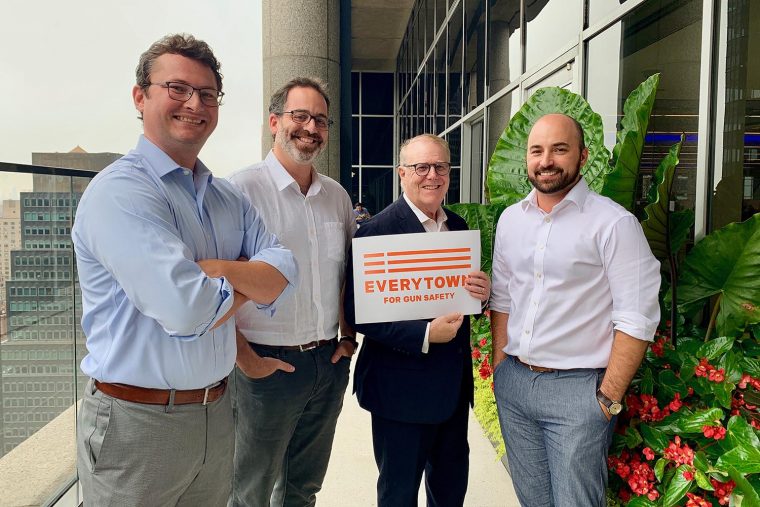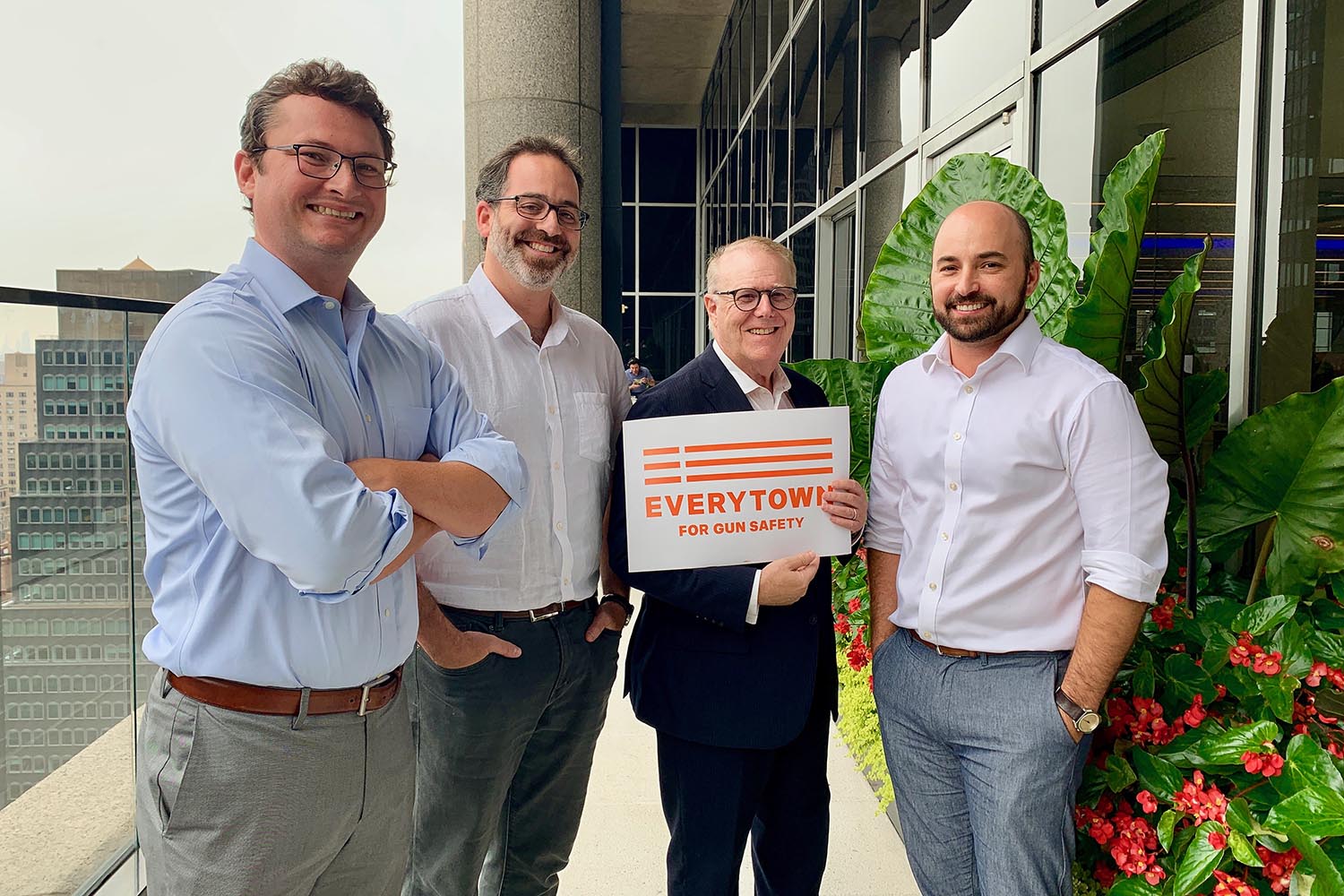 Every day, 100 Americans are shot and killed and hundreds more are wounded as a result of gun violence. 
Through an organization called Everytown for Gun Safety, four Wesleyan alumni are working with lawmakers to pass common-sense laws and policies that build safer communities and save lives while still respecting the Second Amendment.
Everytown members research a range of vital issues surrounding gun violence and develop data-driven solutions. To date, Everytown has supported nearly six million mayors, mothers, police, teachers, survivors, gun owners, students, and everyday Americans to make their own communities safer.
The alumni, who help drive the organization's policy and political efforts, include John Feinblatt '73, president; Nick Suplina '00, managing director of law and policy; Sam Levy '04, counsel; and Rob Wilcox '01, deputy director of policy and strategy.
"The gun violence prevention movement is making progress you wouldn't have thought possible 15 or even five years ago," Feinblatt said. "We're passing life-saving laws in blue and red states. We've built the grassroots counterweight to the NRA. We've brought students, cultural influencers, and business leaders into the movement. The issue has gone from the third rail of politics to a key issue in the 2020 campaign. We're working to elect gun sense champions up and down the ballot."
Everytown is working to close loopholes that allow criminals and other potentially dangerous people to buy guns without background checks; support laws that save lives by keeping guns away from domestic abusers; educate parents about safe storage and responsible gun ownership; and support stronger gun trafficking laws to give law enforcement the tools they need to crack down on criminals. The organization's efforts have recently appeared in the New York Times, the Guardian, Politico, People, the Washington Post, Salon.com, and other media outlets (view all).
The organization has grassroots and grasstops arms, including Moms Demand Action for Gun Sense in America, Mayors Against Illegal Guns, and Students Demand Action. And the Everytown Survivor Network works with survivors of gun violence to share their stories and advocates for laws to protect future tragedies.
Below, Feinblatt, Suplina, Wilcox, and Levy share how they became involved with Everytown for Gun Safety, and how their Wesleyan education prepared them for working within the gun violence prevention movement:
John Feinblatt:
Everytown for Gun Safety grew out of the gun violence prevention work we started when Mike Bloomberg was mayor of New York City. I served as Mike's chief policy advisor, and 15 years ago, this issue was the "third rail" of American politics. Nobody from either political party wanted to touch it. It's fair to say that times have changed. Now Everytown has grown into the largest gun violence prevention organization in the country, and we have grassroots volunteers in every state.

After we left City Hall, I didn't want to walk away from gun violence prevention. I was fortunate to be tapped to lead Everytown when Michael Bloomberg decided to continue his involvement in the issue. We wanted to see whether we could build a movement. I think I'm like all of our team members and volunteers, in that we all feel a responsibility to fight for the laws that can save lives. I'm a parent of two teenagers, and it's really meaningful to do work that is helping to keep kids and families safer.

As a psychology major at Wesleyan, I learned the ability to not just understand an issue, but also look at people's motivations. And generally at Wesleyan, I walked away with a keen ability to problem-solve and look at an issue from 360 degrees. It has been helpful in work and life to have the confidence to question the status quo and understand the views of your adversaries. You don't solve problems without people coming together.
Nick Suplina:
While serving in the executive division of the New York Attorney General's office, I coordinated a number of criminal justice and public safety matters, including our firearms portfolio. That role put me close to issues like online advertisements for illegal gun sales on Facebook, interstate trafficking of firearms, officer-involved shootings, and the emergence of DIY untraceable ghost guns. The role also exposed me to the extraordinary work of Everytown. After Rob introduced me to John Feinblatt at the 2017 Shasha Seminar on gun violence at Wesleyan, we got to talking and, soon thereafter, I joined the team.

Gun violence in America is a complex problem: It is an urgent public health issue, best addressed through law, frustrated by entrenched politics, complicated by culture, and solvable only by building a movement. Everytown is unique in its ability to engage on every front, and does so with incredibly devoted staff, volunteers, gun violence survivors, and supporters who are an honor to work with and to fight alongside.

Wesleyan is a place that cultivates creativity and critical, independent thinking. In particular, as a Science in Society Program major, I regularly had to think across disciplines and learned how to analyze discrete problems in broad context. Mostly, my time at Wes taught me to question orthodoxy—even scientific certainty is subject to paradigm shifts—which is important to remember when taking on a fight that conventional wisdom says is unwinnable.
Rob Wilcox:
Addressing the issue of gun violence prevention and undoing the damage done by the gun lobby is a marathon, not a sprint. Everytown is filled with amazingly talented people and absolutely incredible volunteers—nearly 6 million supporters—who devote their time and energy to taking on the gun lobby. I am drawn to team environments filled with passionate people and smart strategy, and the Everytown team is doing the work every day to empower volunteers, support survivors of gun violence, and address the issue of gun violence in the myriad forms it takes.

Wesleyan is a special place that encourages big thinking about complex problems and an expectation that it is our job to take on major issues of the day. But it is also about the people you meet while you are there. Coach John Raba played a huge role in my development and taught me the value of teamwork and perseverance. I would be remiss if I didn't also point out that I met my wife, Jessa (also '01), at Wesleyan, and she has been the most important person in preparing me to tackle all of life's challenges.
Sam Levy:
In nearly 10 years as a prosecutor at the Manhattan District Attorney's office, I saw firsthand the devastating consequences of gun violence and came to understand the urgent need to combat this national epidemic. Working at Everytown presented me with a unique opportunity to develop and advocate for lifesaving policies, and to help enact common-sense gun laws across the nation.

Though enforcing existing laws and prosecuting those who commit gun crimes is vitally important, I wanted to broaden my focus and work to prevent gun violence tragedies before they happen. Everytown fights for a broad range of evidence-based solutions to prevent gun violence—through not only legislation, but also community-based initiatives and ongoing research, and by supporting survivors and their families. I wanted to join that fight.

My time in the College of Social Studies taught me to understand the scope and complexity of social problems and how to critically evaluate their causes and consequences. My years at Wesleyan also fostered my commitment to public service and the urgent need to work toward solutions to those problems, a commitment that has guided my professional life.