Bon Appétit Creates Meal Harvested from within 150-Miles of Campus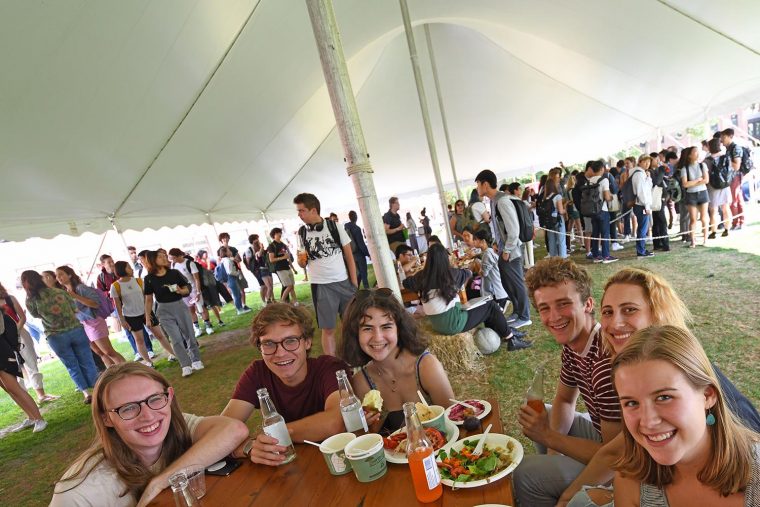 On Sept. 24, Wesleyan's dining service Bon Appétit challenged itself by creating a meal using ingredients sourced within a 150-mile radius of campus.
The result was the 14th annual Eat Local Challenge.
This year's menu included steamed lobster, mussels, corn, potatoes, haddock tacos with curtido slaw, clam fritters, wood-fired rotisserie chicken, smoked pork sandwiches, blueberry crisp, pork belly, turkey, cucumber and tomato salad, barbecue seitan, fresh greens, butternut squash stew, and fresh fruit.
Food was sourced from Horse Listener's Orchard in Ashford, Conn.; Maine Sea Salt Company in Marshfield, Maine; Mi Terra Tortilla Company in Hadley, Mass.; Lakeside Farms in Hadley, Mass.; We Bake We Jam in Durham, Conn.; Baers Beans in South Hamilton, Mass.; Red's Best from Boston; Dole and Bailey (fisheries) from Woburn, Mass.; Kenyon Grist Mill in Usquepaugh, R.I.; Szawlowski Farm in Hatfield, Mass.; Ekonk Hill Farm in Sterling, Conn.; Hops on the Hill in Glastonbury, Conn.; The Bridge in Middletown, Conn.; The Barn Next Door in Hadley, Mass; Lucki 7 Hog Farm in Rodman, N.Y.; Cato Corner Farm Colchester, Conn.; Ronnybrook Dairy Farm in Ancramdale, N.Y.; Lamothe's Sugar House in Burlington, Conn.; Indoor Organic Farm in Poughkeepsie, N.Y.; and Avery's Beverages in New Britain, Conn.
Photos of the event are below: (Photos by Olivia Drake)