Tölölyan Honored as Preeminent Scholar of Diaspora Studies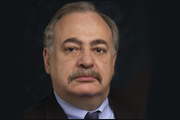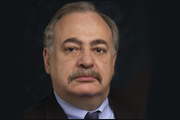 Khachig Tölölyan, professor of letters, professor of English, was honored as the preeminent scholar of diaspora studies in general, and the Armenian Diaspora in particular, at the International Conference for the Society of Armenian Studies held at the University California, Los Angeles, on Oct. 12–13.
The conference, titled "Diaspora and 'Stateless Power': Social Discipline and Identity Formation Across the Armenian Diaspora During the Long Twentieth Century" marked the association's 45th anniversary, and drew scholars from Italy, Mexico, France, Armenia, England, Portugal, the Netherlands, Germany, and around the United States. They came to present new papers and to hear Tölölyan's keynote address, "From the Study of Diasporas to Diaspora Studies."
Introducing Tölölyan before his keynote, UCLA Associate Professor Sebouh Aslanian, who holds the Richard Hovannisian Endowed Chair in Modern Armenian History said, "Khachig's enduring legacy should not be limited to his scholarly contributions and accomplishments . . . . More than publishing journals and influencing an entire field of scholarly inquiry known as diaspora studies, Khachig has also been a remarkable mentor to scholars whose essays he has remolded and published. . . .  I can say unequivocally that I know of no other Armenian scholar who is as well-read and nimble in his thinking and who has helped me become the scholar I am today.'
Also presented at the conference were the results of pilot research of the Armenian Diaspora Survey (ADS) in 2018; Tölölyan was a member of the ADS Advisory Committee.
Director of the ADS, Hratch Tchilingirian, associate of the Faculty of Oriental Studies at Oxford University, thanked Tölölyan for his service on the project, noting  "In addition to his brilliant scholarship and numerous academic accolades, Khachig Tölölyan is a wonderful human being. He shares his enormous, accumulated wisdom with intellectual humility; engages with everyone with grace and empathy; and empowers others with generous and sincere acknowledgment and encouragement."
Additionally, more than 130 people attended the society's 45th-anniversary banquet, where Bedross Der Matossian, president of the Society for Armenian Studies and associate professor and vice chair of the department of history at the University of Nebraska, Lincoln, presented Tölölyan with a lifetime achievement award.
Tölölyan is the founding editor of Diaspora: A Journal of Transnational Studies, an award-winning publication that he has been editing since 1991.
At Wesleyan, Tölölyan teaches a range of courses in literature and critical and cultural theory. Both his research and his teaching ask (as he puts it) "how the increasing level of migration and dispersion brings new populations to the West, how these dispersions assimilate or become ethnic, diasporic, and transnational, and how these, in turn, reshape the literature, culture, and politics of the nations/states that host them."