Students, Alumni Make Career Connections through WEShadow Program

Although Kati Koerner majored in government, she spent the majority of her career working in the theater arts. The Class of 1990 Wes alumna now teaches a graduate seminar on the pedagogy of drama at the Juilliard School and serves as director of education at Lincoln Center Theater. And she's more than happy to talk about her experience with other budding theater-makers.
On Jan. 14, as part of the Gordon Career Center's WEShadow Externship Program, Koerner met with a dozen current Wesleyan students on Zoom to discuss her experience in arts education, applied theater, arts integration, and also grant-writing and budgeting. She's one of more than 115 alumni and parents who volunteered to be WEShadow hosts, who provide students to explore various careers through the "shadowing" experience.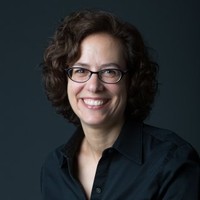 "I was happy to see a broad range of majors reflected among the students—from film to economics to neuroscience," Koerner said. "One of my most cherished memories of Wesleyan remains how open the arts were to non-arts majors. Arts work happened in all departments, both in-class and in extra-curricular settings. As a government major, I did a ton of theater with a diverse range of students without having to be a theater major, or even take many classes within the theater department. It was great to see that the expansive, inclusive nature of arts engagement at Wesleyan that meant so much to me as a student continues today."
Koerner, who started her career as a theater director, teaching artist, and high school drama teacher, also answered several questions from the students. Topics ranged from working internationally, to serving in diverse communities, and the value of graduate school, she said.
"Students are encouraged to ask questions of alumni," said Dylan Shumway '20, the GCC's career communications fellow. "These sessions are meant to be interactive ways to learn more about an industry and build a connection with someone out in the world."
The WEShadow program, which began more than 25 year ago, takes place during the first two weeks of January and ranges from a one-day, or one-week in-person visit to a host's organization or business. Due to the COVID-19 pandemic, the externships moved to a virtual format in 2021 and 2022. Students apply to WEShadow Externships during the fall semester on Handshake. This year, more than 275 students applied.
According to the Gordon Career Center, in the original iteration, resumes were collected on paper and "snail-mailed" or faxed to alumni. Notifications had to be made early enough for students and families to book flights with a travel agent. Experiences consisted of 1-2 week long shadows with project work. Starting in 2000s, cover letters and resumes were collected and bundled through an early version of career center databases. Experiences morphed into shorter in-person opportunities with travel being a little easier.
"Throughout, Wesleyan alumni have remained agile in providing what students need and ultra-generous with their time and advice," Shumway said.
The alumni backgrounds run the gamut. Natalie Ancona '15, a freelance documentary filmmaker, met with students on Jan. 16. Since graduating, she's been working in Los Angeles as an archival researcher, assistant editor, and now editor for big films and series on Netflix and Amazon, as well as independent films geared towards festivals.
Erin Teske '07, a video medical interpreting supervisor for Stanford Health Care Healthcare, and Kofi Ofori-Darko '20 is an analyst at Deutsche Bank Investment Banking, met with students on Jan. 14. Teske explained how she provides in-person and video interpreting services to patients and providers in languages including Spanish, Mandarin, Cantonese, Russian, Korean, Vietnamese, American Sign Language, Arabic, Farsi, and Dari. And Ofori-Darko '20, who studied biology and science in society at Wesleyan, spoke about his experiences working in equity capital markets and investment grade debt capital markets at Deutsche Bank, before making the move over to the company's financial sponsors coverage group.
"I volunteered to participate because I really love what I do and want more people to know about the profession of translation and interpretation," Teske explained. "I want people who are interested in languages to know all of the different opportunities that having solid language skills can give you. I also want people who might end up working with translators/interpreters at some point (i.e., people who are planning on going into law or medicine) to know more about the skills required to do the job well. Many times, there is a misconception that the only qualification to be a translator or interpreter is to be bilingual, but there is a lot more to it."
More than 115 other Wesleyan alumni and parents are already on the WEShadow roster and are ready to meet with any interested students.
Ryan Brown '15, a Democratic strategist, has worked on democratic campaigns for the president, U.S. Congress, and the Texas Attorney General and has spent time as a social worker and research consultant. "I'm happy to discuss anything that would be helpful to students," Brown says in his WEShadow bio.
Hannah H.S. Canter '10, vice president of current and development and executive producer of production company Okay Goodnight was a College of Letters major "who went down the entertainment rabbit hole shortly after graduating, kind of by accident, and did stints in many different genres of content production, finally landing at my current job where I put all the skills I'd gathered over the years to use," Canter says. "My work is really creative with a bit of business thrown in and from my vantage point I've been able to observe how people can gain entry into all sorts of positions in the film/tv industry and am very happy to share what I've learned."
David Bates '06, a radiologist at Memorial Sloan Kettering Cancer Center, began as a studio art major at Wesleyan, "but followed some of my friends on the wrestling team over to pre-med courses," he said. "A career in academic medicine is incredibly rewarding, interesting, and worthwhile. As a somewhat unconventional pre-med myself, I love to chat with Wesleyan students about my experience to help them find their own path."
Sebastian Canizares '17, an account executive for MongoDB, is currently learning how to increase developer productivity and other database essentials. "If you'd like to learn more about how to make a career in technology sales, make good money right out of school, and/or better understand the industry, I'm your Wes alum," Canizares says.
Julia Baez Valentin '14 is a contracts manager for GlobalWebIndex in London. While at Wesleyan, she studied abroad in Beijing and learned to speak Mandarin. While attending law school, she worked with a variety of clients, including Mastercard and smaller technology startups. "I am happy to speak with any student, but especially those interested in non-technical careers in tech startups. You might benefit from a discussion with me if you are interested in legal, privacy, or operations roles in high-growth/fast-paced companies," she said. "I am also enthusiastic about learning languages, crypto, and personal finance, so happy to discuss any of these topics as well."
Michelle Brown '09 worked at Sotheby's for five years before becoming a project manager at Pentagram Design. She's currently responsible for managing the design queue, writing proposals for new projects, client communications, finances and general administration for the design company. "I'm available to talk to current students about jobs and career paths in the arts (museums, galleries, auction houses) as well as adjacent fields (graphic design, marketing/advertising, copywriting, grant writing, brand strategy, etc.)," she says.
Peter Cornillie '15, head distiller at The Better Man Distilling Company, is open to talking about the state of craft alcohol in America: what to expect from taking a position in alcohol production, and the skills someone aspiring to work in the industry need to appear attractive to businesses.
While the students gain ample advice and information on potential careers through the WEShadow program, the volunteer hosts find the experience equally as valuable.
"I've signed up for WEShadow events because I greatly enjoy speaking to Wesleyan students. I've found them to be curious, open-minded, and eager to learn," Koerner said. "My own career was helped along by a series of fortuitous networking opportunities, and I'm committed to help young folks who are thinking of entering the fields of arts administration and arts education in any way I can."
For more information on the WEShadow program, contact Dylan Shumway at dshumway@wesleyan.edu.