Wesleyan in the News, November 2022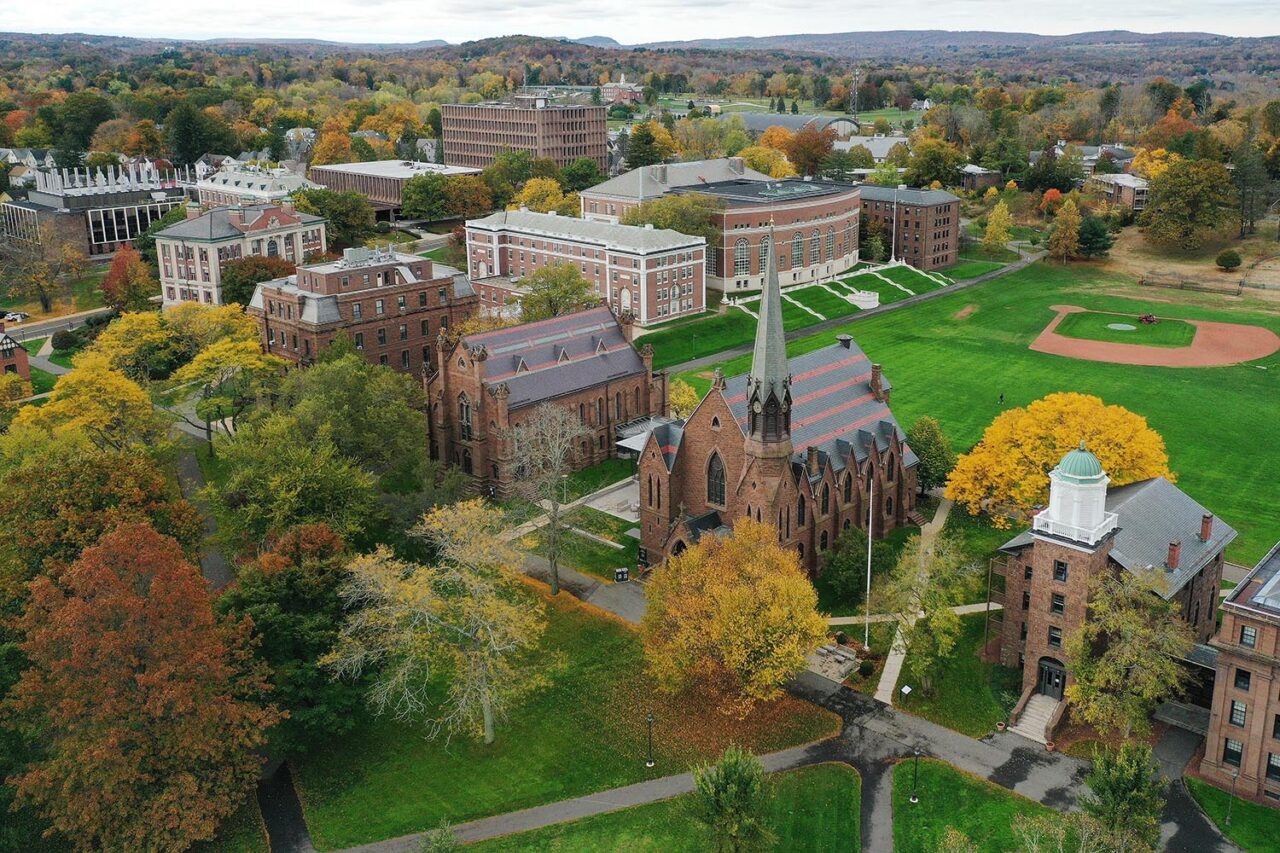 Updated November 28, 2022
Lin-Manuel Miranda '02 is the top Hot 100 Songwriter of 2022. Eight of the songs he wrote for the Disney film Encanto landed on the Billboard charts.

Assistant Professor of the Practice in African American Studies Jesse Nasta '07 participated in a Veteran's Day ceremony recognizing the service of Jesse Sips Caples of Middletown, an African American Revolutionary War veteran.
Wesleyan University is cited by the New York Times as one of the reasons Middletown is a desirable place to live in a tight job market.
Gary Yohe, the Huffington Foundation professor of Economics and Environmental Studies, Emeritus, explored the possibility that the incoming Republican-led Congress will eliminate the Select Committee on the Climate Crisis in an opinion piece for The Hill.
Scott Higgins, Charles W. Fries Professor of Film Studies, was quoted in The Hill about the future of the multiplex in a story written by Daniel de Vise '89.
The Financial Times has named Eli Meixler '13 Asia world news editor.
Merve Emre, Shapiro-Silverberg Distinguished Writer in Residence, spoke with Turkish novelist and Nobel Prize winner Orhan Pamuk about his latest novel Nights of Plague for the Intelligence Squared podcast.
Lori Gruen, William Griffin Professor of Philosophy, participated in developing a set of ethical guidelines for a new farm sanctuary, according to a New York Times story.
Amby Burfoot '68, winner of the 1968 Boston Marathon, completed his 60th consecutive Manchester Road Race on Thanksgiving, according to the Manchester Journal Inquirer.
Jeanine Basinger, Corwin-Fuller Professor of Film Studies, Emerita, published a review of Straight Lady: The Life and Times of Margaret Dumont, The Fifth Marx Brother, in the Wall Street Journal.
President Michael S. Roth '78 has focused his blog this week on the shooting at Club Q, the LGBTQ nightclub in Colorado Springs. Roth connects the rise in acts of terror against minority communities be it racist, anti-Semitic, or anti-immigrant to the need to create communities that welcome differences, making safe spaces and saving lives.
Molly Jane Zuckerman '16 recently appeared on the BBC to discuss the recent developments in cryptocurrency.
Sharon Castonguay, Executive Director of the Gordon Career Center, was featured in the article, There's a Coach for That? on the Oprah Daily website about her career counseling business.
Merve Emre, Distinguished Writer in Residence, interviewed Jon Fosse for The New Yorker about his body of work in an article entitled Jon Fosse's Search for Peace.
Jeanine Basinger, Corwin-Fuller Professor of Film Studies, Emerita and Sam Wasson's '03 new book, Hollywood: The Oral History, was recently profiled in Vanity Fair magazine. The book draws on archival interviews from the American Film Institute. The book was also reviewed in the Wall Street Journal.
Alison O'Neil, assistant professor of chemistry and neuroscience and behavior is featured on Connecticut Public about her research of Alzheimer's. The National Institutes for Health recently funded $1.7 million to help researchers find the root case of Alzheimer's. "If we're going to cure Alzheimer's, we have to stop it before it begins," O'Neil said.
Tembi Locke, '92 New York Times best selling book, From Scratch, has been turned into a limited series from Netflix, starring Zoe Saldana. Tembi was recently interviewed about the story, and the series on the Today show.
Scott L. Plous, Professor of Psychology received the Frances Mullen Distinguished Contribution to International Psychology Award from the International Council of Psychologists for a "long and distinguished history of research or applied contributions to one of more international areas."
Genevieve Angelson '08 and Bradley Whitford '81 are featured in Angelson's interview on the set of The Handmaid's Tale for Town and Country Magazine. Angelson plays the character of Alanis Wheeler and Whitford plays Joseph Lawrence, as well as Director of season 5 episode 9, Allegiance.
Wesleyan Media Project estimates $2.71 billion has been spent on television advertising for the 2022 midterm elections, with outside groups airing 30% of all ads.
Gary W. Yohe, Emeritus, Huffington Foundation Professor of Economics and Environmental Studies, signed, along with 420 scientists, an open letter to Hill+Knowlton Strategies to drop fossil fuel investments to support COP27, the United Nation's climate talks which began in Egypt Nov 4.
Wesleyan Media Project  reports pro-Democratic ads have increased over the last two weeks, outpacing Republican candidates by 15,000 in the House and Senate races.
Hilton Als, Distinguished Visiting Writer '09-10 curated the Geoffrey Holder: The Pleasures of the Flesh exhibition at the James Fuentes galleries, through December 3. Als edited the exhibition catalogue for Black Male: Representations of Masculinity in Contemporary American Art, on view at the Whitney Museum of American Art (1994–95). My Pinup, a meditation on love and of loss, of Prince and of desire, was published on November 1, 2022.
Wesleyan's prison education program was noted in an interview for the Hartford Business Journal article, Ex-cons turn to advocacy, cannabis, and entrepreneurship following incarceration.
Gary W. Yohe, Huffington Foundation Professor of Economics and Environmental Studies, Emertius published an op-ed in the New York Daily News, "There's no turning back toward fossil fuels now."
Erika Franklin Fowler, professor of government, and co-director of the Wesleyan Media Project was quoted in an article about the national implications of the local CT-5 district race for Representative, "Outside group activity is off the charts … I don't remember the last time, if ever, that the Hartford media market made the top list of media markets."
Quatina Frazer, MALS '20 is a candidate for Connecticut's House of Representatives for the 33rd district of Middletown, CT. Frazer served as an alternate commissioner for the Middletown's Planning and Zoning Commission from 2020-2021.
Dalia Ramirez '20 writes in Nerdwallet about why cryptocurrencies are more likely to be targets of investment fraud than other financial products.