Holloway Lecture Launches Equity and Inclusion Week 2023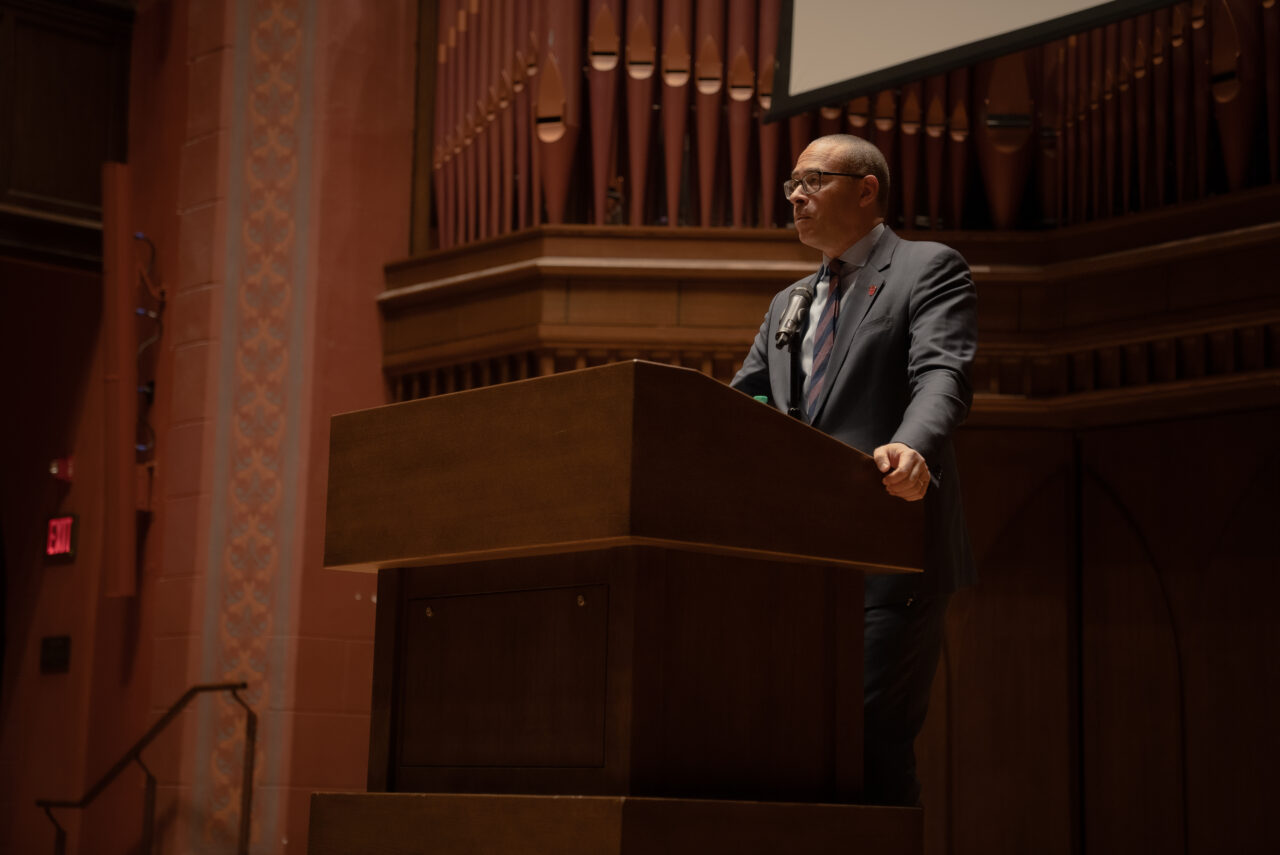 On the first night that Jonathan Holloway lived in the president's residence at Rutgers, The State University of New Jersey, he decided to take his dogs for a walk. He gathered the usual gear – a collar, leash, and bags.
After a moment of reflection Holloway grabbed his ID as well.
Even though Holloway had just been appointed president of an institution encompassing over 100,000 people, as an African American man he wasn't certain he could get back into his home safely if confronted by security. He had not, and would not, have a problem with anyone at Rutgers, but situations that African Americans have experienced with law enforcement across the country resonated in his mind.
"I did not have the freedom or the privilege, as fair skinned as I am, to presume I could walk back onto the president's property," Holloway said, an illustration he provided about the dichotomy of African American life in the United States.
Holloway, a historian who specializes in post-emancipation United States history, gave a talk January 30 at Memorial Chapel entitled "Being in the Room Where It Happens: Power, Invisibility, and Silence." Holloway's lecture on the different forms of invisibility in African American life launched Wesleyan's 2023 Equity and Inclusion Week, a series of events intended to foster understanding and collective community learning.
April Ruiz, dean for Academic Equity, Inclusion and Success, described Wesleyan as a place with a long history of activism and critical dialogue about equity and justice. "(Equity and Inclusion Week) celebrates the diversity of identities that are held by our community and facilitates our growth," Ruiz said. "This week invites us to learn, to act, and to practice the values of our community."
In his introduction, President Michael S. Roth '78 praised Holloway's work exploring America's past in a way that helps to foster a less toxic public life.
"Jonathan and I have been putting our heads together for the past couple of years to turn our educational institutions towards crafting a better path for active political engagement in this country, political engagement that would serve democracy instead of serving segregation, parochialism, discrimination, or violence," Roth said.
Roth said attempting to change the current political climate can feel daunting, but it is an effort worth undertaking. "I look at the example of Jonathan Holloway … This is a man who has spent his life studying and living what it means to fight against a discriminatory present and past in this country, who still puts pen to paper to try to speak to us about how we might live differently and more inclusively," Roth said.
Holloway began his talk with what he described as a "trigger warning." He cited recent efforts in Florida by Gov. Ron DeSantis to ban advanced placement courses on African American history and other efforts going further back in the nation's history to remove speech that contradicted an exclusively white perspective. "(This lecture) would be a felony act if several state governments get their way," Holloway said.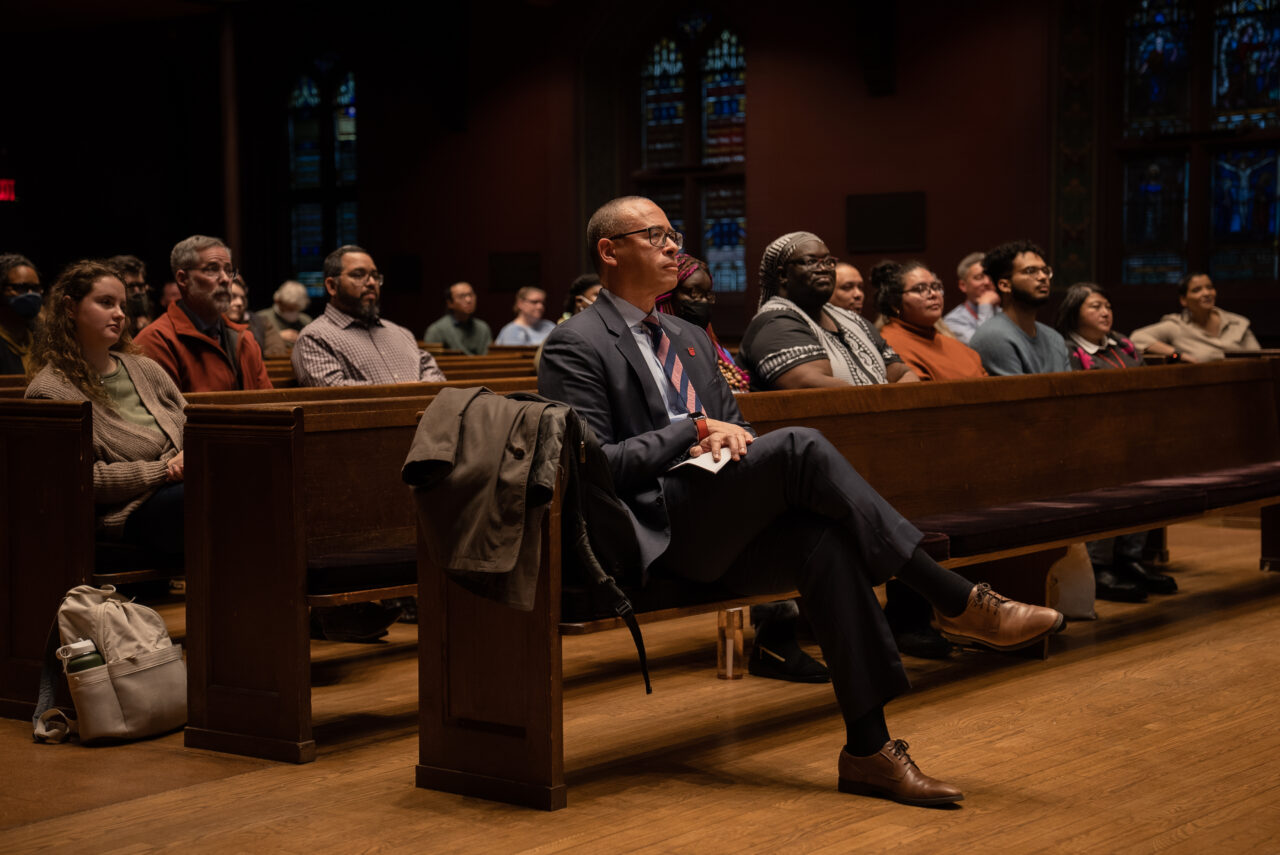 Holloway's speech ranged from the intellectual – an exploration of an image of drops of black paint in a bucket of white paint from Ralph Ellison's novel "Invisible Man" – to deeply personal reflections on his family history. Through it all, he outlined the different ways African Americans and their contributions and experiences have been rendered invisible.
Institutions don't have any sense of how intrinsic African Americans were to their founding and their ongoing operation, Holloway said. The invisibility of African Americans is baked into the entire enterprise, he explained. He cited an example from Yale University, the school where he spent most of his career.
In 2016, Corey Menafee, a Yale service worker who is African American, smashed a stained-glass window depicting slaves carrying bales of cotton. The window was in a college named after John C. Calhoun, a legislator who was an architect of the Confederacy's fundamental principles.
The indignity of the image was simply too much, and Menafee decided to act. "That thing has to come down … as soon as you look at it, it hurts," Holloway quoted Menafee as saying.
Up to the point he smashed the window, Menafee was invisible, Holloway noted. To the university, it didn't matter that the people of color in service roles were working with racist symbols around them. It took an act of protest to get the university to see what was in plain sight.
The burden of invisibility is real and has long lasting effects, Holloway said. Society teaches some people that they they've deserve and have earned everything they have. Others who go to the same schools and have done the same jobs still need to carry their ID cards with them.