Wesleyan Honors Black History Month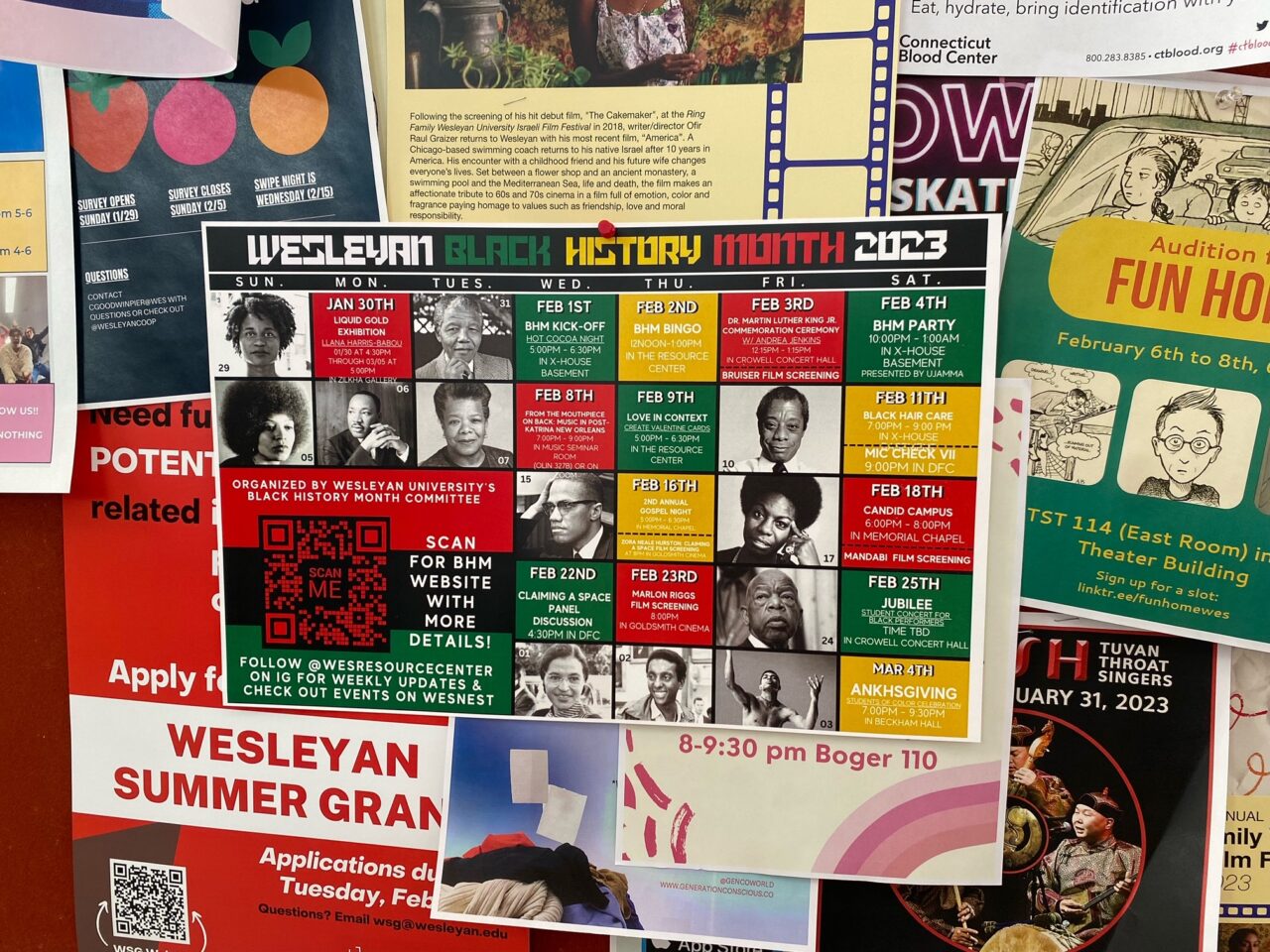 In a time when the wounds of racial injustice continue to be raw in America, Wesleyan University's Black History Month programming hopes to represent the complexity, struggles and joys of the African American experience.
"We explicitly want to highlight the importance of the Black joy we are living," said Demetrius Colvin, director of The Resource Center. "There is so much death, sadness, and trauma. We have to honor that. But an important aspect to the joy and sorrow is how people are surviving, resisting, and thriving."
The University will celebrate the month with gallery exhibits, film screenings, performances, and celebrations. Click here for the full list of events and for sign up information.
Black History Month kicks off on Wednesday, February 1 with a hot cocoa night in the Malcolm X House basement. with the University's 17th Annual Martin Luther King Jr. Commemoration, will take place Friday, February 3 from 12:15 to 1:15 pm at Crowell Concert Hall with a reception to follow in Usdan 108.
Andrea Jenkins, president of the Minneapolis City Council and the first African American openly trans woman to be elected to office in the United States, will be the speaker. Jenkins' political career took place through the rise of the Black Lives Matter movement and the demonstrations denouncing the murders of Jamar Clark, George Floyd, Daunte Wright, and Amir Locke by Minneapolis police.
"This is an opportunity to share speakers I love with the community every year," Colvin said."Andrea Jenkins is a great example of living civil rights history and how to embody the legacy of activists such as Rev. Dr. Martin Luther King Jr."
A focus on the arts is a bedrock of Wesleyan's Black History Month events. Wesleyan has always demonstrated a commitment to artistic expression, Colvin said, and that focus has become even more vital for communities of color on campus.
Assistant Professor of Art Ilana Harris-Babou's exhibition "Liquid Gold," taking place in the Zilkha Gallery January 30 to March 5, presents a video installation and a sculpture that examines the history of breastfeeding for Black mothers in America.
The Black History Month film screening series begins with "Black Panther: Wakanda Forever" (in 3D) on January 27 and continues with "Coming to America" on January 28, Bruiser, written and directed by Miles Warren '19. In addition, a screening of "From the Mouthpiece on Back: Music in post-Katrina New Orleans," will take place at Olin Library on Wednesday, February 8. "Mandabi" will take place Saturday, February 18 and "Daughters of the Dust" on Saturday, March 4.
Corwin-Fuller Professor of Film Studies Tracy Heather Strain's newest documentary "Zora Neale Hurston: Claiming a Space" will be screened Thursday, February 16.
Student performances also play an important role this month in illustrating and amplifying the African American experience, Colvin said.
Mic Check VII will take place on Saturday, February 11 from 9 pm to 11:30 om at the Daniel Family Commons. The student-led organization is dedicated to proving campus Hip-Hop and R&B artists a platform to express themselves creatively. "This series also hopes to uplift Wesleyan by providing its students with increased opportunities to collaborate across artistic genres," according to a statement.
The 2ND Annual Gospel Night, taking place Thursday, February 16 in Memorial Chapel showcases live and recorded performances of Christian music coming from the African and African American experience.
Ujamaa, Wesleyan's Black Student Union, will host Jubilee, a student concert for Black performers featuring music and spoken word performance on Saturday, February 25 in the Crowell Concert Hall.
Jubilee is a Wesleyan tradition going back several decades. Alumni often come back to perform, and the entire feeling of the evening is exciting and interactive, Colvin said.
The festivities will conclude on March 4 with Ankhsgiving, a celebration created to bring together students of color from different backgrounds to eat together, network, and show each other their individual talents and skills.
In addition, there will be seminars and workshops on love, black hair care, and other issues of importance to the African American community. "The Black History Month committee is proud of the diversity of departments that have contributed to our calendar this year and we are excited to share this awesome variety of events with the Wesleyan community," Colvin said in a statement to the University.
In addition to Colvin, the 2023 Black History Month Committee includes Kyla Danquah '25, Kiarah Young '23; Joanne Rafferty, Director, Office of Student Involvement; Jen Cheng Associate Director, Office of Student Involvement, Kiara Ruesta-Cayetano, Assistant Director of The Resource Center; Cecilia McCall '91, Director of Alumni and Parent Engagement, Office of Advancement; and Anastasia Daniels, Social Media Specialist, University Communications.