2023 Davis Project for Peace to Improve Technology Access in Rwanda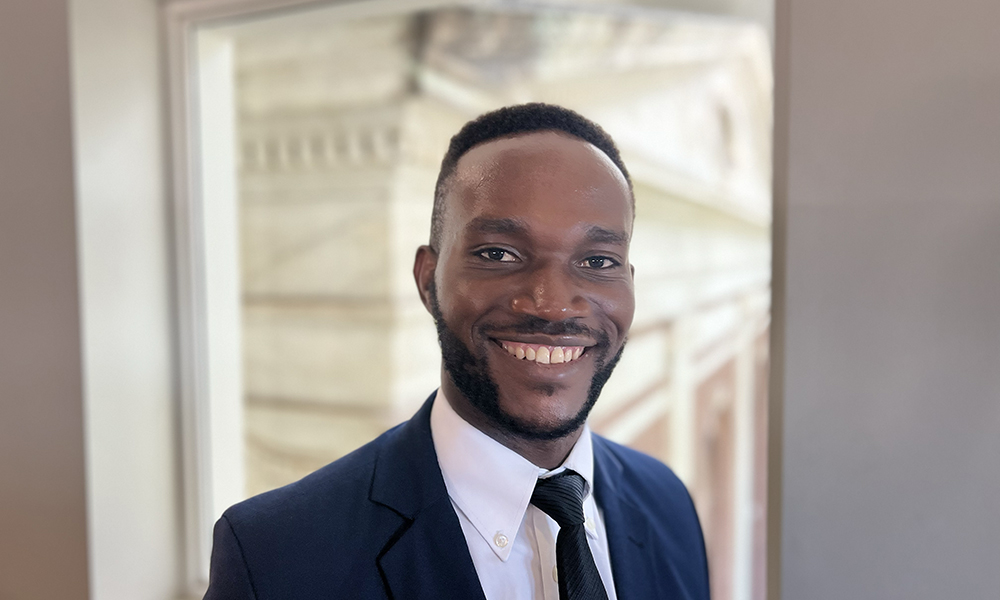 For Eugene Gato Nsengamungu '23, his homeland of Rwanda is everything. Guided by the example of his late father, a soldier who fiercely loved his country, it's only natural that when Nsengamungu thinks of a problem to be solved, he thinks of how he can do so back home.
"This is a spirit I got from my dad," he said.
Nsengamungu, a Government and Physics major, was recently awarded a Davis Project for Peace grant from the Patricelli Center for Social Entrepreneurship to create the Rwanda Youth Tech Informants (RYTI) project, a program that will equip high school students in rural areas with the knowledge to access digital services provided by the government. "We are building our country at a very fast pace … we need people with knowledge to operate the technology we are putting into place," Nsengamungu said.
Growing up in a remote area, Nsengamungu didn't see his first computer until he was 19 years old. But times are changing. Rwanda is currently building its technological infrastructure, and the government encourages its citizens to access services like birth and death records, driver's licenses, health insurance, and other fundamental needs online. However, digital access in many parts of the country remains spotty and people who live there often don't know how to use the technology that is present, Nsengamungu explained.
"This gap, if not bridged soon, will lead to income inequality," Nsengamungu said.
He hopes that by training this summer a cohort of 15 high school graduates from the rural Musanze district in basic computer skills, they would then be able to go back to their communities and help the people there enter the digital ecosystem. "Education is my passion. I've always believed that if you want to help the community, you can do so through education. That will have an impact," he said, calling on his background as a former high school teacher.
The task is daunting—to give one example, in the Nemba sector, Nsengamungu's home, the government provided 16 laptops, an internet connection and a single staffer to serve a center representing 18,000 people.
RYTI ambassadors, armed with their own laptops, internet connection scanners, and printers can fan out across the region to improve accessibility. "A building nation has an advantage that a developed nation doesn't—we can build a nation in a way that everyone rises together," he said.
After the pilot program this summer, Nsengamungu has another long-term objective. As Nsengamungu puts it, data is food for better decision making across Rwanda. He hopes to transform RYTI to a series of data centers to meet the growing demands for information, including demographic data.
After his work in Rwanda this summer, Nsengamungu will return to Wesleyan to a get a Master's degree. "Gato is a humble, affable, and thoughtful student leader who did a wonderful job as one of our winter break coordinators earlier this year and has also worked for ResLife throughout his undergraduate program. He epitomizes integrity, altruism, and brilliance," said Morgan Keller, director of international student affairs.
He might be coming back to Wesleyan, but his heart is in Rwanda. He wants to return home to take on a leadership role there, helping Rwanda continue to heal after the genocide in the mid-1990s. A quote in Nsengamungu's email signature is apt: "A life worth living, is a life lived in service for others." "One day, I'm going to run for president of Rwanda," he said.