Logoh '23 to Start Up Aquaponics Farm in Togo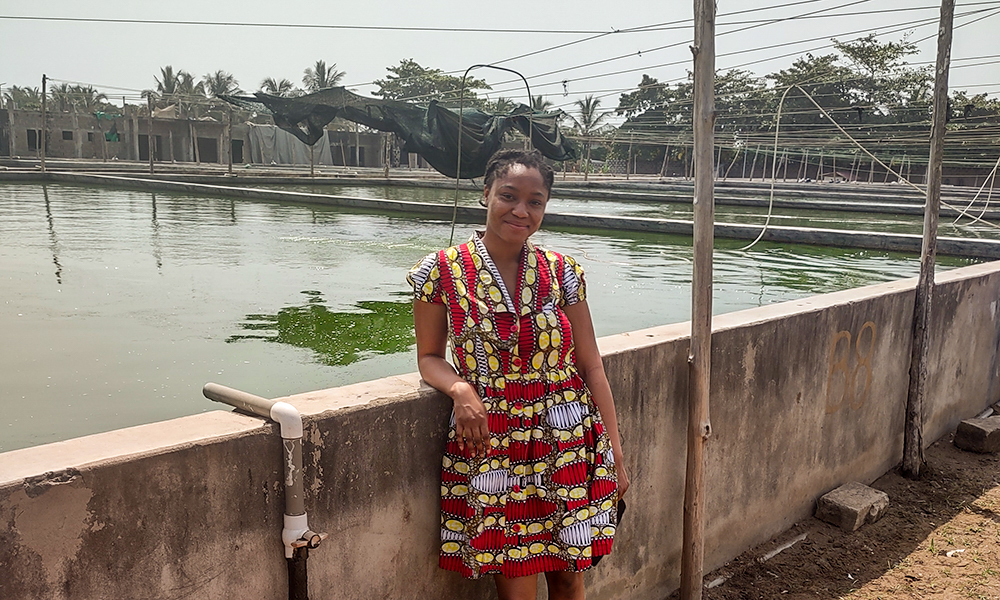 Keleki Logoh '23 lived in Togo, located in West Africa, until she was seven years old. In 2021, she went back home for the first time since she was a little girl.
"I was shocked by the state of the country," Logoh said.
Food scarcity was an issue since over 60 percent of the citizens experienced moderate to severe food insecurity. Imported vegetables were expensive. People had trouble balancing financial burdens with feeding their families. Just a few months later, Logoh was back at Wesleyan going down an internet rabbit hole of videos of different kinds of farming techniques. When Logoh discovered aquaponics—the combination of fish and plant production and soil less growing techniques—she felt it could be just the thing to help the country of her birth.
Logoh believed there was an opportunity to redefine farming in Togo using this method. "The reason we are doing this is because it meets our mission of bringing nutritional diversity to vulnerable communities in Togo. We don't just want to grow lettuce. We want the produce we grow to have nutritional value," said Logoh, who double majors in molecular biology and biochemistry and the College of Integrative Sciences.
She drew up a plan to launch this farming model in Togo, thus increasing farming productivity and crop yields. Her plan won the  2023 Fishbowl Challenge, a $25,000 cash prize.
Logoh initially connected with Wesleyan's Patricelli Center for Social Entrepreneurship via the Davis Projects for Peace Grant process. Although she did not receive the grant, she became part of a larger network of students interested in social impact, and received advising support to prepare for the Fishbowl grant, according to Ahmed Badr, interim director of the Patricelli Center for Social Entrepreneurship.
"This project is especially compelling because it combines Kekeli's expertise, lived experience, and commitment to improving the quality of life of communities across Togo and West Africa. Kekeli and her team have invested countless hours to refine their pitch and impact model, and they are very well positioned to make significant progress over the coming years," Badr said.
While aquaponics can be an effective and efficient way to grow crops, it is expensive to get started. By the end of May 2023, Logoh plans to have the funding to set the project in motion. Over the course of this coming summer, Logoh will be present in Togo, getting the operation started and hiring local managers to do the work long term. In addition to the aquaponic system, Logoh's farm, located in area of small villages, will grow fruits and vegetables by more conventional methods.
"Ever since I started at Wesleyan, my biggest dream was giving back to my community," Logoh said. "There are many issues that need to be addressed; however, I believe that starting with meeting the basic needs of Togolese individuals would empower them to take action to address those other pressing issues."
Once she gets the farm set up in Togo, Logoh plans to embark on a career as a social entrepreneur. "I think this is what I am meant to do," she said.
In addition to her work on the farm, Kekeli is a winner of a New Venture Award and will be joining a delegation of Patricelli Center students to the United Nations ECOSOC Youth Forum later this month. "The Patricelli Center is there for students regardless if they are starting a new venture or thinking through their own relationship to social impact, or simply looking for a place to start," Badr said.
This Fall the Patricelli Center will be offering CSPL252: Leadership & Social Innovation, a new course focused on introducing students to global leaders at the forefront of social impact across industries and sectors.