New Research Explores Efficacy of Suicide Risk Screening Versus Depression Screening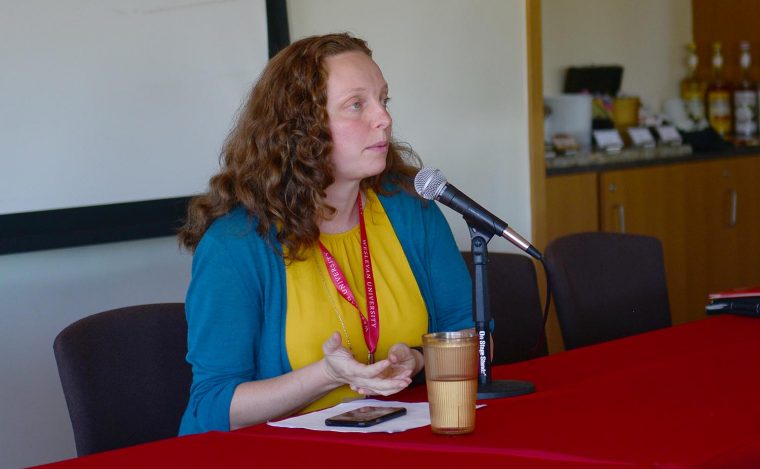 More than half of people who die by suicide visited a primary care physician in the month prior to their death, according to research. That statistic indicates a unique opportunity to help identify people wresting with suicidal ideation and perhaps save lives.
Assistant Professor of Psychology Alexis M. May, director of the Risk, Prevention, and Intervention (RPI) Lab, has recently published research that shows a common depression screening questionnaire given at regular primary care visits is more effective in predicting future suicidal behavior over the short term than specific questions about suicidal thoughts themselves.
"It suggests to me that while our increased knowledge, willingness, and awareness about suicide and suicide risk is important, we need to continue doing rigorous empirical work to understand what's going to be most helpful for people. We can't rest on our assumptions," May said.
The study's findings are published online in the Joint Commission Journal on Quality and Patient Safety. May's lab worked with The Ohio State University Wexner Medical Center on the project.
"The ultimate goal is to find and help identify the people who are suffering and who need help," May said.
From 1999 to 2021, the suicide rate in the United States increased by more than 35 percent, according to National Vital Statistics Reports. May's research, in part funded by the Department of Defense, studied 2,475 patients from six military primary care clinics—a mix of active service members, veterans, and civilians—who completed basic screenings for depression and suicidal ideation during a routine visit.
The study team followed participants for a year after the initial screening to assess the efficacy of the screening efforts in identifying those who went on to attempt suicide. More than 60 percent of patients who attempted suicide in the following 3 months initially screened positive for depression using the depression screening tool (PHQ-9) and about half of those individuals also reported past-week ideation. However, suicide ideation items did not independently identify any additional suicide attempts.
The PHQ-9 depression screening correctly identified more patients who attempted suicide within three months than questions about at suicidal ideation in the past week, month, or ever in the lifetime.
May believes that while the depression screening was better at identifying those at risk of suicide in the near term, using tools that more directly address suicidal thoughts is still helpful diagnostically. Suicidal ideation can change frequently and quickly, May explained.
"This is one of the areas of mental health where the impact can be so powerful … If it is possible to identify these folks when they are at their visit, that could be one piece of the puzzle to connect with people who are at risk," May said.
May believes the next steps in this work are two-fold. She'd like to build relationships with health care systems to understand the approach primary care physicians should be taking. "We need to be studying this kind of screening approach at the levels of hospitals. In order to know what's really going on we need to have large samples," May said.
She is also interested in examining what other tools (beyond depression screening), such as thoughts of hopelessness or lack of belonging, may help identify those at risk of near-term suicidal behavior.
Beyond screening for risk, May's lab is currently examining different ways of involving allies in suicidal interventions. "What is the best way to involve these people that really want to help? They are concerned. They love this person. They really want to be a partner in care, but suicide is really stigmatized and people have a lot of myths … there is no researched template in how to move forward," May said.