Music in Unexpected Spaces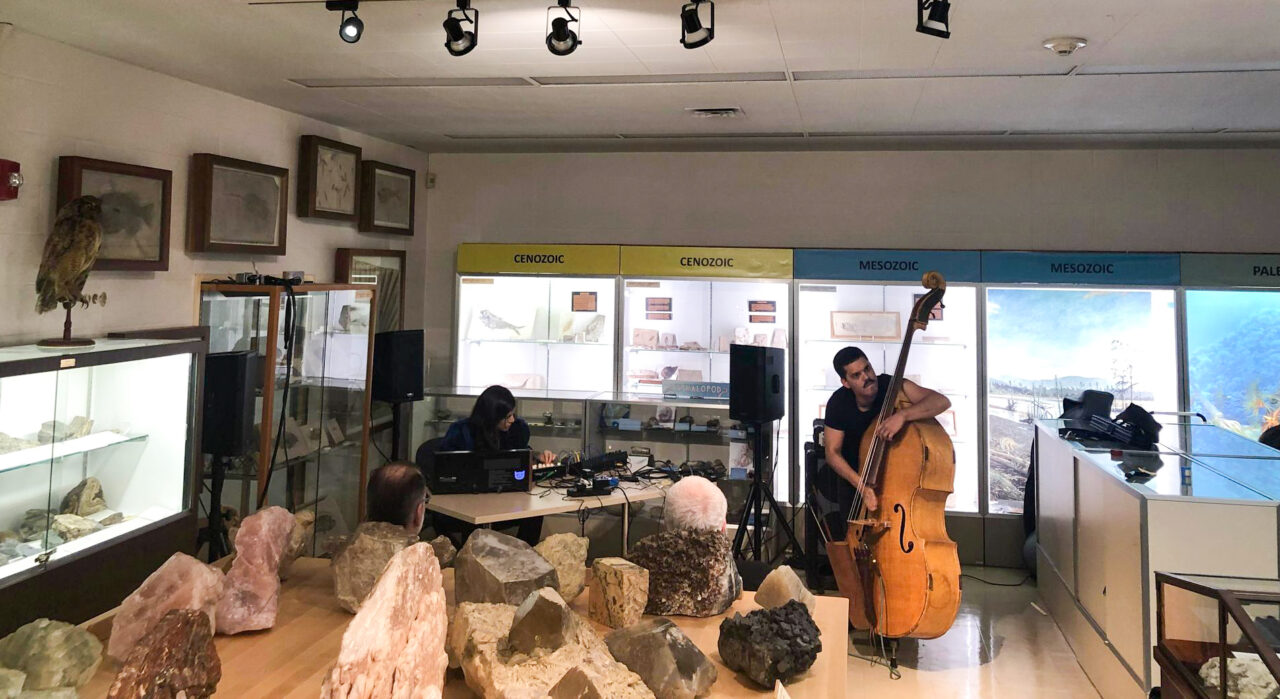 Wesleyan's Music Department continued its tradition of performing in unexpected spaces this month, with musicians showing up in library and museum venues on campus.  
"Instrument—Body," a series of four performances in surprising locations presented in conjunction with the seminar of the same name and curated by Visiting Assistant Professor of Music Ethan Philbrick, kicked off with bassist Brandon Lopez and musician and multimedia artist Cecilia Lopez MA '16 on synthesizers in the Joe Webb Peoples Museum of Natural History in the Exley Science Center in the afternoon on October 20.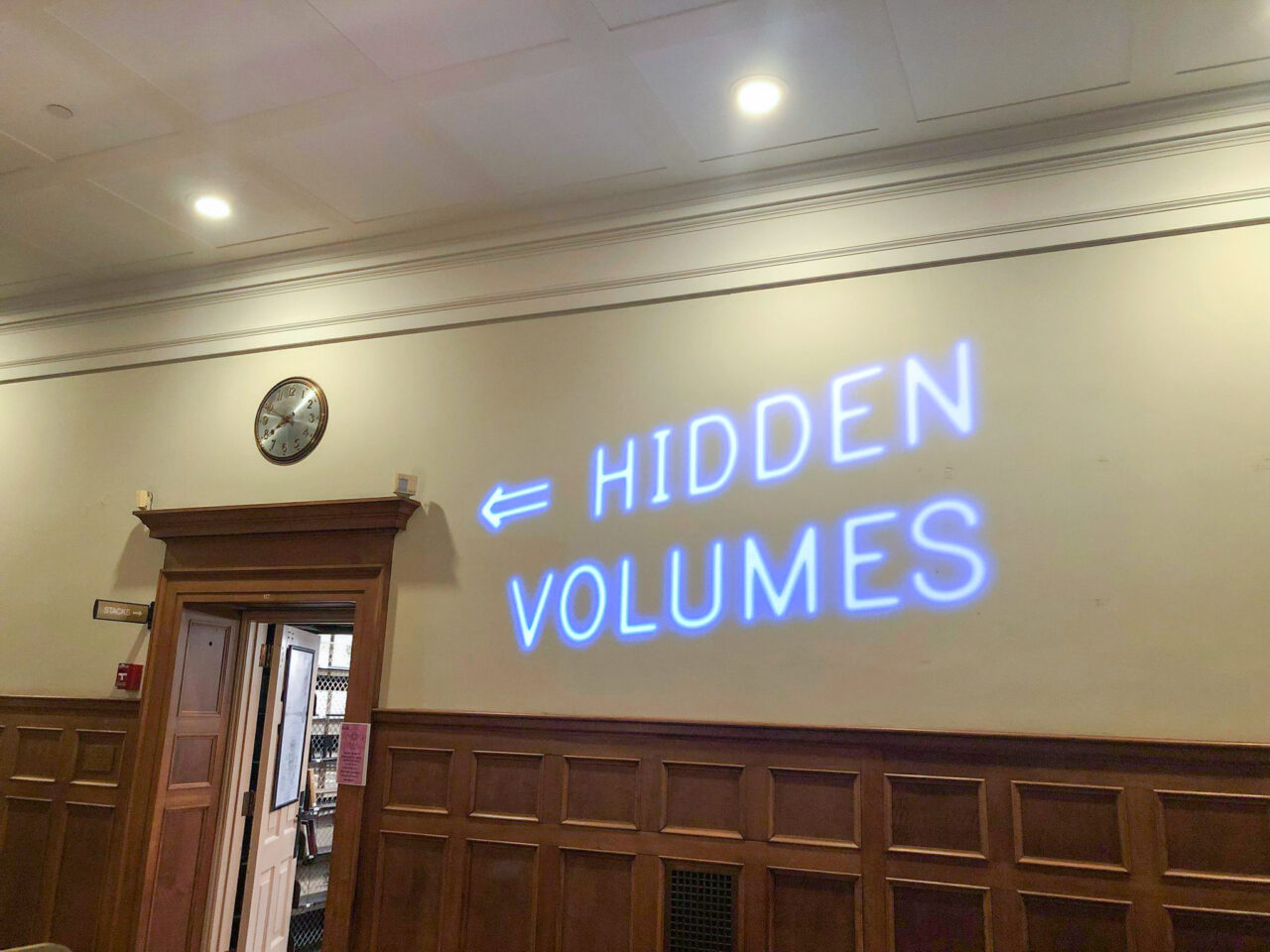 Professor of Music Paula Matthusen presented the third iterations of both "Hidden Volumes," initiated with visiting scholar Terri Hron, and "between systems and grounds," created with visual artist Olivia Valentine, in the Olin Memorial Library on the evening of October 12.  
Site-specific performances create gathering spaces for the campus community where they do not congregate. Encountering music in unusual locations leads to new forms of awareness and a different sense of location. "Performances in non-traditional spaces have long held interest for contemporary composers," said Professor and Chair of the Music Department Ronald Kuivila. 
Concert halls can come with the weight of pre-existing ideas and expectations for the audience. "Presenting performances in non-traditional spaces suspends this conventional fabric and people come to the event already in a space of not knowing, wondering but unsure," Philbrick said. "I like that."  
Set up in front of displays from the Cenozoic, Mesozoic, and Paleozoic eras in the Exley Science Center, Brandon Lopez tapped and slapped on the body of his upright bass like a drum with his right hand while plucking the strings of the bass with his left hand. Other extended techniques he used ranged from repeating pizzicato arpeggios above the bridge while he held the bow in his mouth, to eliciting distortion from his amplifier as he played with the bow. Cecilia Lopez sometimes matched the long tones of the bowed bass in harmony with her synthesizers or would change the direction of her ascending or descending notes in response to plucked strings. At other times, her synthesizers could make it sound as if the museum were an underwater space, or as if a plane were flying by overheard. Energetic, frenetic phrases would suddenly interject, alternating with moments of silent pause between sections of the 40-minute performance.  
Philbrick's course includes readings in musicology, art history, performance studies, queer studies, and critical race studies which investigate questions of instrumentality, embodiment, and technology. His cello piece will deal with the politics of queer intimacy. "I was curious about a tight space that would require proximity," Philbrick said. "I'm also interested in spaces of architectural abandonment, forgotten places where marginalized people find each other, and both literal and figurative undergrounds." 
Anyone entering the library during a two-hour span on the night of October 12 might have thought they were entering a dance club, with pulsing electronic music and a light projection of the name of the work "Hidden Volumes" on the wall by the welcome desk, with an arrow pointing to the stairs. Above on the second-floor balcony, students from MUSC 221 "Live-Electronics for Composition, Improvisation, and Sound Art" played sounds from their laptop, and Valentine was weaving textiles. Hand-drawn signs encouraged visitors to slap a banana connected to wires which would activate the speaker it was displayed on. A musician stationed on the landing between floors was tuning a wine glass with water to reach a specific pitch. And on the third floor, a fiddle band played folk dances accompanied by electric keyboard
"This is a magical way to activate the library," said Campus and Community Engagement Manager Rani Arbo, one of the "Hidden Volumes" violinists. "I enjoyed watching people turn the corner to discover a traditional Quebecois music jam amidst all the other wild sounds echoing through the stacks."
Originally staged in January 2017, the improvisations of "Hidden Volumes" had returned to the library for the first time since February 2020, while Matthusen's installation project "between systems and grounds" had originated in The Russell House in February 2018.  
The three remaining public events on the "Instrument—Body" series include artists across experimental music, sound art, sculpture, new media, and performance who ask political questions in their work, using sonic objects and instrumental relations to negotiate systems of domination: Jeremy Toussaint-Baptiste's November 10 lecture performance about instruments of sonic torture and state brutality, the November 17 screening of the film "Organ Player" by artist and performer Narcissister, and Philbrick and artist and performer Justin Wong performing a work for two cellos in the underground tunnels that connect the Center for the Arts buildings to conclude the series on December 8.