Seniors Produce, Direct "Minds of Makers" Documentaries in 3 Countries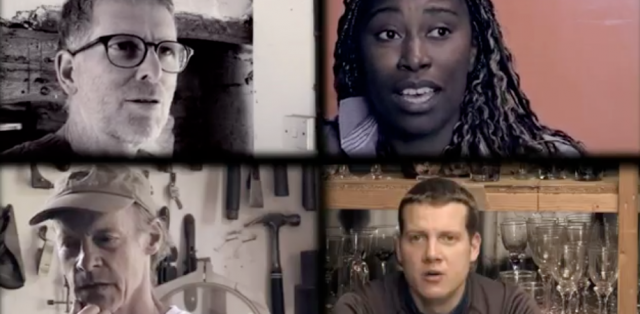 In Kilkenny, Ireland, a man spins wool from freshly shorn sheep into rich fibers. A furniture maker in South Pomfret, Vt. studies the natural geometry of wood he turns into tables, chairs and consoles. And in London, England, a silversmith wielding a hammer transforms smooth metal into beautifully shaped and textured bowls, vases and pieces of art.
These and other craftspeople are featured in a series of nine short documentary films produced and directed by Piers Gelly '13 and Daniel Nass '13. Each film in the series, titled, "The Minds of Makers," shows the creative process of a craftsperson working in a different medium—wood, glass, metal, wool. The films are available to view on ArtBabble, a website created by the Indianapolis Museum of Art to showcase art video content.
Gelly, a College of Letters major, won the Writing Program's Annie Sonnenblick Writing Award last spring and received a grant to travel around France, Ireland and England researching historical recreation. He planned "to visit places where groups of people attempt to preserve and recreate 'pure' craft practices for various reasons of historical authenticity." The "crown jewel," he explained, was a 13th century chateau fort in Burgundy called Guédelon, which workers are building from scratch using period technology.
When Gelly was home in Milwaukee that spring break, he met up with Jon Prown of the Chipstone Foundation, a Milwaukee-based foundation that promotes craft and design education and scholarship. The two discussed Gelly's travel and research plans, and Prown said he'd love to have a series of videos made about the people Gelly would be interviewing. Chipstone offered financial support for the project. Gelly then asked Nass, a friend since freshman orientation and a film studies major, if he'd like to come along and work on the films. The two had previously collaborated on two issues of the 48 Hour Magazine, and on articles for Ampersand, the Argus' comedy supplement.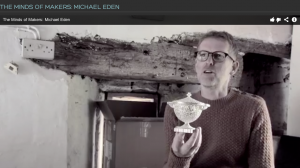 Gelly attributes his interest in questions of tradition and history largely to the College of Letters curriculum, and, in particular, to conversations with Javier Castro-Ibaseta, assistant professor of history, assistant professor of letters, and Tula Telfair, professor of art and Gelly's thesis advisor. In addition, two introductory film classes Gelly took as a freshman "definitely gave me some film knowledge," he said.
Though Nass is a film major, he said he never had an opportunity to take Wesleyan's documentary filmmaking course. Instead, he feels that two creative nonfiction writing courses he took—"Distinguished Writers/ New Voices" with Anne Greene, and "Intermediate Nonfiction Workshop" with Lisa Cohen—best prepared him to undertake this project.
"There's a lot of commonalities [between writing and documentary filmmaking] with the process of gathering materials, conducting interviews and figuring out how to shape what you have into a narrative. The experience I got in those classes helped me a lot when I was thinking about how I want to put these films together," said Nass.
Gelly and Nass traveled and filmed the documentaries through June and part of July 2012.
The craftspeople featured in the films include subjects from Gelly's Sonnenblick research, family friends, and people they met through Chipstone.
"All our subjects seemed really pleased to be interviewed. Since most never explain their work to anyone step by step, this was an opportunity for them to share a huge wealth of thoughts and ideas that they normally don't," Gelly said. "Some of the most interesting things we discussed were the basics of working with their materials, which these people take for granted but which the rest of us never think to wonder about."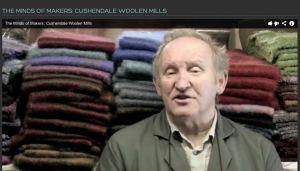 Nass added, "For many of the people we interviewed, the work that they do just consists of doing. Often, when we would ask them a question about some specific aspect of their technique, it seemed like they would have to figure out how to articulate it. One thing that came up over and over again was the way that an acquired craft is kind of fundamentally not able to be articulated. You have to learn just by doing. They did their best to explain in words how their practices worked."
Another common theme that emerged in the interviews, said Nass, was "the relationship between tradition and innovation." For example, they interviewed a basket maker who was one of the last practitioners of a centuries-old craft. In contrast, another subject, who had begun his work in traditional pottery making, went on to creating intricate ornamental objects using new 3-D printing technology.
"Everybody was in some way informed by the past, and chose to either carry on tradition or create something completely new," Nass said.
In the fall, Gelly and Nass asked some musically-inclined friends—including Ben Seretan '10, Ashlin Aronin '13, Jack Ladd '15 and Danny Sullivan '13—to contribute soundtrack music for the films.
The first five films went online at ArtBabble in January, and the last four appeared in late March.
Gelly said he hopes the films cause viewers to "take a second look at the objects around them."
This coming summer, Gelly and Nass plan to make several more films in the series—focusing on American craftspeople—while they shoot a longer documentary for Chipstone about face jugs. As Nass explained, these stoneware jugs with clay faces on them were made by slaves in South Carolina over a limited period of time in the 19th century. "The project is still in its conceptual planning stages, but if all goes well, we'll be in South Carolina conducting interviews," Nass said.
Though neither student has concrete plans for the long term, Nass said, "I really love doing independent documentary work like this. I could definitely see myself continuing with it."