Board of Trustees Confers Tenure on 8 Faculty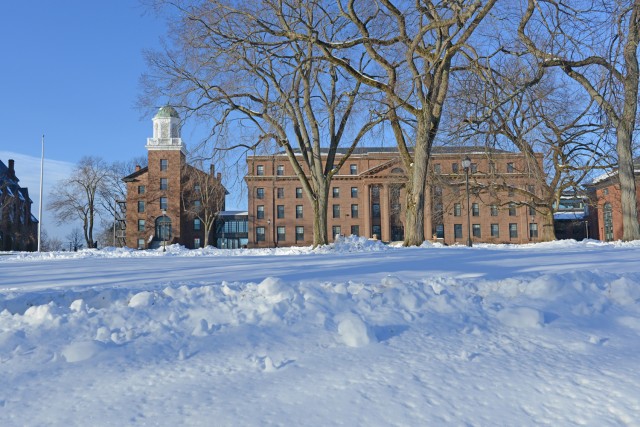 In its most recent meeting, the Board of Trustees promoted eight faculty. Their promotions will be effective July 1, 2018.
The Board conferred tenure to Kathleen Birney, associate professor of classical studies; Greg Goldberg, associate professor of sociology; Ruth Johnson, associate professor of biology; Melanie Khamis, associate professor of economics; Marguerite Nguyen, associate professor of English; Sasha Rudensky, associate professor of art; Victoria Smolkin, associate professor of history; and Ao Wang, associate professor of East Asian studies.
Brief descriptions of their areas of research and teaching appear below:
Kathleen Birney
Professor Birney is a Mediterranean archaeologist whose research focuses on understanding interactions and exchange between the cultures of ancient Greece and the ancient Near East through material remains and archaeological science. She has completed a book manuscript that will be published by Eisenbrauns as Volume 10 of the "Reports of the Leon Levy Expedition to Ashkelon" under the title, Ashkelon to Ascalon: The Archaeological History of the Hellenistic Period. In 2015 she was appointed Head of Persian and Hellenistic Research at the Tel Shimron Project excavation in Israel and she is also Co-PI of the archaeological excavations in Kastrouli-Desfina, Greece. She offers courses on Art and Archaeology of the Bronze Age Mediterranean; Greek Archaeology; Pyramids and Pyres: Death and the Afterlife in Egypt and Greece; and Greek language.
Greg Goldberg
Professor Goldberg's interdisciplinary scholarship weaves together digital media studies, affect theory, and queer theory to explore how the internet and related digital and network technologies transform social and political-economic relations. His recent book, Antisocial Media: Anxious Labor in the Digital Economy (NYU Press, 2018) argues that the anxiety over digital forms of labor and leisure widely expressed by scholars covertly enforces normative forms of sociality rather than challenging them. He has also published articles and book reviews in Social Media & Society, New Media & Society, Women's Studies Quarterly, and ephemera. He offers courses on Introductory Sociology, Media and Society, Sound and Screen, The Social Body and Social Dimensions of Music.
Ruth Johnson
Professor Johnson is a cell and developmental biologist whose research aims to understand the molecular mechanisms that coordinate the development of epithelial tissues. Her work has focused in particular on the conserved adaptor protein Cindr and its interactors, and she utilizes epithelial tissues of Drosophila – most notably the developing eye – to elucidate how these proteins function. This summer she will be speaking at the Gordon Conference on Visual Systems Development in Italy, on how the cells of the Drosophila eye are arranged to generate an exquisitely organized neuroepithelium. She recently received a highly competitive grant from the National Institutes of Health that will allow her to expand her research program. In addition to teaching the first semester of Introductory Biology (Principles of Biology I), she teaches intermediate and advanced courses on Cell Biology and Morphogenesis.
Melanie Khamis
Professor Khamis is an economist whose research on labor market outcomes and policies focuses on the themes of informality, gender and ethnicity, and migration, which she studies in several areas of the world, including the United States, Germany, and Argentina. She has published three book chapters and eight journal articles, the most recent of which was "For Better or Worse: The Long-Term Effects of Postwar Reconstruction on Family Formation" (Applied Economics, 2016), and she has been invited to be a visiting scholar at Harvard University and at the University of California, Berkeley. She teaches courses on The Economics of Developing Countries, Microeconomic Analysis, Labor and Development Economics in Latin America, and Latin American Economic Development.
Marguerite Nguyen
Professor Nguyen's interdisciplinary scholarship employs a range of methodologies, including archival research, formal and historical analysis, and ethnography, to explore the politics and aesthetics of Asian American literature, refugee contexts, and literary history. She is author of America's Vietnam: The Longue Durée of U.S. Literature and Empire (forthcoming, Temple University Press) in which she examines literary constructions of Vietnam to demonstrate the long and varied influence of Southeast Asia on American politics and culture, and she is co-editor of Refugee Cultures: Forty Years after the Vietnam War (MELUS, 2016). She offers courses on Querying the Nation: American Literature and Ethnic Studies; American Autobiography; Kill Anything that Moves: The Vietnam War in Literature and Film; and Archiving America.
Sasha Rudensky
Professor Rudensky's photography explores the production and interpretation of cultural identity in the former Soviet Union. Her work has been exhibited at the Aperture Gallery in New York City, the Carnegie Museum of Art in Pittsburgh, Musée de l'Elysée in Lausanne, the Museum of Contemporary Art in Odessa, and in other institutions in Russia, England, Italy, the Netherlands, Singapore, and Hong Kong. In 2016 she had a solo exhibition at the Sasha Wolf Gallery in New York of her Tinsel and Blue series, which examines the culture that has emerged in Russia and Ukraine since the collapse of Soviet communism. Her work has been published in Artforum, New York Times Magazine, the International New York Times, Der Spiegel, and The Times (London). She teaches Photography I, Photography II, and Digital Photography.
Victoria Smolkin
Professor Smolkin is a historian whose scholarship focuses on the institutions and structures of power in the Soviet Union that shape everyday life: politics, ideology, and religion. Her forthcoming book, A Sacred Space Is Never Empty: A History of Soviet Atheism (Princeton University Press, spring 2018) analyzes the Soviet Communist Party's attempts to create a new world free of religion. She has published numerous articles, including "The Ticket to the Soviet Soul: Science, Religion and the Spiritual Crisis of Late Soviet Atheism" (Russian Review, 2014), which received Honorable Mention for the 2015 Distinguished Article Prize from the Association for the Study of Eastern Christian History and Culture. She offers courses on Russian history as well as religion and secularism, including The Communist Experience and Moral Life in a Secular World.
Ao Wang
Professor Wang's research focuses primarily on Chinese poetry and its intersections with other literary genres and intellectual fields. He writes literary criticism in both his native Chinese and English. He has received awards for his own poetry, including the 2016 Shi Jianshe New Poet Prize and the 2014 Renmin Wenxue New Writer Prize, and he translates poetry from and into Chinese, including works of Wallace Stevens, W. H. Auden, and Seamus Heaney. His book, Spatial Imaginaries in Mid-Tang China: Geography, Cartography, and Literature, is scheduled for publication by Cambria Press. His courses at Wesleyan include Introduction to Chinese Poetry, Creative Writing in Chinese, Man and Woman in China, and Gender in Chinese Literature.