Curran Receives French Academy of Sciences Book Prize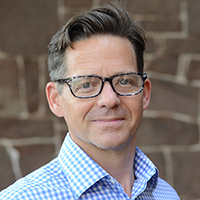 Andrew Curran, the William Armstrong Professor of the Humanities, has received the 2018 Prix Monsieur et Madame Louis Marin from the Académie des sciences d'outre-mer for his 2017 book L'Anatomie de la noirceur [The Anatomy of Blackness], which was published by Classiques Garnier.
This prize, which is given by the French Académie des Sciences d'outre-mer, recognizes an outstanding work in the social sciences. The Académie des Sciences d'outre-mer was founded in 1922 and has conferred the Prix Marin since 1976.
Curran's book, a translation of his Anatomy of Blackness: Science and Slavery in an Age of Enlightenment, is the first comprehensive history of the birth of race in French thought. Curran is also professor of French and chair of Romance languages and literatures.