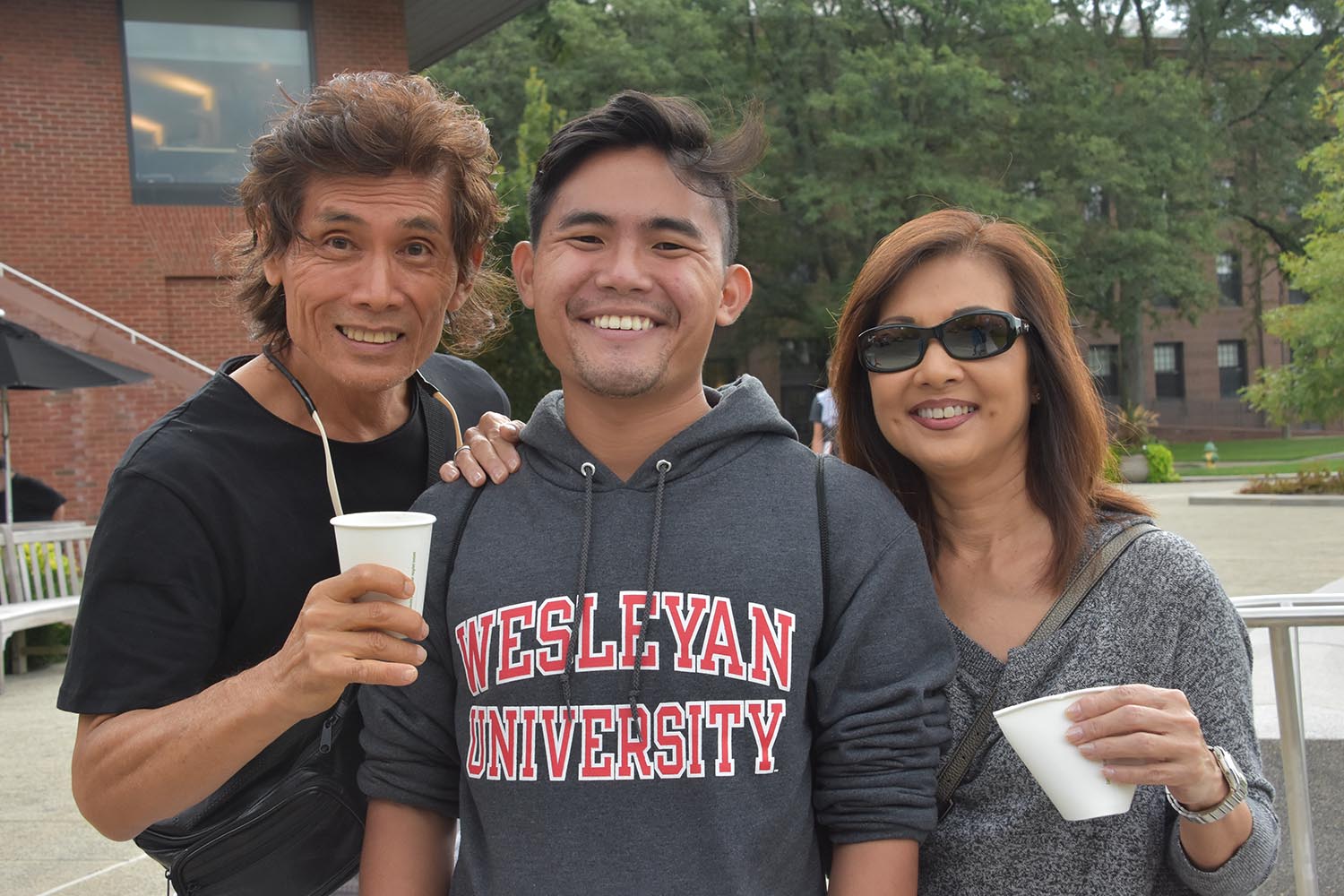 On Aug. 30, Wesleyan welcomed 766 students to the Class of 2021. An additional 52 transfer students also arrived.
Student athletes, Wesleyan staff and faculty — and Wesleyan President Michael Roth — assisted families with unloading vehicles and hauling suitcases, boxes, lamps, microwaves, computers, bed linens, and more to the students' residence halls. The Wesleyan Cardinal made the rounds, even hitching a ride on the golf carts used to help haul carloads of belongings into new dorm rooms.
Watch a video of New Student Arrival Day below:

Making the trek to campus to the sound of favorite tunes—ranging from Bruce Springsteen to Car Seat Headrest, and "everything on my iPhone"—the Class of '21 arrived on campus, cars loaded down with everything needed to turn a dorm room into home, along with family members to help carry the gear, set up equipment, make beds, and hang clothes. "I knew this was the right place for her," noted one father, "but I didn't say a word. Happily, she came to that conclusion, too." Another parent had been surprised: "This was a late-in-the-game choice. He called us from campus last spring and said, 'This is the place!'' Another student confided, "I knew I wanted to go here the moment I stepped on campus." Whichever end of the spectrum, the results were smiles and an eagerness to jump into life at Wesleyan.  (See photos below to meet a few of the newest members of our community.)
The Office of Admission received more than 12,450 applications for the Class of 2021, of which 2,014 students were admitted (16.2 percent). This is the highest number of applicants received in Wesleyan's history.
The Class of 2021 is 46 percent men and 54 percent women.
The students hail from New England (20 percent), Mid-Atlantic (31 percent), Midwest (5 percent), South (8 percent), West (20 percent) and outside the U.S. (16 percent).
15 percent of the class are international students.
Students of color, including international students, make up 44 percent of the Class of 2021. Students identify as Asian/South Asian (23 percent), Black/African American (11 percent), Latino/Hispanic (13 percent) and Native American/Alaskan, Native Hawaiian or Pacific Island (1.5 percent).
14 percent of the students have a Wesleyan relative; 7 percent are children of an alumnus or alumnae.
15 percent of the class are in the first generation of their family to attend a four-year college.
47 percent of the students receive financial aid.
Economics, English, film, psychology and biology are the top projected majors.