Although Professor of Art Tula Telfair's hyper-realistic landscape paintings are vividly detailed, the scenes she depicts are not found in nature; they are conjured from memory and imagination. Informed by her experiences growing up on four continents, Telfair produces fantastical visions with delicate brushstrokes and a mastery of color and light. Suggestive of waterfalls in Africa, deserts of the American Southwest, and ice floes in Antarctica, Telfair's art draws attention to the power and fragility of nature.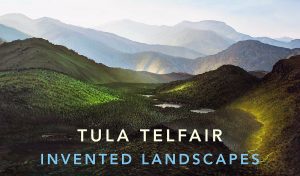 Telfair's art, which has been featured in public collections around the world, will be showcased in a new book, Invented Landscapes, released on Oct. 18 by Abrams Books. The book can be pre-ordered online.
Included in the book are more than 120 images of her paintings, works in progress and personal photos. The images are accompanied by essays written by Michael Roth '78, president of Wesleyan University; J. Michael Fay, biologist, ecologist, conservationist and National Geographic Explorer-in-Residence; and Henry Adams, the Menakka and Essel Bailey '66 Distinguished Visiting Scholar in the College of the Environment and a professor of art history at Case Western Reserve University. Read more about the essay authors online.
"In the art of Tula Telfair we find … ourselves at once entranced by the beauty of the painted canvas and invited to examine the mystery of the world within it," Roth says in his essay. "As we probe deeper, we find ourselves returning to the surface as if out of breath. The mysteriousness of the inner world, rendered with such precision, remains intact."
Telfair was raised in Gabon, located on the west coast of Africa, surrounded by Fang, Pygmy and Bakuta tribes. Her father, Peter Telfair, worked as a geological mining engineer for Bethlehem Steel, the Gabonese government and a French mining company.
"We lived in the jungle and raised orphaned baby lowland gorillas," she recalls. "Nature was the most powerful force there. I always felt small in the face of such a constant and unpredictable presence."
Although Telfair's work looks realistic, she works intuitively and only plans the size and format of each canvas.