Braxton Honored with Prestigious Doris Duke Artist Award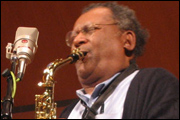 Anthony Braxton, the John Spencer Camp Professor of Music, has been honored with the 2013 Doris Duke Artist Award, one of the country's most prestigious awards for individual artists. It comes with a $225,000 honorarium.
Braxton is a composer, saxophonist, teacher and philosopher with a career spanning half a century. He is also the founder of The Tri-Centric Foundation, a nonprofit that cultivates and inspires the next generation of creative artists to pursue their own visions with the kind of idealism and integrity Braxton has demonstrated throughout his long and distinguished career. The foundation also documents, archives, preserves and disseminates Braxton's scores, writings, performances and recordings.
According to Mark Slobin, the Winslow-Kaplan Professor of Music, the Doris Duke Artist Award "complements Prof. Braxton's earlier 'genius grant' from the MacArthur Foundation [in 1994], and serves as an ongoing recognition of his unique and long-lasting contribution to the performing arts in America and internationally." At Wesleyan, Braxton is known for his close mentoring of students, many who have gone on to become prominent figures in the New York music world and abroad, said Slobin.
"As Braxton has signaled that he will retire in December, it seems a particularly timely moment to salute both his current standing and his more than two decades of University service," he added.
The Doris Duke Artist Awards "invest in exemplary individual artists in contemporary dance, jazz, theatre and related interdisciplinary work who have proven their artistic vitality and commitment to their field," according to the award website. In addition to an unrestricted monetary award, recipients are also given access to special goal assessment tools, financial and legal counseling, and conferences with peer-to-peer learning opportunities
Artists may not apply for the award. Candidates are selected from a pool of artists who have won at least three national grants, awards, accolades or fellowships in the past 10 years. An anonymous panel of performing arts professionals then review eligible candidates, assessing "the quality of the artist's work, the maturity of the artistic voice, the value of a grant at this moment in their careers, and the dedication of the artist to continue to move forward with creativity and curiosity.