Grant Will Support Epilepsy Therapy Study at Wesleyan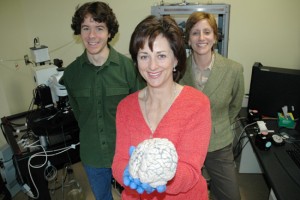 Three Wesleyan professors have been awarded a four-year, $1.49 million grant by the state of Connecticut's Stem Cell Research Advisory Committee. The grant will help fund research on using human embryonic stem cell-derived GABAergic neurons for epilepsy therapy, which is being conducted by Janice Naegele, professor of biology, professor of neuroscience and behavior, Laura Grabel, Lauren B. Dachs Professor of Science and Society, Professor of Biology, and Gloster Aaron, associate professor of biology, associate professor of neuroscience and behavior.
This grant was the largest single award to researchers in this year's competition. Only 23 projects were selected to receive funds from a pool of 109 applicants.
"The potential to treat neurological disorders with human embryonic stem cell-derived neurons is enormous and relatively untested," Naegele said. "The long-term goal of our research is to develop human stem cell-based cures for treating neurodegeneration, seizures and cognitive impairments in temporal lobe epilepsy."
In patients who have an initial precipitating event, such as a head trauma, a severe seizure can cause a loss in inhibitory GABAergic interneurons. This, in turn, can dispose an otherwise normal brain to generate spontaneous seizures, a condition known as temporal lobe epilepsy (TLE). These spontaneous seizures can further damage the hippocampus and lead to memory loss and other cognitive and emotional disturbances. Because nearly one-third of TLE patients are unable to control their seizures with drugs, Naegele, Grabel and Aaron are seeking novel, stem cell-based treatments for the disease.
They have developed methods for producing GABAergic progenitors from mouse and human embryonic stem cells. In their proposal for their grant, they proposed three projects to thoroughly evaluate grafts of these neurons in mice with temporal lobe epilepsy. In addition to the collaboration between the three Wesleyan labs, the researchers have established collaborations with colleagues at the University of Connecticut Health Center and the Yale University School of Medicine to provide additional expertise for this project.