Krishnan Nominated for Dance Performance Award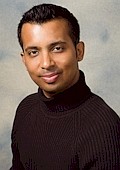 Assistant Professor of Dance Hari Krishnan has been nominated for the Bessie Award for Outstanding Performer for his solo performance of "The Frog Princess," which he performed as part of the La Mama Moves! Dance Festival in New York City in June and July.
Forty nominees for the 2012-13 Bessies, formally known as The New York Dance and Performance Awards, were announced at a press conference at the Gina Gibney Dance Center in New York on July 17. The 29th Annual Bessie Awards will be held on Oct. 7 at the Apollo Theater in New York.