Microgrid will Supply Power to Campus During Power Outage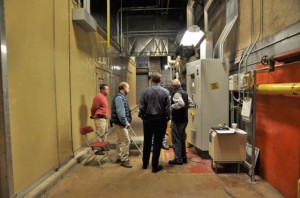 Wesleyan's Microgrid Project – which would allow the university to keep the lights on even during a massive power outage – was one step closer to reality last week with the award of a state grant for work on a specialized engine.
The grant, for $694,000, will pay to connect Wesleyan's natural gas Combined Heat and Power (CHP) reciprocating engines to the campus electrical grid.
"The new microgrid will supply power to the campus 24-7," said Joyce Topshe, associate vice president for facilities. "In the event of a power outage, the microgrid will power the campus in 'island mode,' enhancing Wesleyan's ability to provide a safe environment for its students, faculty, staff and members of the Middletown community."
Wesleyan's grant was one of nine awarded to projects across Connecticut. The Department of Energy and Environmental Protection pilot program for microgrids was launched in response to recent violent storms (Hurricane Irene and Superstorm Sandy) that left some state residents without power for weeks.
"These projects will help protect residents and vital public services even when the power goes out," said Gov. Dannel P. Malloy in announcing the grants.
The other grants went to projects in Bridgeport, Fairfield, Groton and Hartford.
Learn more about "island mode" in this 2012 Wesleyan Connection story/video or in these recent news stories:
http://middletownpress.com/articles/2013/07/24/news/doc51f05f7815937234945876.txt
http://www.stamfordplus.com/stm/information/nws1/publish/News_1/Gov-Malloy-announces-nation-s-first-statewide-microgrid-pilot20634.shtml#sthash.Sse3mt1O.dpuf
http://www.thehour.com/business/national/nine-locations-chosen-by-state-for-stormproof-generating-sites/article_d0fc8ec1-b4a4-53c4-905b-f2fde987c9a3.html