Gottschalk's New Book Chronicles History of Religious Intolerance in the U.S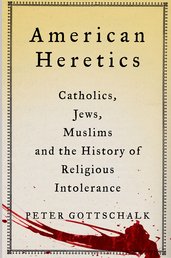 Professor of Religion Peter Gottschalk recently authored a new book, American Heretics: Catholics, Jews, Muslims, and the History of Religious Intolerance, published by Palgrave Macmillan in November 2013. The book chronicles the history of religious intolerance in the U.S. – from persecution of Irish and German Catholics in the mid-19th century to today's discrimination against Muslims, Sikhs and other religious groups. Through the historical record it presents, the book challenges the notion that the U.S. is a stronghold of religious freedom.
Gottschalk's book recently was featured in a holiday book round-up in the Chicago Tribune.