Governor Helps "Power Up" Wesleyan's New Microgrid Project
Gov. Dannel Malloy, Middletown Mayor Daniel Drew, and other state and local officials were on hand March 6 to help Wesleyan celebrate and power up its new microgrid project, the first project to come online under the inaugural round of Connecticut's first-in-the-nation statewide microgrid pilot program.
The group gathered in the lobby of the Freeman Athletic Center, near the site of Wesleyan's 676 kW natural gas Combined Heat and Power (CHP) reciprocating engines. Using oversized shears, they cut a red ribbon, and Malloy used a computer to start the engines. The generator package will deliver 4,700 mWh annually. In the event of a widespread power outage, it will be able to power the campus in "island mode," keeping the lights on independent from the larger electrical grid.
"This is a win-win for Wesleyan and Connecticut," said Wesleyan President Michael Roth. "This is a great occasion to celebrate innovative ways to power our campus and prepare for emergencies… This is part of our effort to reduce risk, to increase capacity and to do those things in a sustainable way, in as clean a way as possible."
In July 2013, Wesleyan received a $694,000 grant from the state Department of Energy and Environmental Protection to connect the CHP engines to the campus' electrical grid.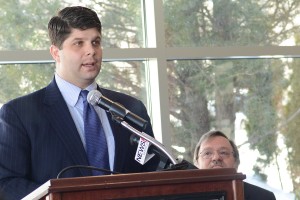 At the time, the DEEP distributed $18 million to nine projects across the state. At the event March 6, Malloy announced a second round of $15M for new microgrid projects. The microgrid program was created as part of the Governor's 2012 storm legislation, which included a number of initiatives to help the state, municipalities and utility companies prepare for and respond to natural disasters.
"I've been the governor of storms," said Malloy, naming Hurricane Irene and Superstorm Sandy as well as the October 2011 nor'easter. "What we're concentrating on is reliability—the ability to recover, to keep our citizens warm, to keep their phones charged, the ability to have a hot meal. So if we can build this system out around the entire state, we're going to be able to respond better to those kinds of emergencies."
Thanks to Wesleyan's microgrid, the Freeman Athletic Center will serve as an emergency shelter for residents of Middletown in the case of a power outage, providing a warm gathering place and basic amenities, such as meals and cell phone charging. Freeman also will serve as a designated FEMA distribution center for first responders during an emergency.
In his remarks, Drew said that while the system was a great thing for Wesleyan, "From a local standpoint, this is extraordinarily important for us as well." The city's shelter in Middletown High School was "bursting at the seams" during the October 2011 snowstorm. Having Wesleyan open up Freeman to Middletown residents during an emergency will give the city additional options, and potentially save it millions of dollars.
"Wesleyan is a great partner for the city of Middletown," Drew said.
In giving visitors a tour of the power plant, Director of Physical Plant Alan Rubacha explained that this was just one piece of Wesleyan's larger efforts to be more sustainable.
Read in The Hartford Courant and The Middletown Press, or watch a video on WTNH News 8, about Wesleyan's microgrid project.
Read this past Wesleyan Connection story about the project.