Graduate Liberal Studies to Host Info Session April 29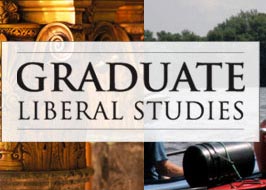 Graduate Liberal Studies will host an information session for prospective students at 7 p.m. April 29 in the Office of Continuing Studies, 74 Wyllys Ave.
Attendees will meet with Office of Admissions staff, hear a full overview of the program — including curriculum and requirements — and receive materials needed to register for classes or apply for degree candidacy. Registration for summer classes begins May 6.
GLS offers a Master of Arts in Liberal Studies (MALS) and a Master of Philosophy in Liberal Arts (MPhil) as well as non-degree graduate study. Students with interests beyond the curriculum may create their own courses (graduate tutorials) and study one-on-one with faculty.
GLS will offer 16 classes this summer, including Monotype Printmaking, Music and Culture of Africa and Its Diasporas, Single Variable Calculus, Coastal Ecology and Religion, Science and Empire. View the full listing of classes here.
RSVP for the info session here. If you're unable to attend, or have any questions, visit the GLS website, call 860-685-2900 or e-mail masters@wesleyan.edu.