Calter, Schorr, Ulysse Honored with Binswanger Prizes; Dachs '70 Receives Baldwin Medal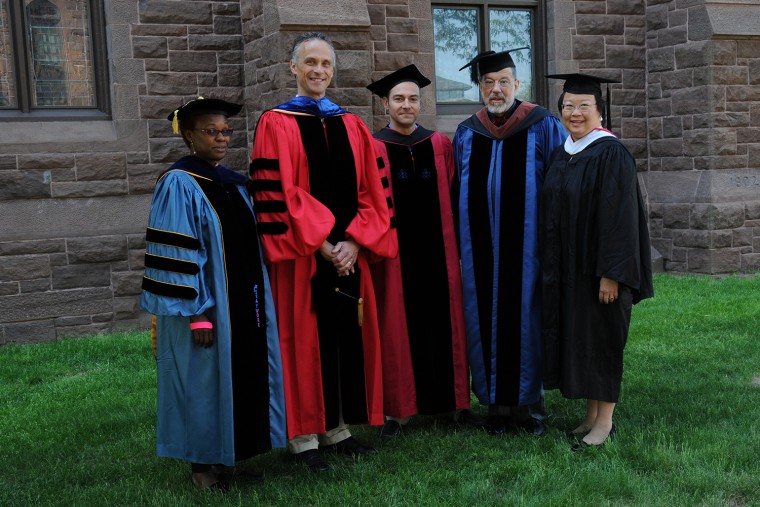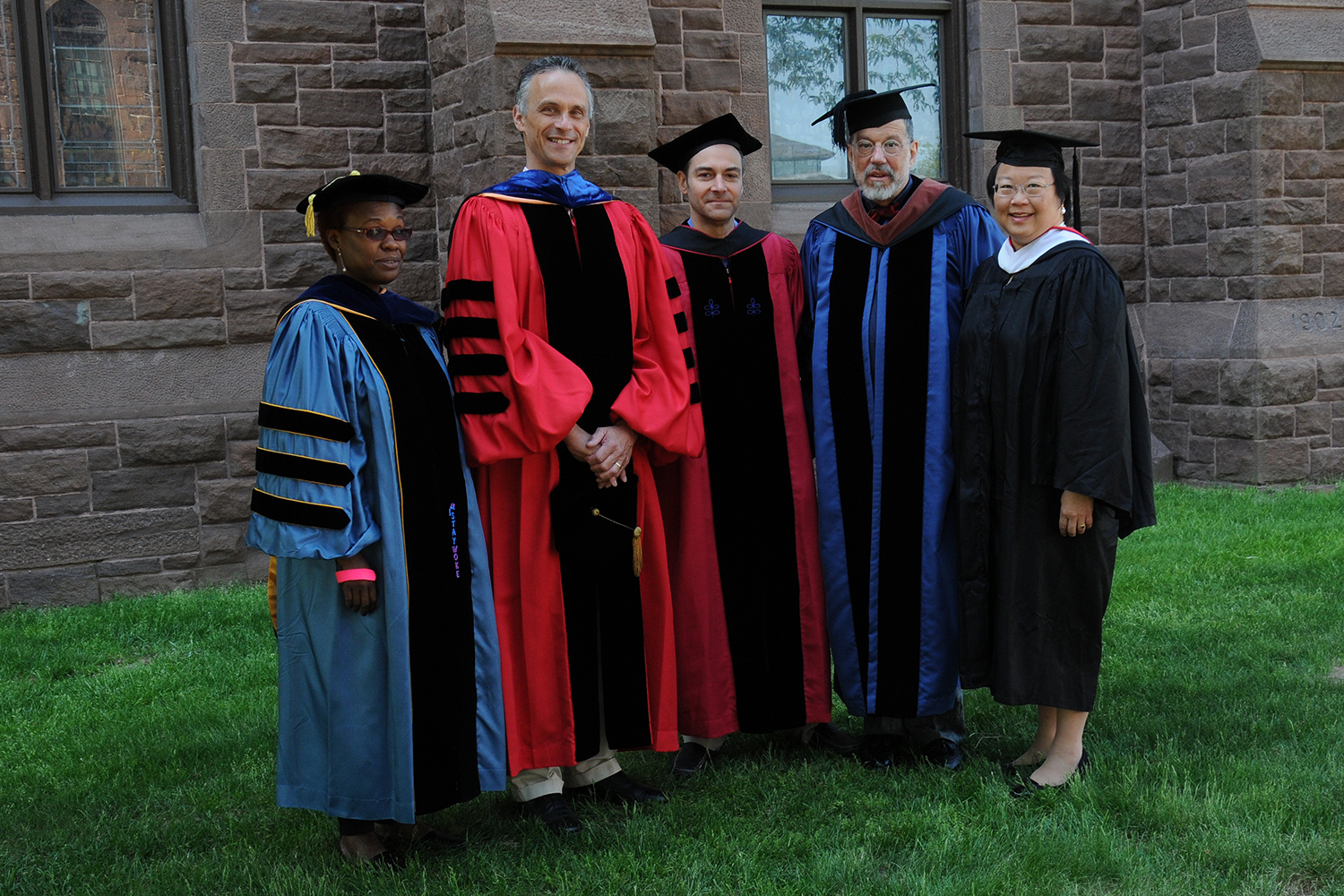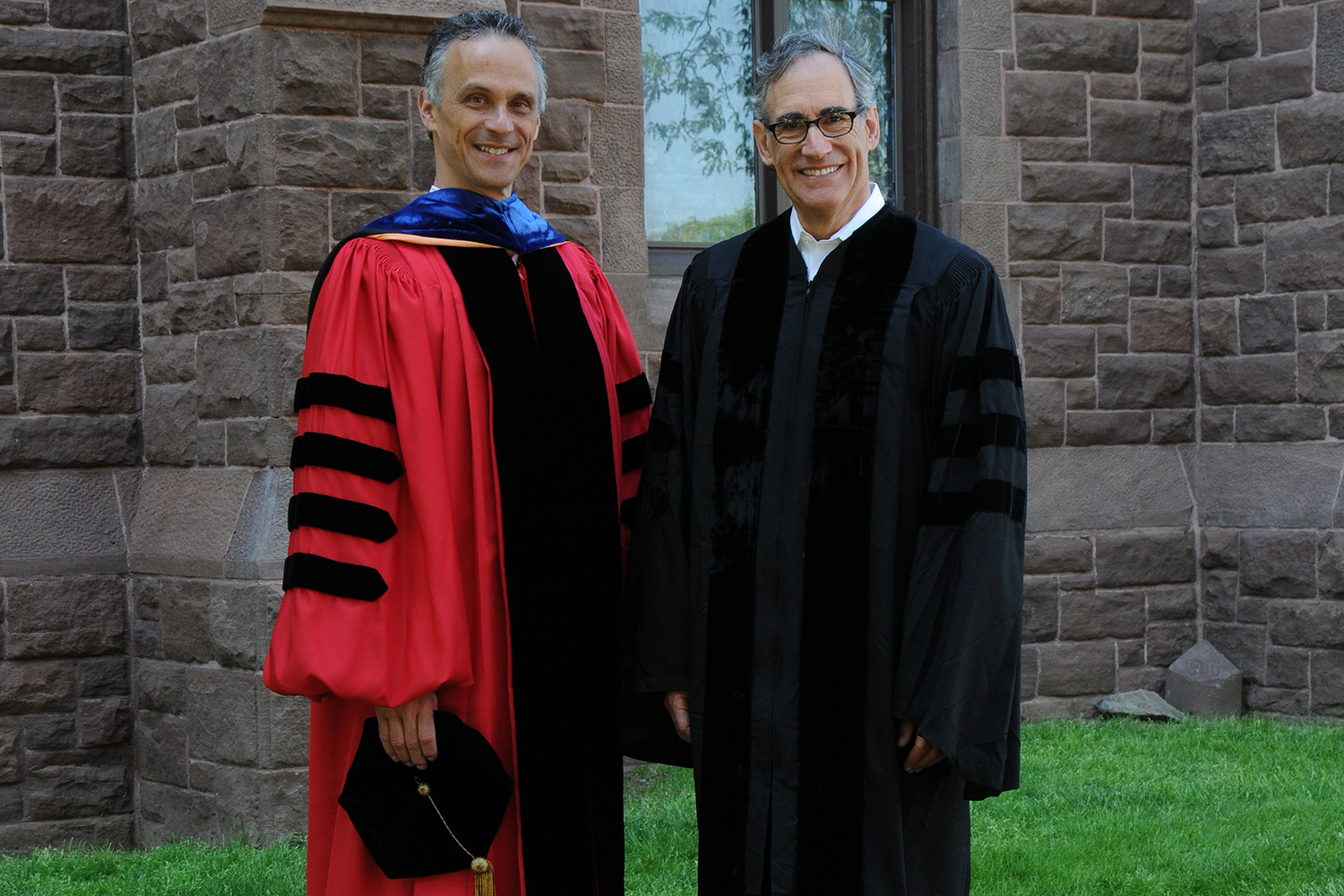 During the 183rd Commencement ceremony, President Michael Roth awarded the Binswanger Prize for Excellence in Teaching to three faculty, and the Raymond E. Baldwin Medal to an alumnus.
Three outstanding teachers are recognized annually with the Binswanger Prize for Excellence in Teaching. This year, President Michael Roth honored Michael Calter, David Schorr and Gina Athena Ulysse for their excellence in teaching.
The prizes are made possible by gifts from the family of the late Frank G. Binswanger Sr., Hon. '85, and underscore Wesleyan's commitment to its scholar-teachers, who are responsible for the university's distinctive approach to liberal arts education.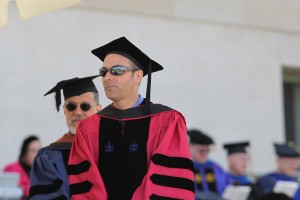 Recommendations are solicited from alumni of the last 10 graduating classes, as well as current juniors, seniors, and graduate students. Recipients are chosen by a selection committee of faculty and members of the Alumni Association Executive Committee.
More about this year's recipients:
Michael Calter, professor of chemistry, joined the Wesleyan faculty in 2004, after academic appointments at Virginia Tech and the University of Rochester. He has a B.S. in chemistry from the University of Vermont and a Ph.D. in chemistry from Harvard University. He has taught courses ranging from a General Education course on Real World Chemistry to sophomore Organic Chemistry to an upper-level course in Synthetic Organic Chemistry.
Calter and his research group have developed novel syntheses of several classes of natural products, complex biologically active compounds that have been the basis for most modern pharmaceuticals. Last year, he served as the chair of the Natural Products Gordon Research Conference. He also has helped initiate the current push to use organic molecules as catalysts, which drastically reduces the amount of toxic, heavy metal pollutants generated by chemical manufacturing.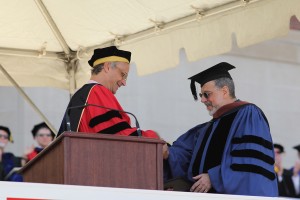 David Schorr, professor of art, joined the Wesleyan faculty in 1971. He holds a B.A. from Brown University and a B.F.A. and M.F.A from Yale University. He has been a Fulbright Scholar three times, traveling to Italy in 1975 and to India in 1998 and 2001. Last year he was a fellow at the Bogliasco Foundation in Liguria. He has taught courses in printmaking, drawing, typography, book design, graphic design, and calligraphy.
Schorr is a printmaker, painter, illustrator, and book designer; the wide range of his work includes portraiture, the human figure, animal illustrations, and the imaginary still life. He is represented by Ryan/Lee Gallery in New York City, where he exhibits regularly, and has had solo shows in Chicago, Rome, Paris, Athens, Toronto, Mumbai, New Delhi, Ahmedabad, Copenhagen, and elsewhere. His work has been reproduced in The New York Times Book Review, The New Yorker, Poetry Magazine, and most extensively, The New Republic, for which he has done more than 300 writers' portraits. He has illustrated numerous books, among them Parallel Lives by Wesleyan author Phyllis Rose and four volumes devoted to the fables of La Fontaine. His work is in the collections of the National Gallery of Art (Washington, D.C.), the Museum of Fine Arts (Boston), the Cleveland Museum of Art, the New York Public Library, the Israel Museum (Jerusalem), and the Fogg Museum (Harvard University), among others. The Yale University Art Gallery just acquired his set of 60 engraved portraits of writers, Unconstraining Voices.

Gina Athena Ulysse, associate professor of anthropology, joined the Wesleyan faculty in 2001. She earned a B.A. in anthropology and English from Upsala College and a master's degree and a Ph.D. in anthropology from the University of Michigan. Her courses at Wesleyan deal with such topics as gendered agency during slavery, black feminism, myths and realities of Haiti, and the crafting of ethnography.
An interdisciplinary methodologist, Ulysse is pursuing research projects that integrate performance, representation and public anthropology. She is the author of Downtown Ladies: Informal Commercial Importers, A Haitian Anthropologist and Self-Making in Jamaica, as well as Why Haiti Needs New Narratives: A Post-Quake Chronicle. She is the guest editor of Caribbean Rasanblaj, a 2015 special issue of e-misferica journal, and is currently working on a book of essays entitled Post Zora Interventions: Blogging Activism, Anthropology and Art. Her writing has appeared in such publications as Anthropology Now, Feminist Studies, Gastronomica, Meridians, Souls, and Transition. A committed public intellectual, she blogs for AnthroNow, Huffington Post, Ms. Blog, and Tikkun Daily and frequently presents her work at conferences and universities nationally and internationally.
In addition, Alan Dachs '70, Hon '07, P'98 was awarded the Raymond E. Baldwin Medal, the highest honor presented by Wesleyan's alumni body for extraordinary service to Wesleyan or for careers or other activity which have contributed significantly to the public good.
Dachs is president, chief executive officer, and director of Fremont Group, a San Francisco-based investment firm. His remarkable record of service to Wesleyan over more than two decades has included leadership of the presidential search committee that resulted in the selection of Douglas Bennet as the university's 15th president, and 14 years as a trustee, including eight as chair of the Board. Read more about Dachs <>here.