Greetings for the Senior Class from Marissa Castrigno '15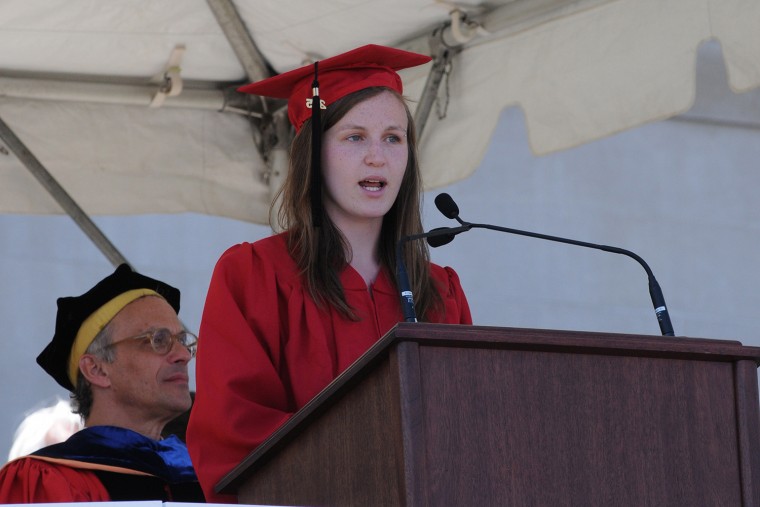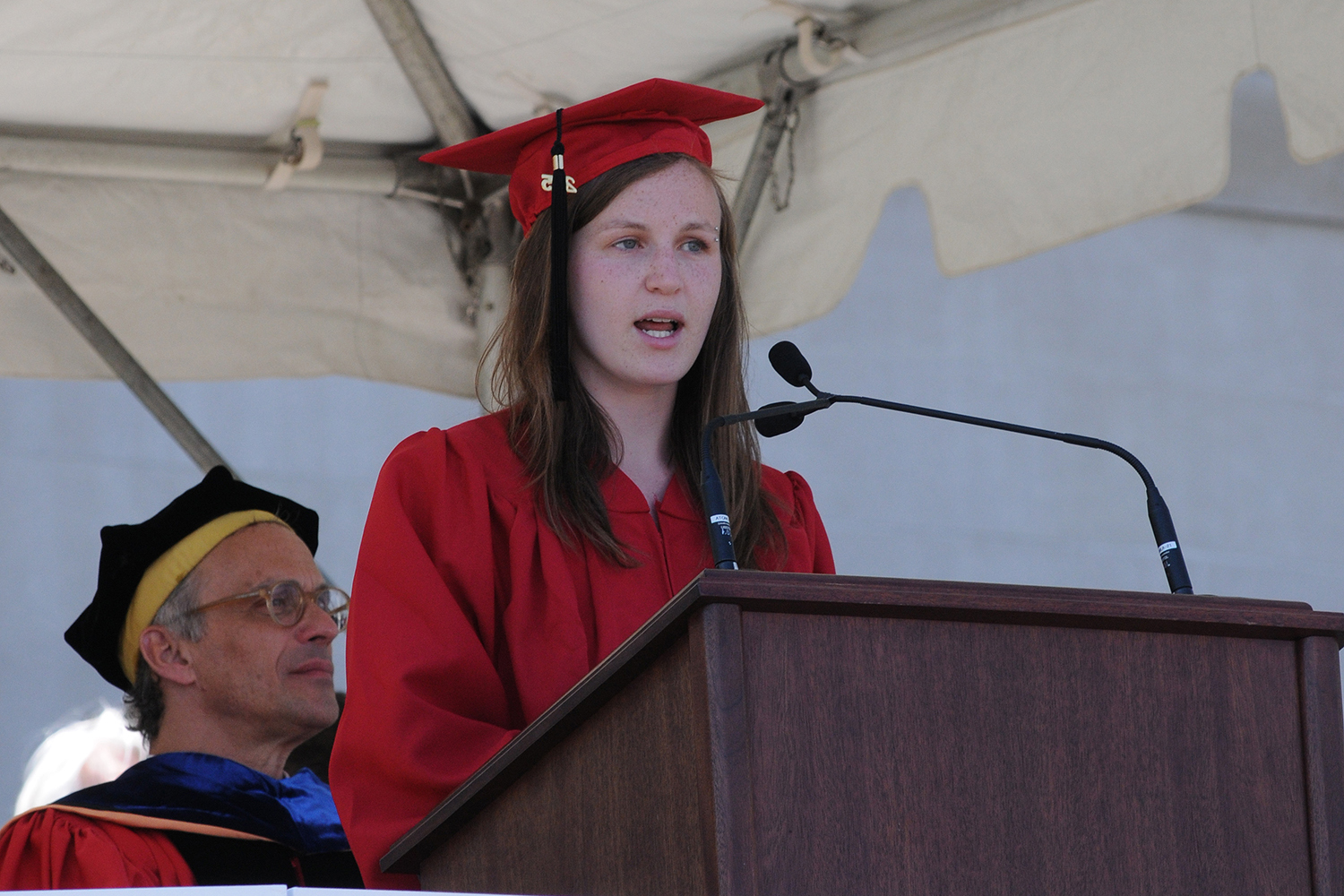 Marissa Castrigno '15 made the following remarks during the 183rd Commencement Ceremony May 24:
I feel immensely lucky to be able to stand here and see so many people that I love all in one place – so many people that love each other all in one place. My favorite college memory was on this very balcony two years ago when I sat with my best friend on its wide ledge and we spoke candidly for the first time about those private things that motivate and shape each of us. In that moment, among others during my first year here, I knew that transferring to Wesleyan had been the best decision I'd ever made for myself. Now my biggest fear is that we will go forth from this place and lose Wesleyan and all that it has afforded us. But I'd like to suggest today is not a day of loss, rather it is a day from which we become more expansive than we ever could be living together on our idyllic little campus.
We are taught to challenge this place. To examine it, analyze it, criticize it. During our time here we learn that the world is a deeply imperfect place and often this truth disillusions us. But the fact that we are able to see its flaws at all sets us apart; our community is a stronghold of dialogue, of passion, of intelligence – an invaluable asset to each of us as individuals. We will continue to rely on each other for guidance in the future, to keep sight of ourselves and our belief when something happens that is maybe racist or sexist or classist and feels wrong, but we can't quite figure out why, or what to do about it. At other schools students are not having these conversations. In the world at large, people are not having these conversations. Our community is an invaluable asset to us as critically-minded people.
Now we are separating from campus; we are leaving each other but not losing each other. We are leaving Wesleyan but not losing Wesleyan. We graduates have traveled together, day after day, semester after semester, to reach this moment. We are the Wesleyan that we know. Amid loneliness, if we search carefully, we can find the thin strands of a nexus that binds us to everyone with whom we have shared love. Dynamic love, in whatever form it has taken – sitting barefoot on Foss, or arguing about political differences, or making soup for a sick friend. Our lives are not static and neither are our relationships. We find human connection rising from a stone cold ledge, from adversity and from change and from chance. We now face our imminent release from the college-centric universe. We remain loyal to each other. We spend our final moments reveling in the company of our friends, the mentorship of our professors, the challenges of both, the joy of it all. We are not starting over, but starting anew. We will leave but never be gone, be by ourselves but never alone.
To my classmates, my friends, this is just our newest beginning together. I'll be seeing you.