President Roth Makes Remarks to the Class of 2015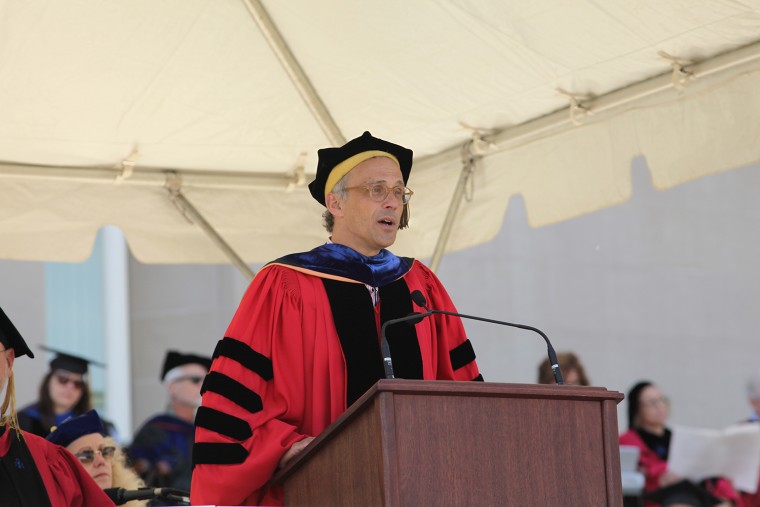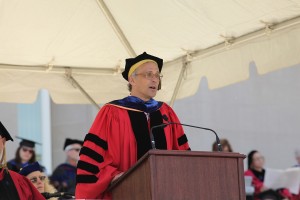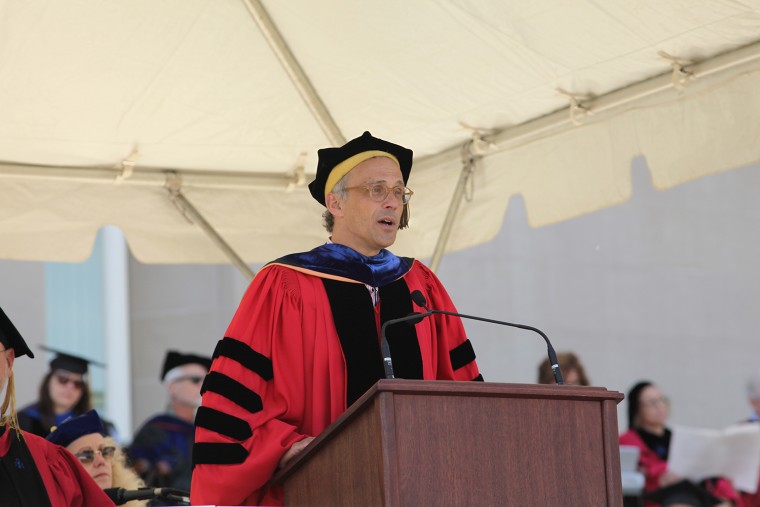 Wesleyan President Michael Roth made the following remarks during the 183rd Commencement Ceremony May 24: 
Members of the board of trustees, members of the faculty and staff, distinguished guests, new recipients of graduate degrees and the mighty class of 2015, I am honored to present some brief remarks on the occasion of this commencement.
On this Memorial Day Weekend, I begin by asking us all to take a moment to remember the men and women who have died while serving in the American armed forces. In recent years, military conflicts far from our own shores have cost the lives of thousands of American soldiers and hundreds of thousands of civilians. Regardless of our political views, we stop on this Memorial Day weekend to remember these losses.
Remembering is something of great importance to a university like Wesleyan. We honor the past when we sing the fight song at WSA meetings or alumni events, or when we celebrate Little Three championships, like the three in a row the baseball team has won, when we pay tribute to great teaching we have experienced or alumni achievement—even when we commemorate occupations of the president's office with new protests.
We also remember our losses—friends departed, hopes dashed, aspirations thwarted. Over the past few years at Wesleyan, many of us have participated in events in which we "speak out" our grievances concerning Wesleyan and the world. Things that should go without saying—that no one should be profiled because of race; that no one should feel vulnerable because of gender; that we should pursue justice and not automatically acquiesce in the status quo—these things have needed to be said. And you, the class of 2015, have said them. With vigor, with poetry, and with purpose.
Your calls for change and for justice have been important features of the last four years. I know that my colleagues and I have been inspired by student demands that we make this campus a place free from sexual assault, a place where it is clear that black lives matter because all students, faculty and staff feel they are treated with respect, a place where we recognize our responsibility for the environment that will sustain us only if we stop poisoning the earth.
To acknowledge these things is, in part, to demand a campus that is free and that is safe. But we must also acknowledge that the imperatives of freedom and safety are sometimes in conflict with one another. A campus free from violence is an absolute necessity for a true education, but a campus free from challenge and confrontation would be an environment immune to true education. We must not protect ourselves from disagreement; we must be ready to be offended for the sake of learning, and we must be ready to give offense for the sake of disrupting ideas unworthy of preservation. Education worthy of the name is risky—not safe. Education worthy of the name does not hide behind a veneer of civility or political correctness but instead calls into question our beliefs. We learn most when we are ready to recognize how many of our ideas are just conventional, no matter how "radical" we think those ideas may be. We learn most when we are ready to consider challenges to our values from outside our own comfort zones of political affiliation and personal ties.
These, as the saying goes, are high-class problems. For many beyond the borders of our campus, education of the most basic kind is still out of reach. In our country, education is less and less a vehicle for social mobility and more and more a vehicle for cementing social privilege. The founders of this country and many of its most important thinkers have seen education as the great weapon in the struggle against economic injustice and political tyranny. Beware of those pundits today who disparage creating greater access to a college education. They argue that most folks won't be required to have learned much beyond their technical training for their jobs—so why should they have access to a high quality education? Under the guise of practicality, this is old-fashioned condescension combined with a desire to protect the status quo of growing inequality.
Around the world, education is threatened along with basic rights of free speech. Girls are kidnapped, raped and murdered because they want to go to school. This is the classic use of terror to defend male power. The demand that girls and women have a right to a full and equal education is not a parochial Western value—it is a fundamental human right. The project of co-education is yet to be completed. The ability of girls and women to have a safe, equitable and inclusive education is worth struggling for wherever that right is compromised by the dogmatic assertion of male privilege.
Diversity, equality, education…these are ideals shared by generations of Wesleyan alumni. As I say each year, we Wesleyans have used our education to mold the course of culture ourselves lest the future be shaped by those for whom creativity and change, freedom and equality, diversity and tolerance, are much too threatening. Now we alumni are counting on you, graduates of today, to join us in helping to shape our culture, so that it will not be shaped by the forces of violence, conformity and elitism.
We are counting on you because we have already seen what you are capable of when you have the freedom and the tools, the mentors and the friendship, the insight and the affection to go beyond what others have defined as your limits. We know that in the years ahead you will explore unfamiliar realms and see possibilities that others might not. We know that you will find new ways to make connections across cultural borders—new ways to build community, to join personal authenticity with compassionate solidarity. When this happens, you will feel the power and promise of your education. And we, your Wesleyan family, we will be proud of how you keep your education alive by making it effective in the world.
It's been nearly four years since we unloaded cars together here at the base of Foss Hill, four years since parents shed (or maybe hid) a tear or two as they left you "on your own." It seems like such a short time ago. Now it's you who are leaving us, but we do remember, and I hope you remember, that no matter how "on your own" you feel yourselves to be "out there," you will always be members of this Wesleyan community. Wherever your exciting pursuits take you, please come home to alma mater often to share your news, your memories and your dreams. Thank you and good luck to you!