3 Wesleyan MOOCs Now On-Demand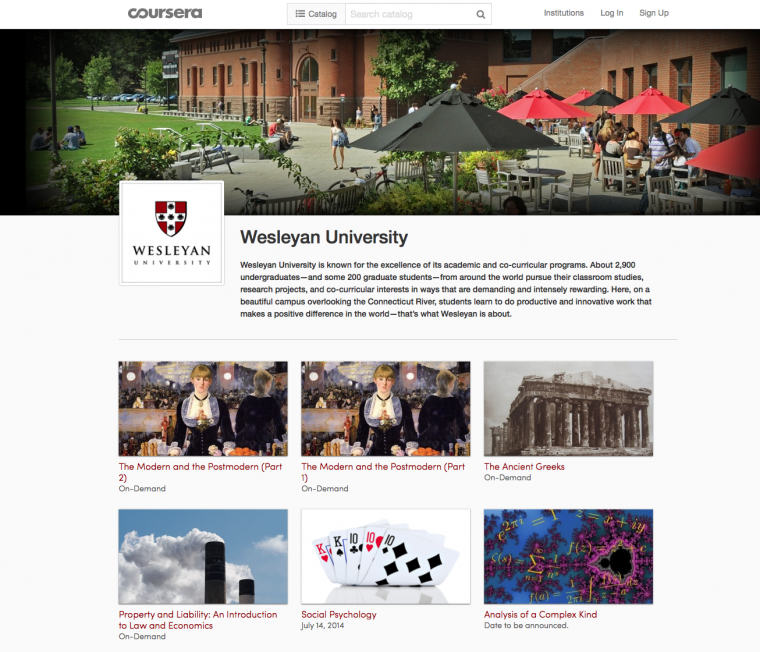 <div class="at-above-post addthis_tool" data-url="https://newsletter.blogs.wesleyan.edu/2015/07/14/moocsondemand/"></div>Two Wesleyan massive open online courses (MOOCs) are now available on-demand through Coursera. They are "The Modern and the Postmodern," taught by President Michael Roth, which was recently broken into Parts 1 and 2, and "The Ancient Greeks," taught by Andrew Szegedy-Maszak, the Jane A. Seney Professor of Greek, chair and professor of classical studies. A third Wesleyan MOOC, "Property and Liability: An Introduction to Law and Economics," taught by Richard Adelstein, the Woodhouse/Sysco Professor of Economics, has been on-demand since earlier this year. <!-- AddThis Advanced Settings above via filter on get_the_excerpt --><!-- AddThis Advanced Settings below via filter on get_the_excerpt --><!-- AddThis Advanced Settings generic via filter on get_the_excerpt --><!-- AddThis Share Buttons above via filter on get_the_excerpt --><!-- AddThis Share Buttons below via filter on get_the_excerpt --><div class="at-below-post addthis_tool" data-url="https://newsletter.blogs.wesleyan.edu/2015/07/14/moocsondemand/"></div><!-- AddThis Share Buttons generic via filter on get_the_excerpt -->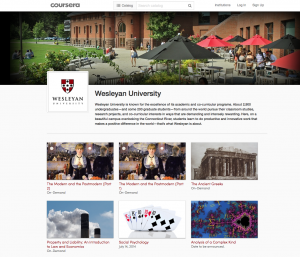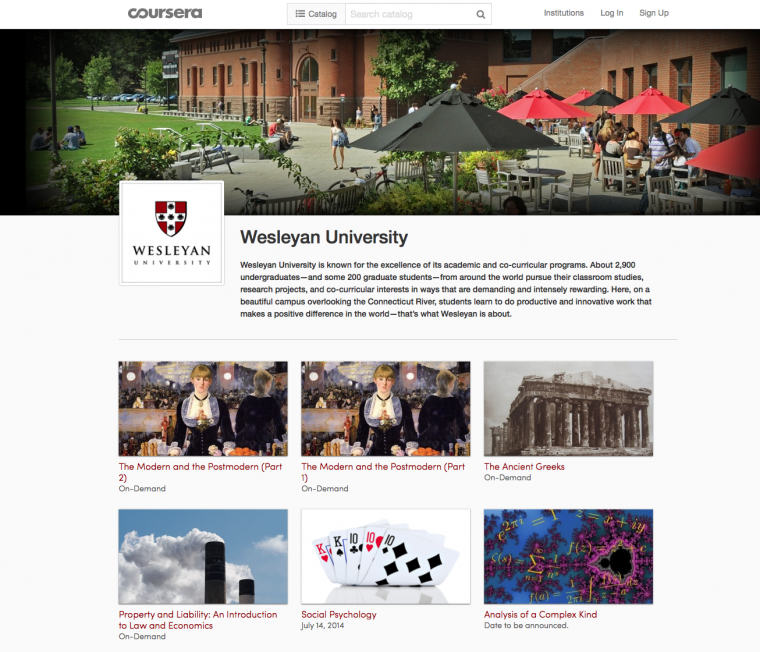 Two Wesleyan massive open online courses (MOOCs) are now available on-demand through Coursera. They are "The Modern and the Postmodern," taught by President Michael Roth, which was recently broken into Parts 1 and 2, and "The Ancient Greeks," taught by Andrew Szegedy-Maszak, the Jane A. Seney Professor of Greek, chair and professor of classical studies. A third Wesleyan MOOC, "Property and Liability: An Introduction to Law and Economics," taught by Richard Adelstein, the Woodhouse/Sysco Professor of Economics, has been on-demand since earlier this year.
"On-demand courses are always available and therefore allow learners to begin at any time and proceed at their own pace," said Jeffrey Goetz, online programs development manager. "While the new format encourages deadlines, it no longer imposes them, and as such is more flexible for learners with busy lives."
While certain aspects of the courses, such as peer-assessed assignments and online discussions, will look slightly different in the on-demand versions, Goetz said, "Because there are tens of thousands of people potentially taking each course, it's highly likely that there will be a critical mass at any point in the curriculum, allowing for plenty of interaction among participants. Professors will have a more hands-off approach to the on-demand courses, checking in sporadically on discussion forums. The professors may choose to answer common questions that arise in the forums, hold occasional 'office hours,' or tap in for an extended period of time to work with a cohort though the entire course."
Wesleyan announced its partnership with Coursera in September 2012, and faculty members offered the first online courses in February 2013. Since then, Wesleyan's presence on Coursera has continued to grow, with 10 MOOCs offered in disciplines such as film, mathematics, economics and psychology. Students from all around the world log on to Wesleyan's MOOCs, and at the beginning of 2015, total enrollment surpassed 1 million students. Additional MOOCs taught by Wesleyan professors are in the works.
Roth's original 14-week-long course was one of the first launched by Wesleyan in February 2013. According to the website, the course examines "how the idea of 'the modern' develops at the end of the 18th century in European philosophy and literature, and how being modern (or progressive, or hip) became one of the crucial criteria for understanding and evaluating cultural change." The course was re-run in July 2013.
"The Ancient Greeks" is a "survey of ancient Greek history from the Bronze age to the death of Socrates in 399 BCE. Along with studying the most important events and personalities, we will consider broader issues such as political and cultural values and methods of historical interpretation," states the course website. First launched in September 2013, it was featured in this article on The Verge.