11 Mellon Mays Fellows Present Research Topics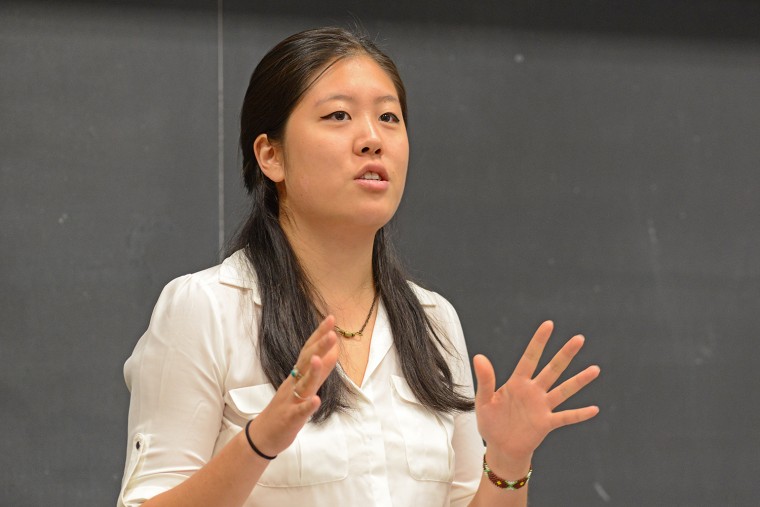 <div class="at-above-post addthis_tool" data-url="https://newsletter.blogs.wesleyan.edu/2015/07/27/mellonmays/"></div>Eleven Mellon Mays Undergraduate Fellows delivered brief research proposal presentations July 23 in Fisk Hall. The fellows, six from Wesleyan and five from Queens College, City University of New York, spent the past two months developing their research projects with the assistance of their peers, Wesleyan faculty and Wesleyan librarians. The Mellon Mays Undergraduate Fellowship Program provides minority students and others with a demonstrated commitment to eradicating racial disparities, with support to pursue graduate degrees in the arts and sciences. Research topics range from deconstructing African feminism to the role of political theater for a post-combat audience to trauma in Japan caused by the Atomic Bomb.<!-- AddThis Advanced Settings above via filter on get_the_excerpt --><!-- AddThis Advanced Settings below via filter on get_the_excerpt --><!-- AddThis Advanced Settings generic via filter on get_the_excerpt --><!-- AddThis Share Buttons above via filter on get_the_excerpt --><!-- AddThis Share Buttons below via filter on get_the_excerpt --><div class="at-below-post addthis_tool" data-url="https://newsletter.blogs.wesleyan.edu/2015/07/27/mellonmays/"></div><!-- AddThis Share Buttons generic via filter on get_the_excerpt -->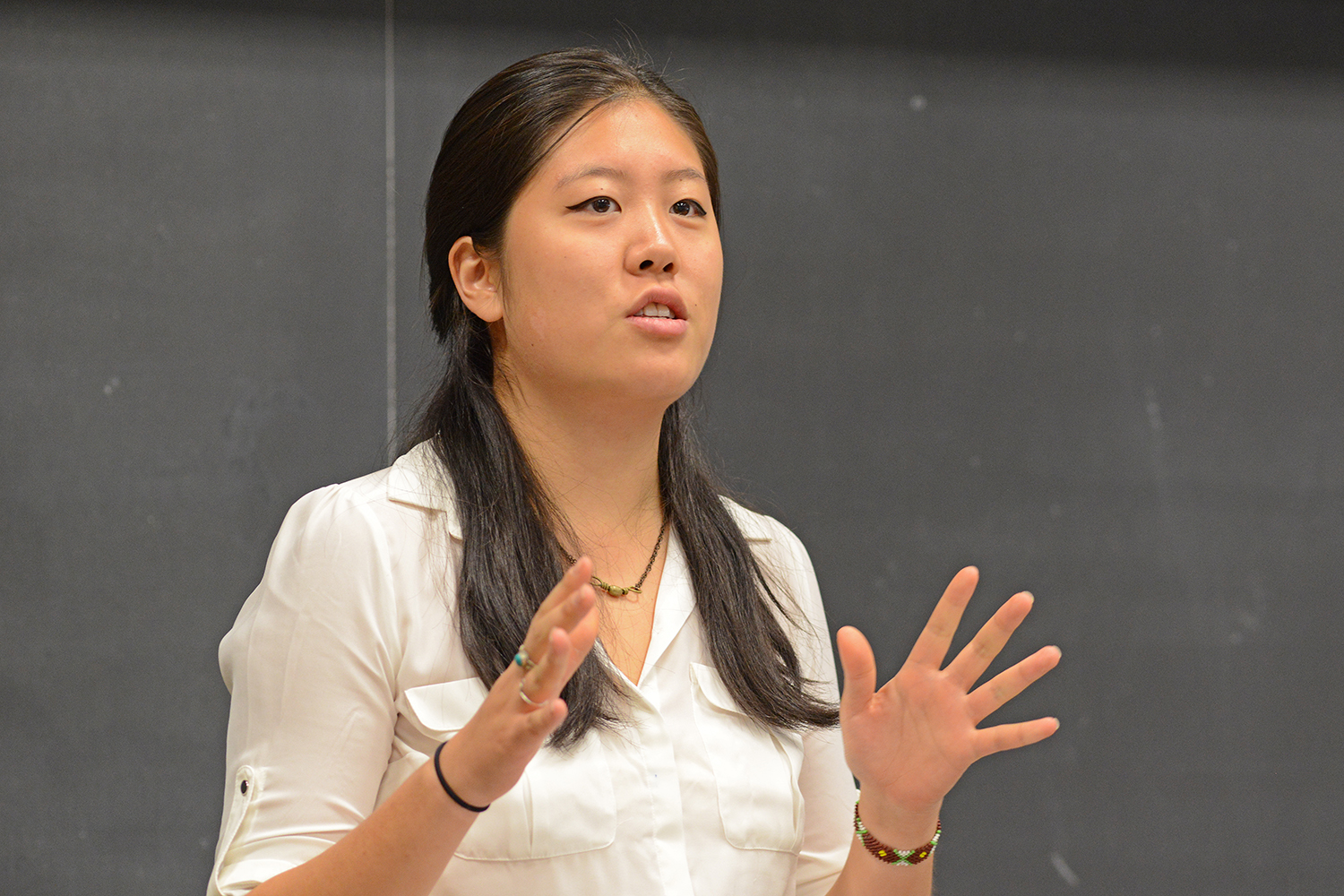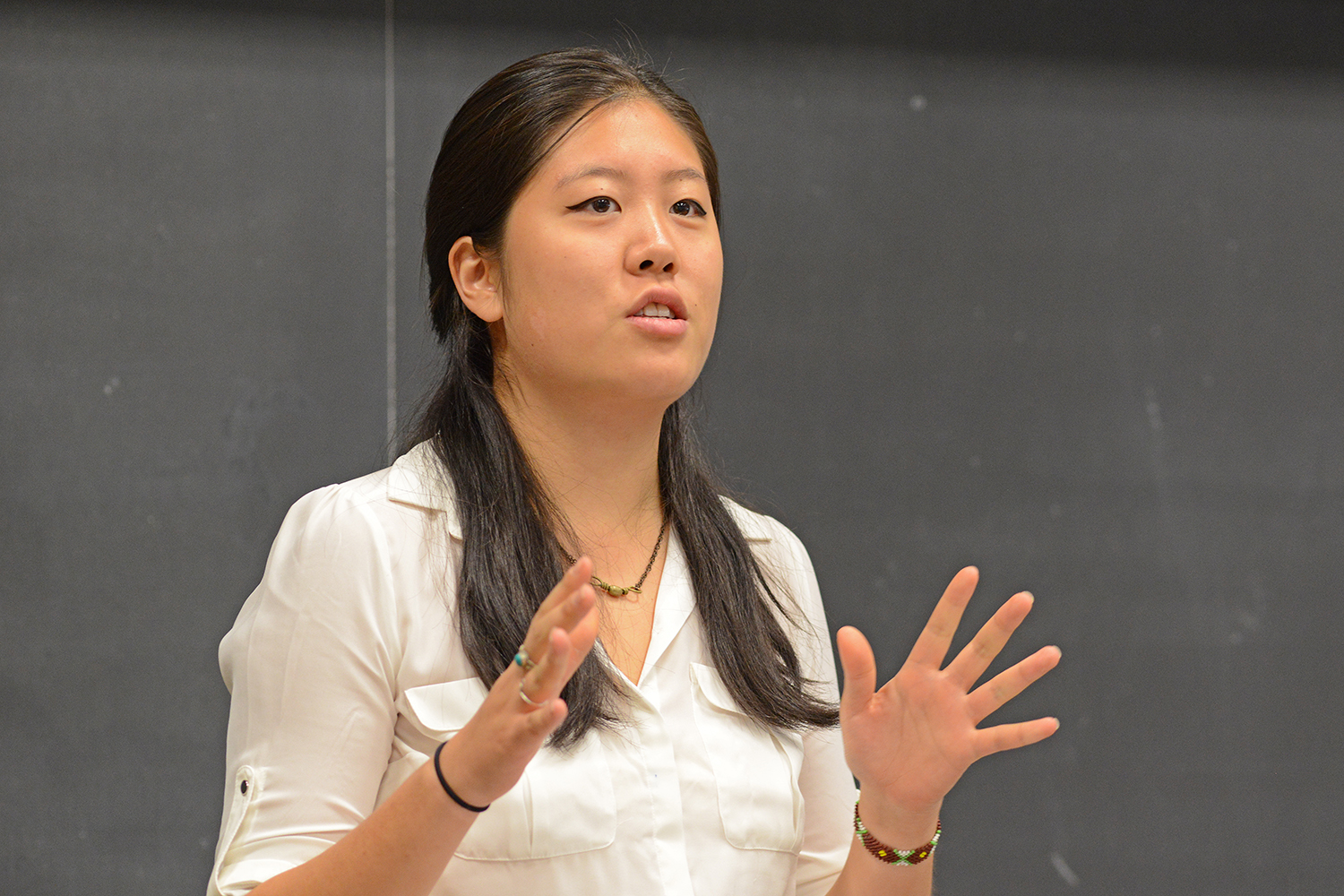 Eleven Mellon Mays Undergraduate Fellows delivered brief research proposal presentations July 23 in Fisk Hall. The fellows, six from Wesleyan and five from Queens College, City University of New York, spent the past two months developing their research projects with the assistance of their peers, Wesleyan faculty and Wesleyan librarians.
The Mellon Mays Undergraduate Fellowship Program provides minority students and others with a demonstrated commitment to eradicating racial disparities, with support to pursue graduate degrees in the arts and sciences.
Research topics range from deconstructing African feminism to the role of political theater for a post-combat audience to trauma in Japan caused by the Atomic Bomb.
Lynn Ma '16 of Brooklyn, N.Y. is investigating definitions of solitude from various philosophers, and trying to understand the significance of solitude in political life. She will be using a political theory framework to investigate how different theorists understand and address this topic.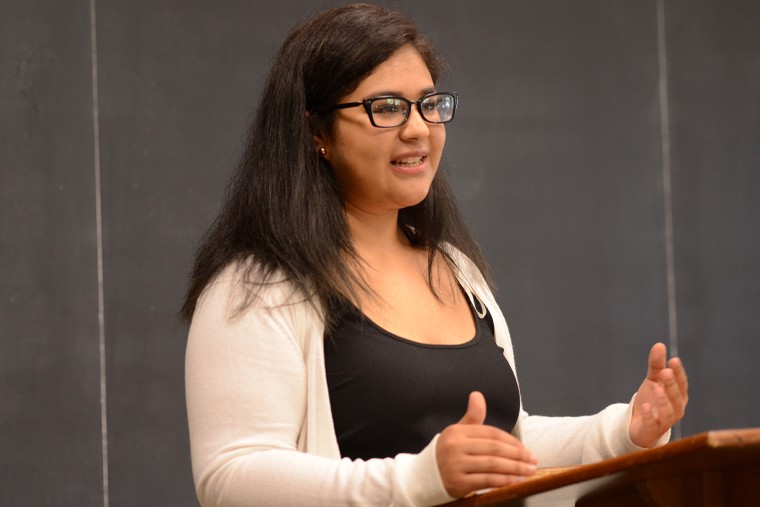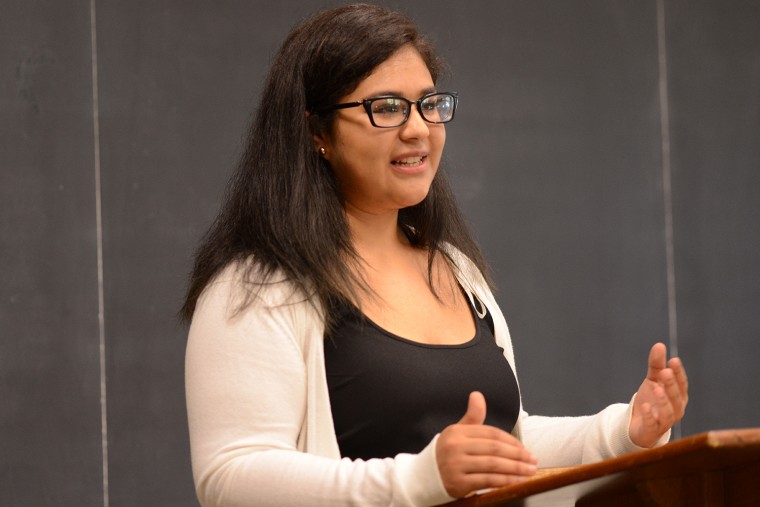 "The main question I want to address is: 'Is the experience of solitude necessary for active political and moral beings? If so, why?' The thinkers I have been exploring all discuss the importance of fighting conformity, and why solitude enables people to accomplish that task. Once people can look beyond the constraints of conformity, they can begin to think about what is essential to being politically active citizens. I hope to explore this further through my project," she said.
Through her Mellon Mays fellowship, Daniella Martinez Jimenez '17 of  Tacoma, Wash. hopes to deconstruct queer Latina identity through an analysis of the ways affect interacts with the social and cultural (ultimately political) underpinnings of identity. She centers her project on depression among queer Latinas.
"How can we begin to understand the depressive feelings experienced by those who are deliberately targeted by white supremacist systems of exploitation? What can depression tell us about the ways affect and politics intersect in the lives of queer Latinas in the U.S.?," she asks. "I engage with the performativity of identity, turning to affect theory and the concept of historical subjectivity as explanatory narratives."
Alongside this material, Martinez Jimenez plans to analyze the emergence of Latino punk, focusing on the music of contemporary queer Latina punk artist Cristy C. Road.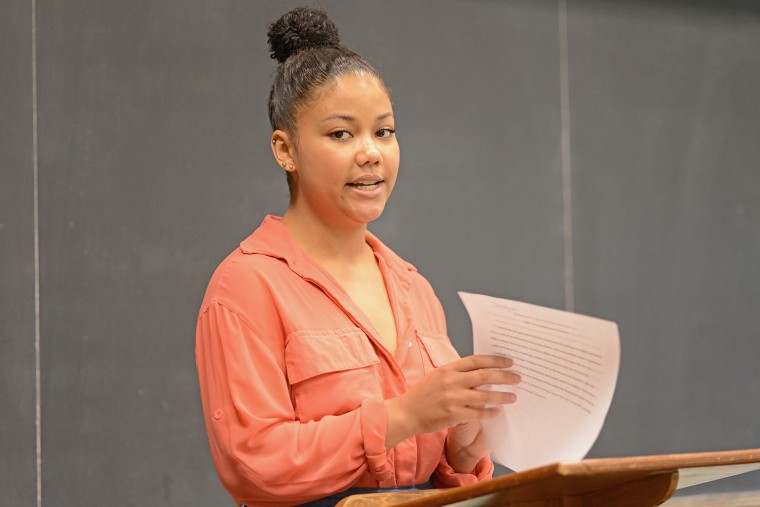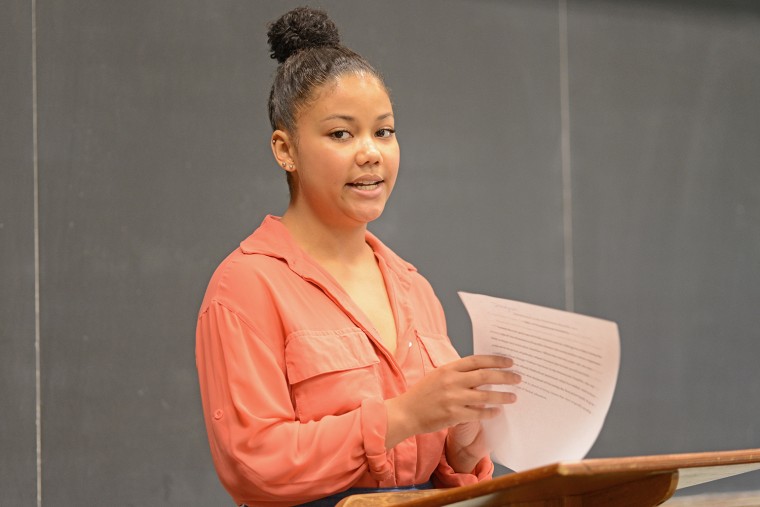 For her study, Dinayuri Rodriguez '17 of Harlem, N.Y. is investigating racialized ideas about Dominicanness and nationality that characterize citizenship policies in the Dominican Republic. These policies target Dominicans that, despite their place of birth, have historically been denied their right to an official Dominican birth certificate due to their Haitian ancestry.
"Because they are not legally recognized as citizens, thousands of Dominicans of Haitian descent are currently stateless and at risk of deportation," Rodriguez said.
Rodriguez's research will include ethnographic fieldwork with local organizations doing activist work to combat statelessness and mass deportations in the Dominican Republic. She hopes to offer alternative methods of building solidarity transnationally that uplifts the marginalized voices of local activists and Dominicans of Haitian descent.
Mellon Mays Fellow and Queens College student Katarina Rodriguez '17, of Ridgewood, N.Y., is researching dual language immersion schools in North America to prove how successful these programs are at integrating children in a bilingual and bicultural environment that naturally transforms them into open-minded, curious, and compassionate individuals.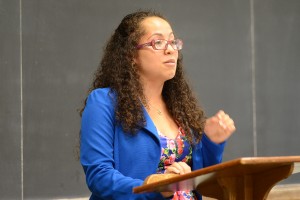 "With movements advocating to make English the official language of the United States, there is a need to stop these policies that would enforce institutionalized racism and xenophobia," she said. "North Americans perceive newcomers, Arab Americans in particular, as a suspicious, exotic other. Instead of learning about other cultures and challenging stereotypes, North Americans are accepting prevalent beliefs as truth and unjustly assuming facts about a person based on a particular characteristic, such as language."
Rodriguez is focusing on Arabic immersion, because Arabic is a language that "has an unfair reputation in the United States as a language that denotes violence and inhumanity," she said.
"I believe that bilingualism is a tool that we can give students to investigate cultural difference and encourage them to be autonomous figures who challenge the internalized, xenophobic beliefs that prevail in contemporary society," she said.
During their summer at Wesleyan, the students took field trips to Wesleyan's Special Collections and Archives, the Davison Art Center, the New Haven International Festival of Arts and Ideas, the New Britain Museum of Art, the Pequot Museum, the Harriet Beecher Stowe House and to Williamstown, Mass. for a traditional workshop on the Graduate Record Examination (GRE).
Other Mellon Fellows and their research topics are below: (Photos by Olivia Drake)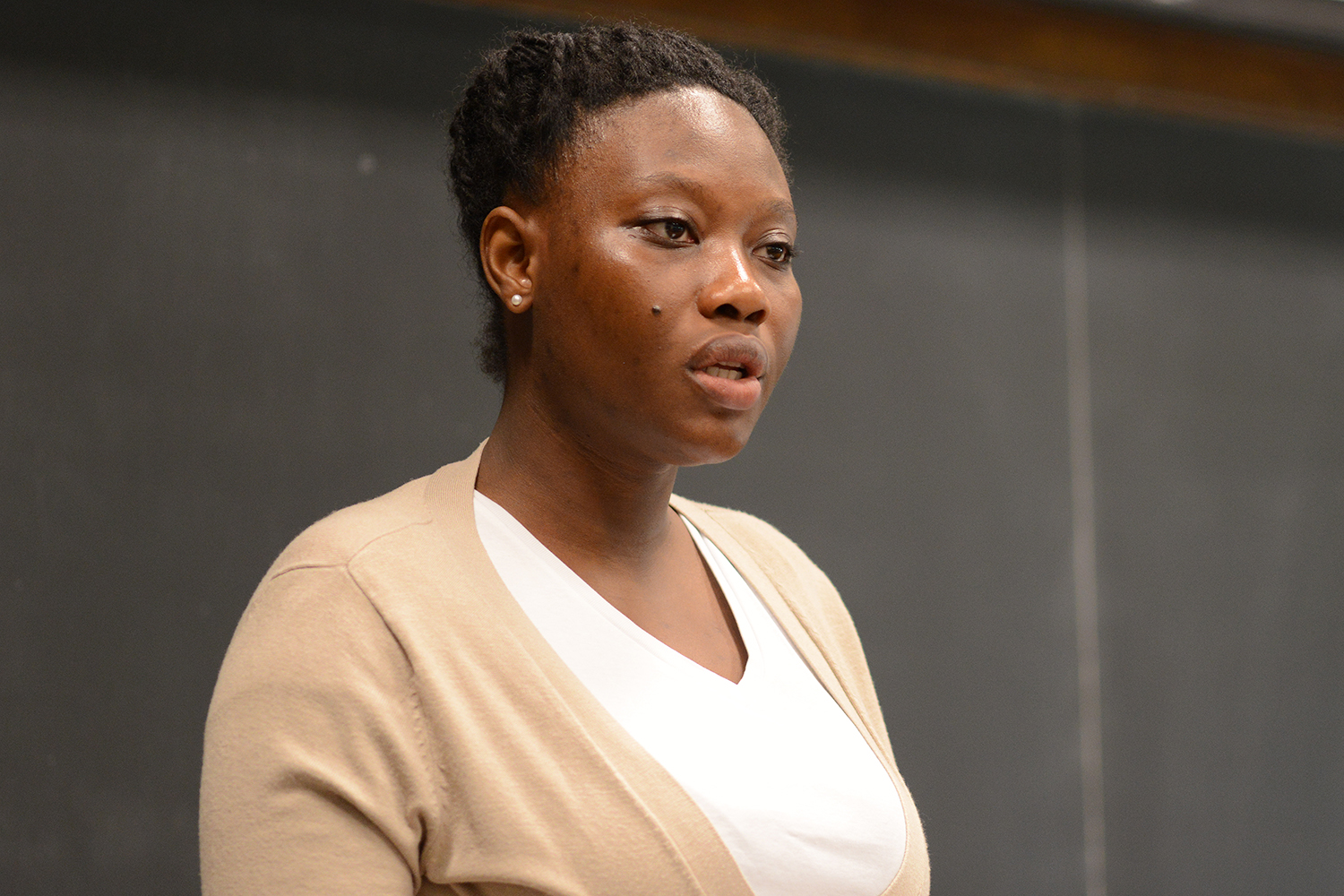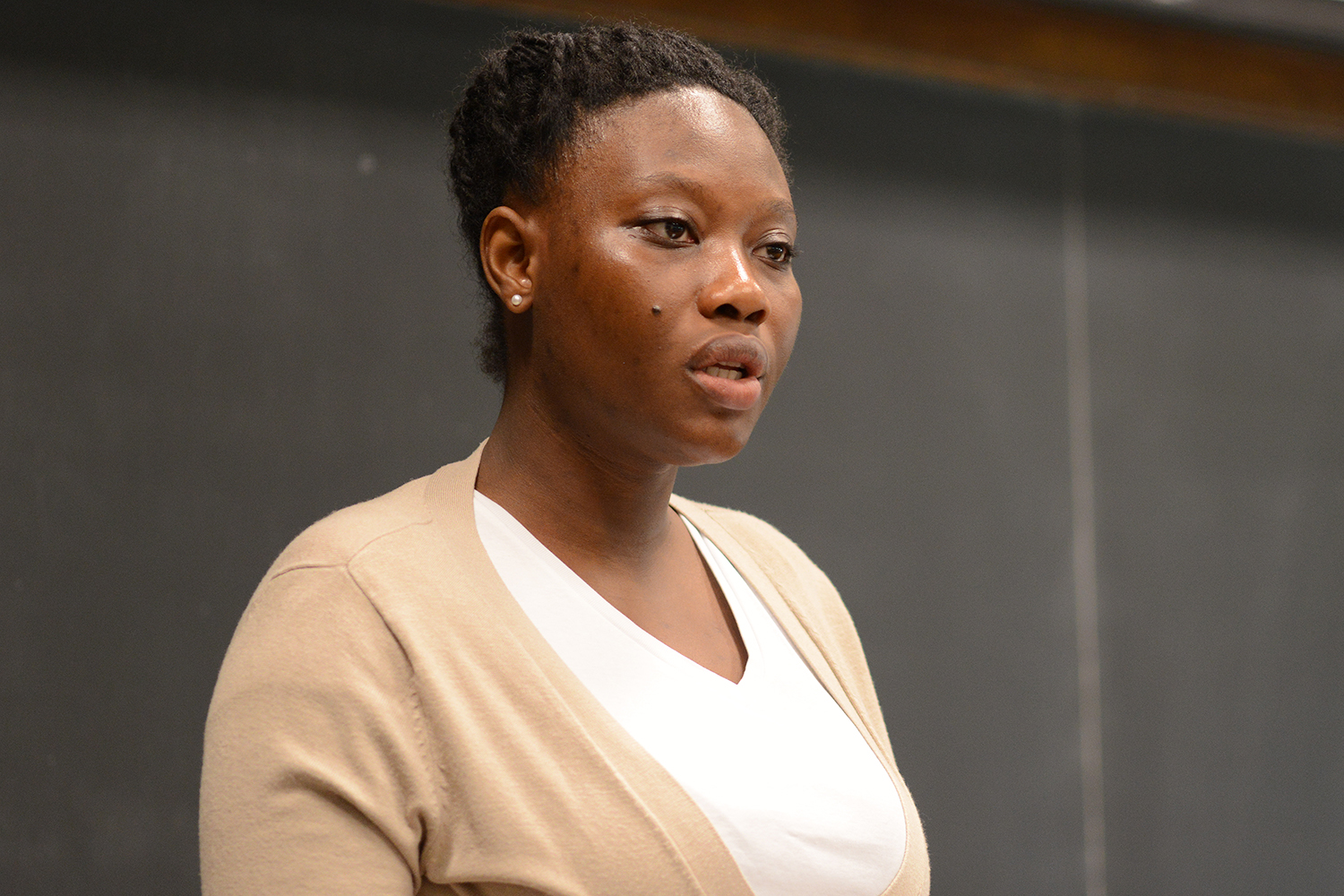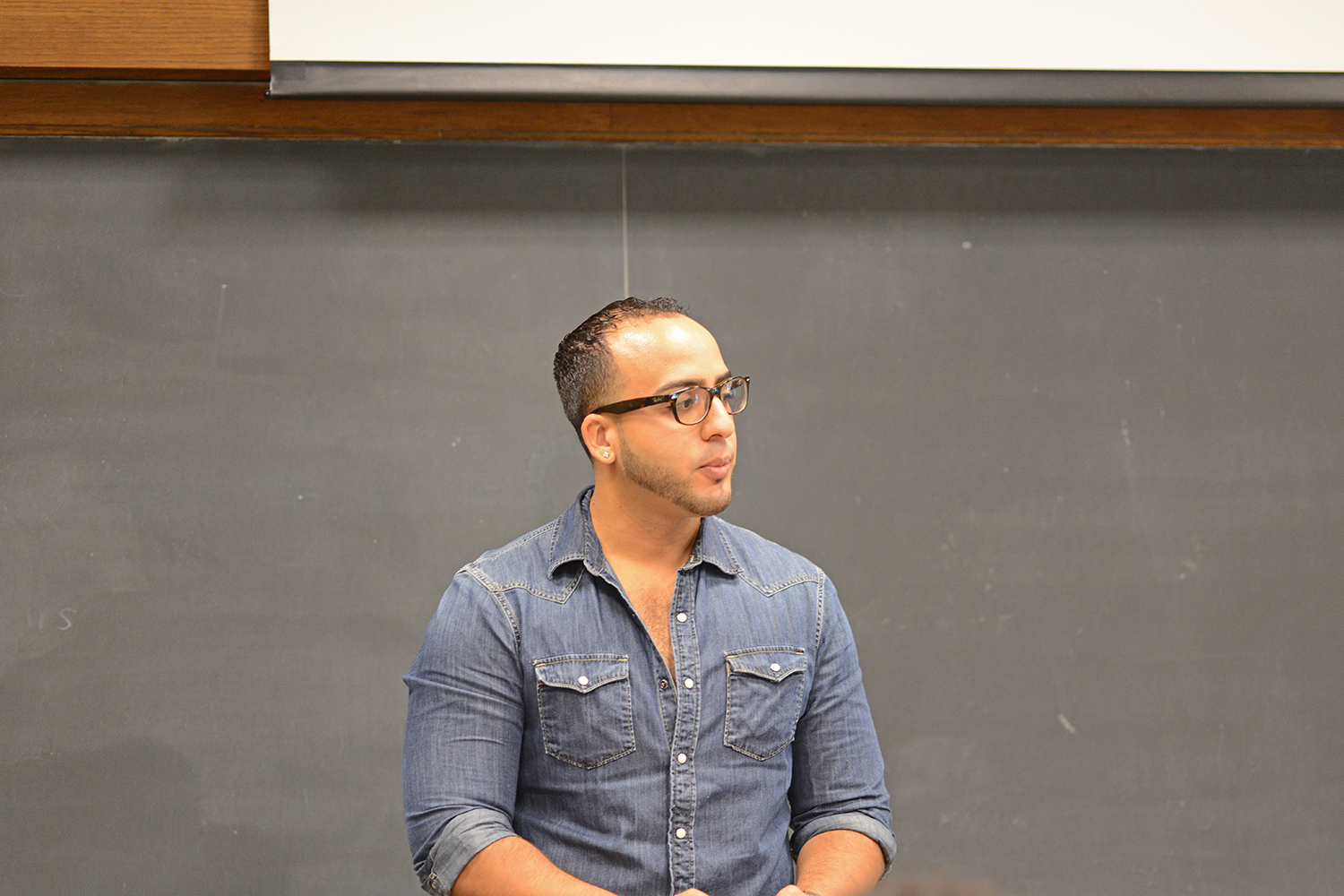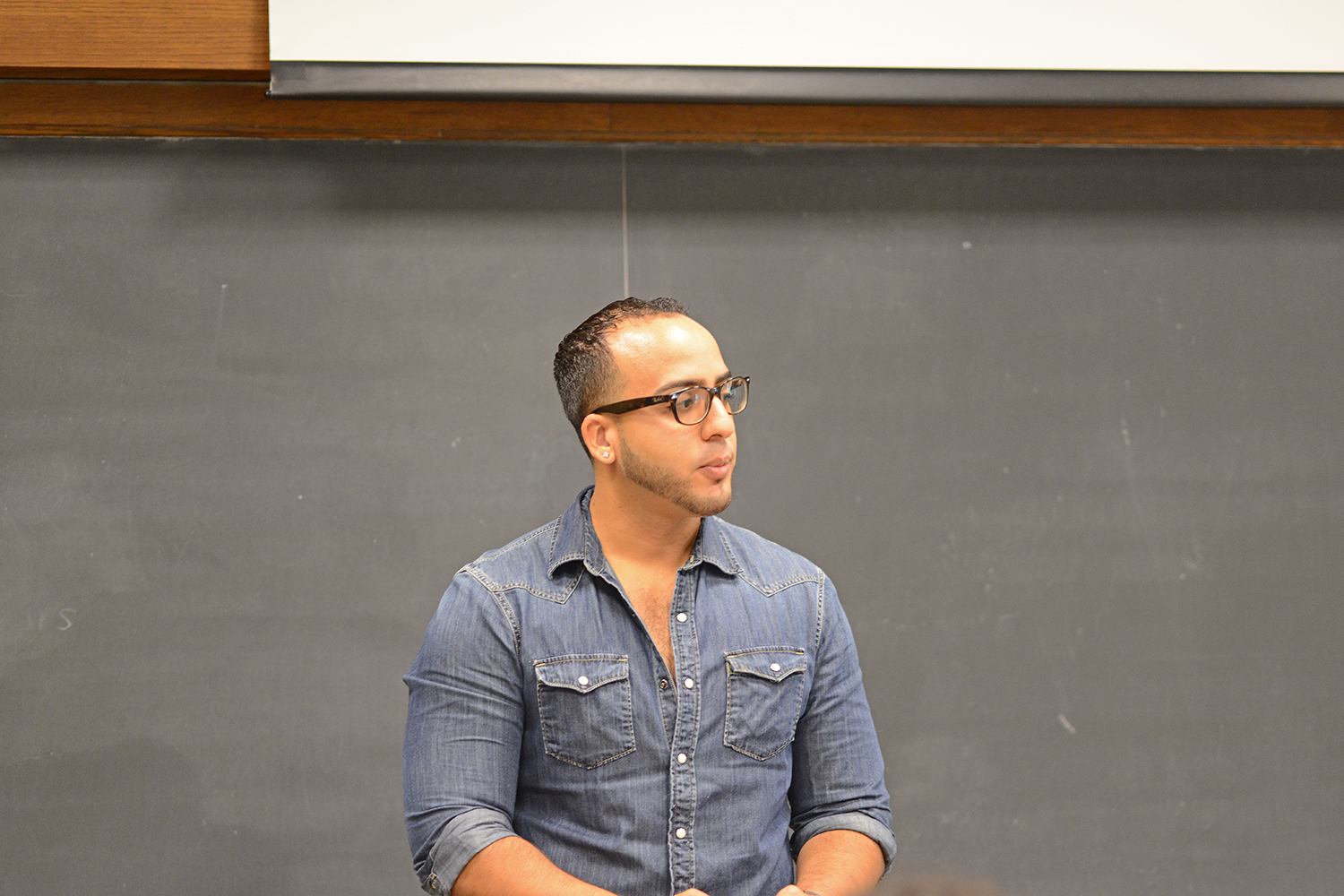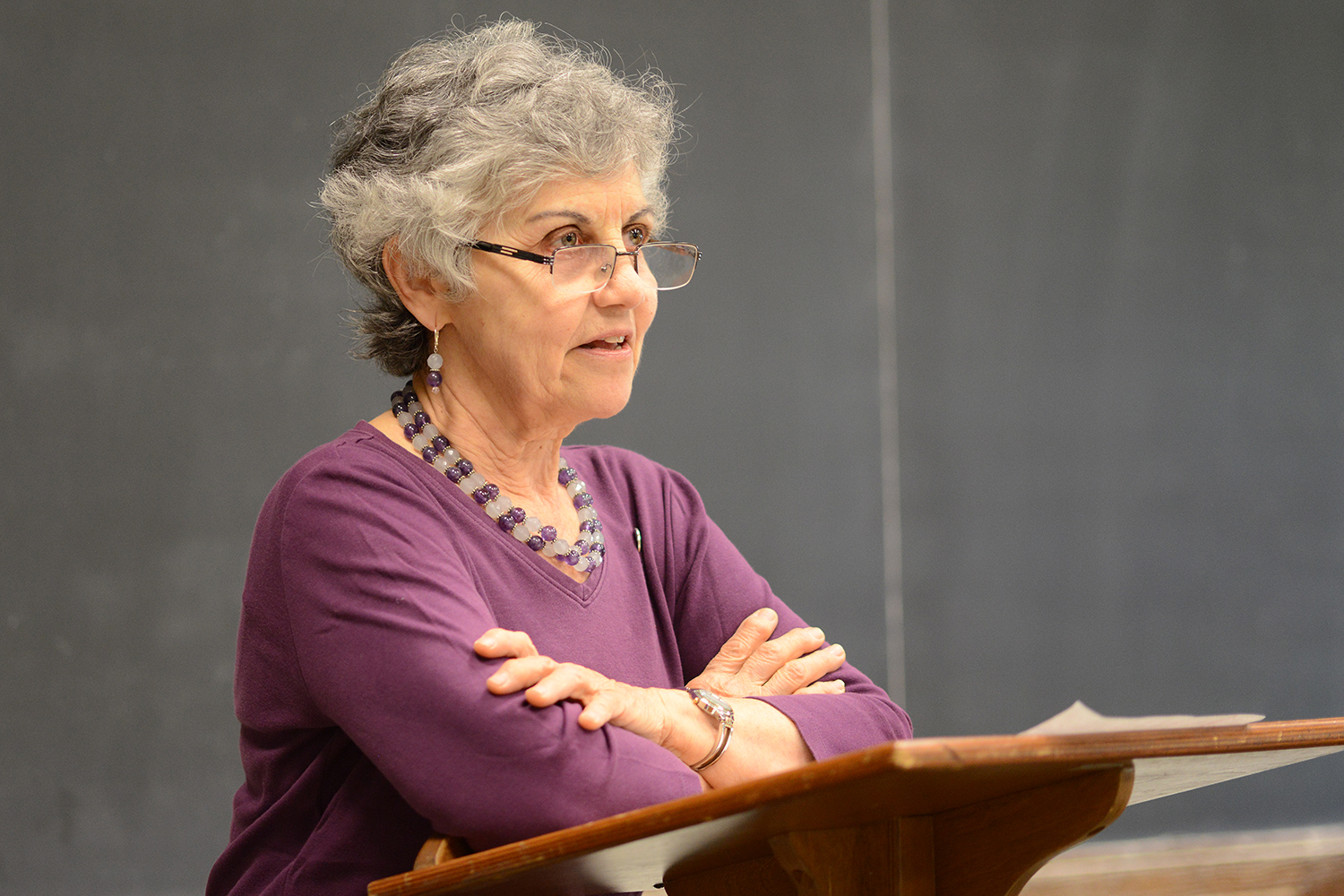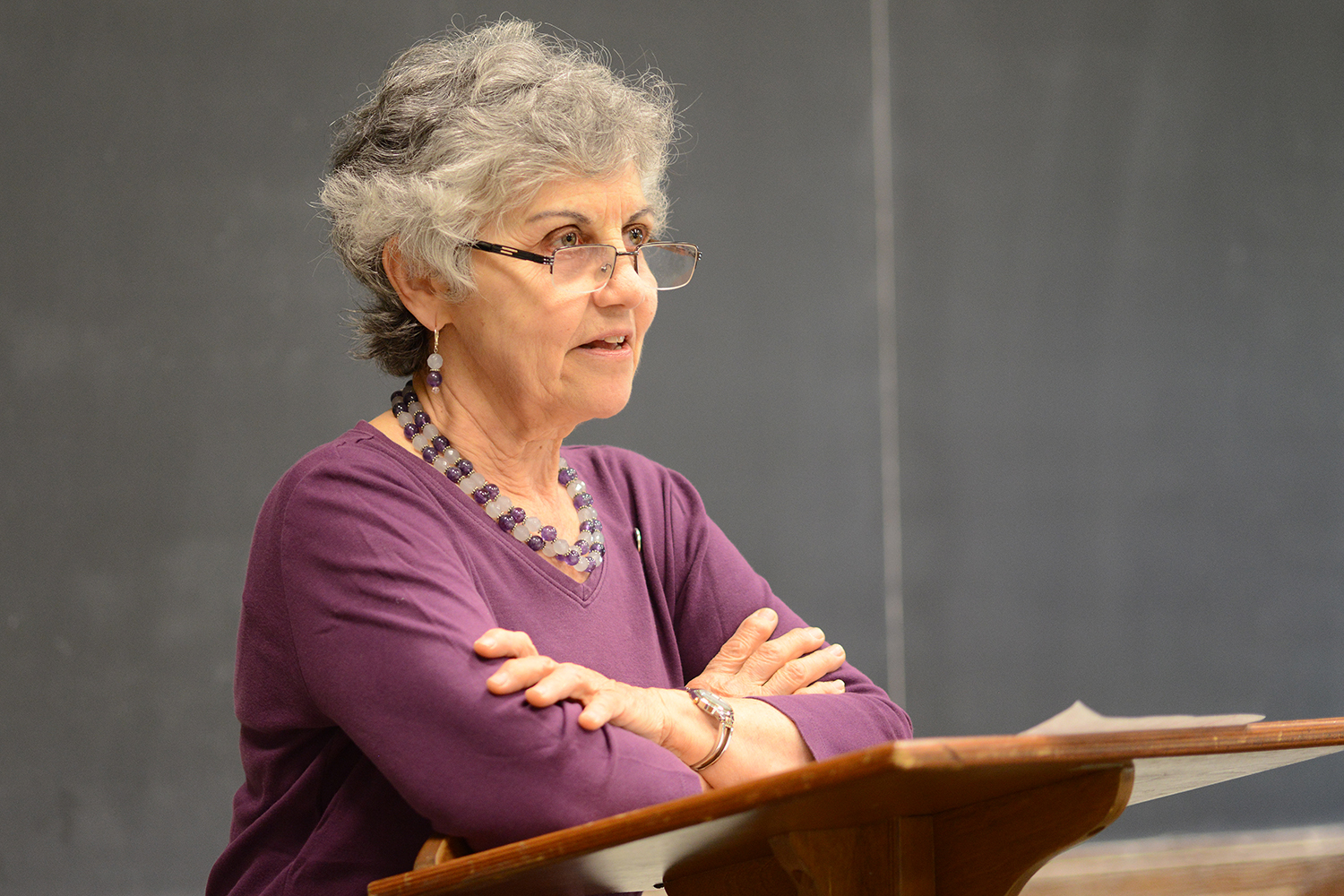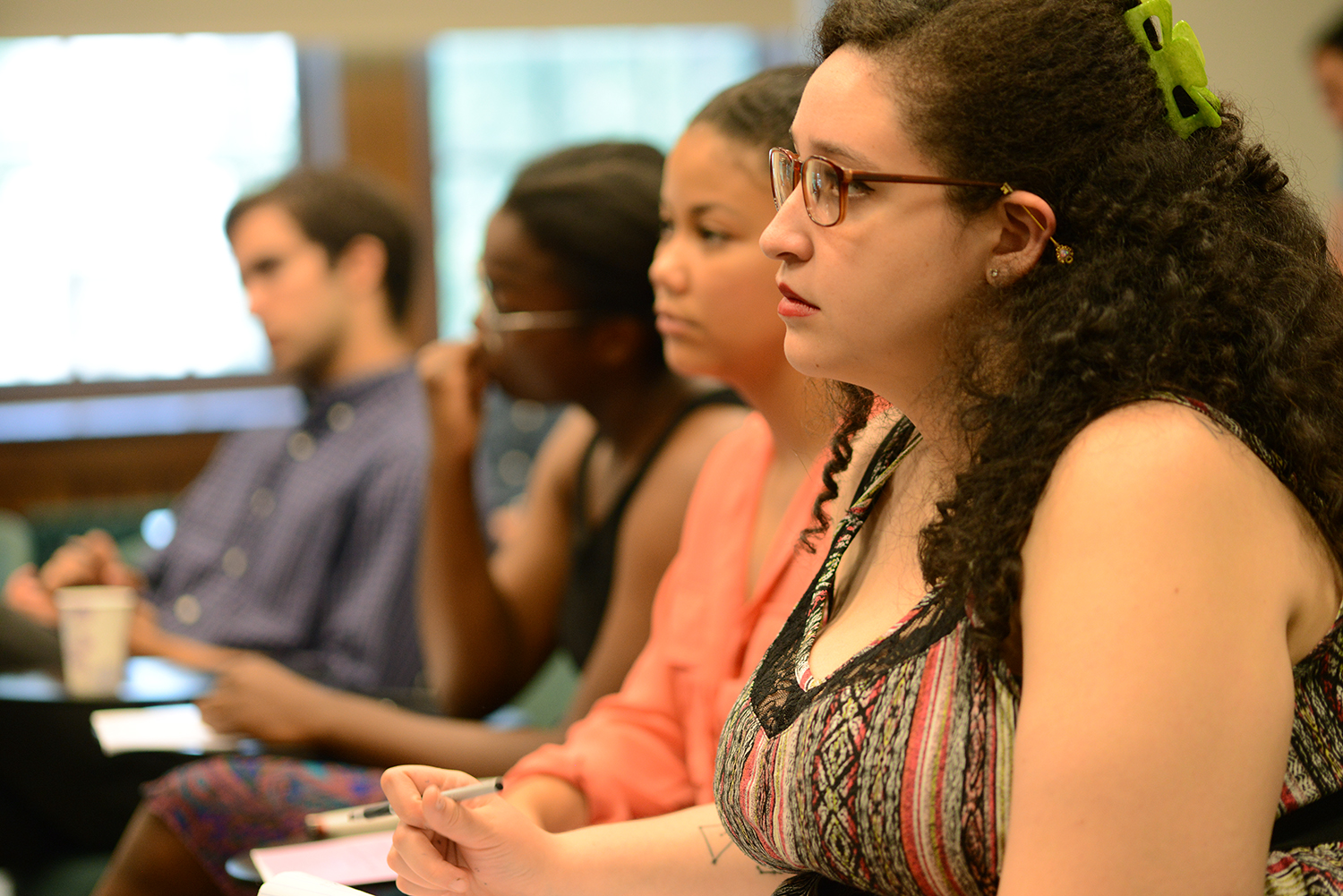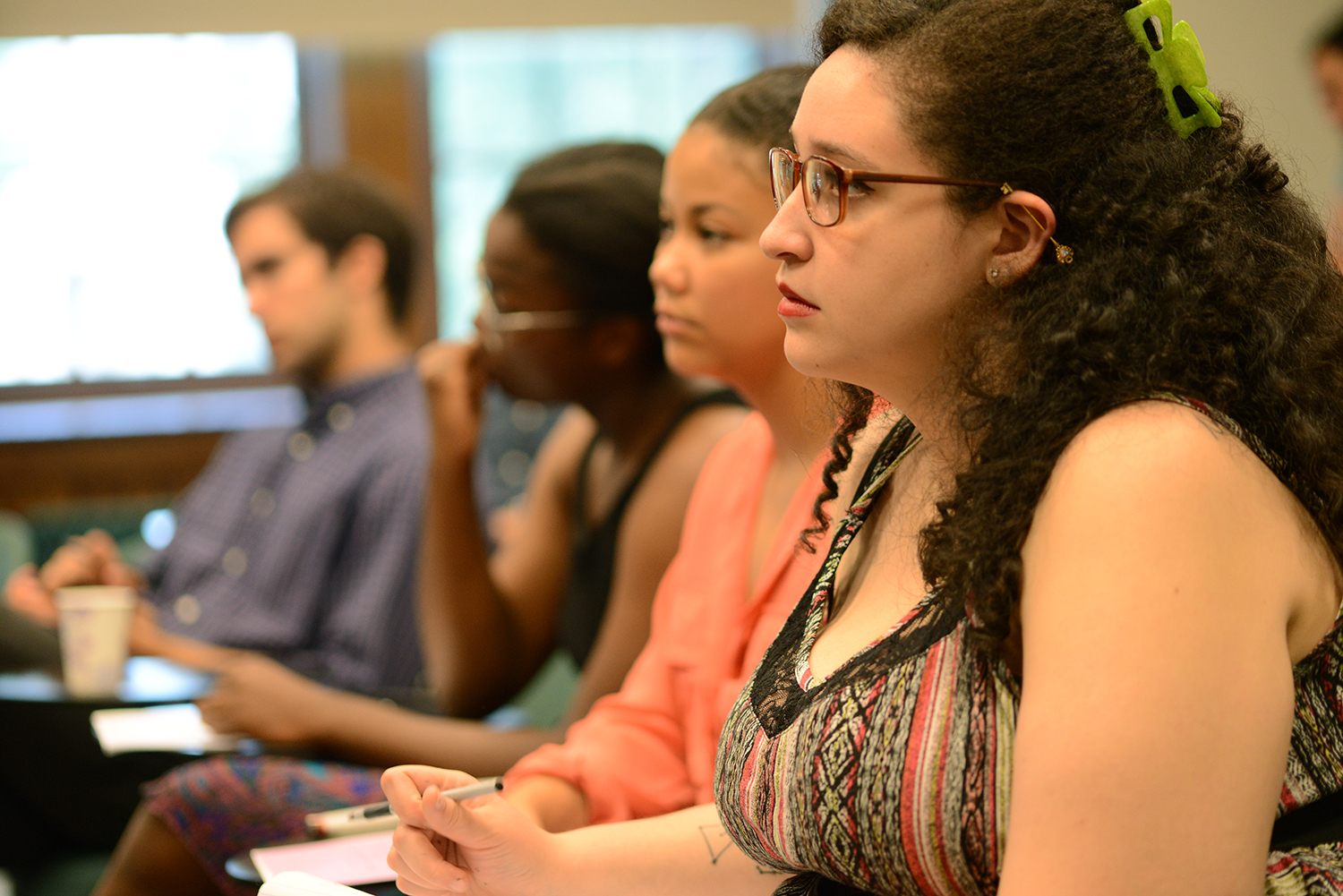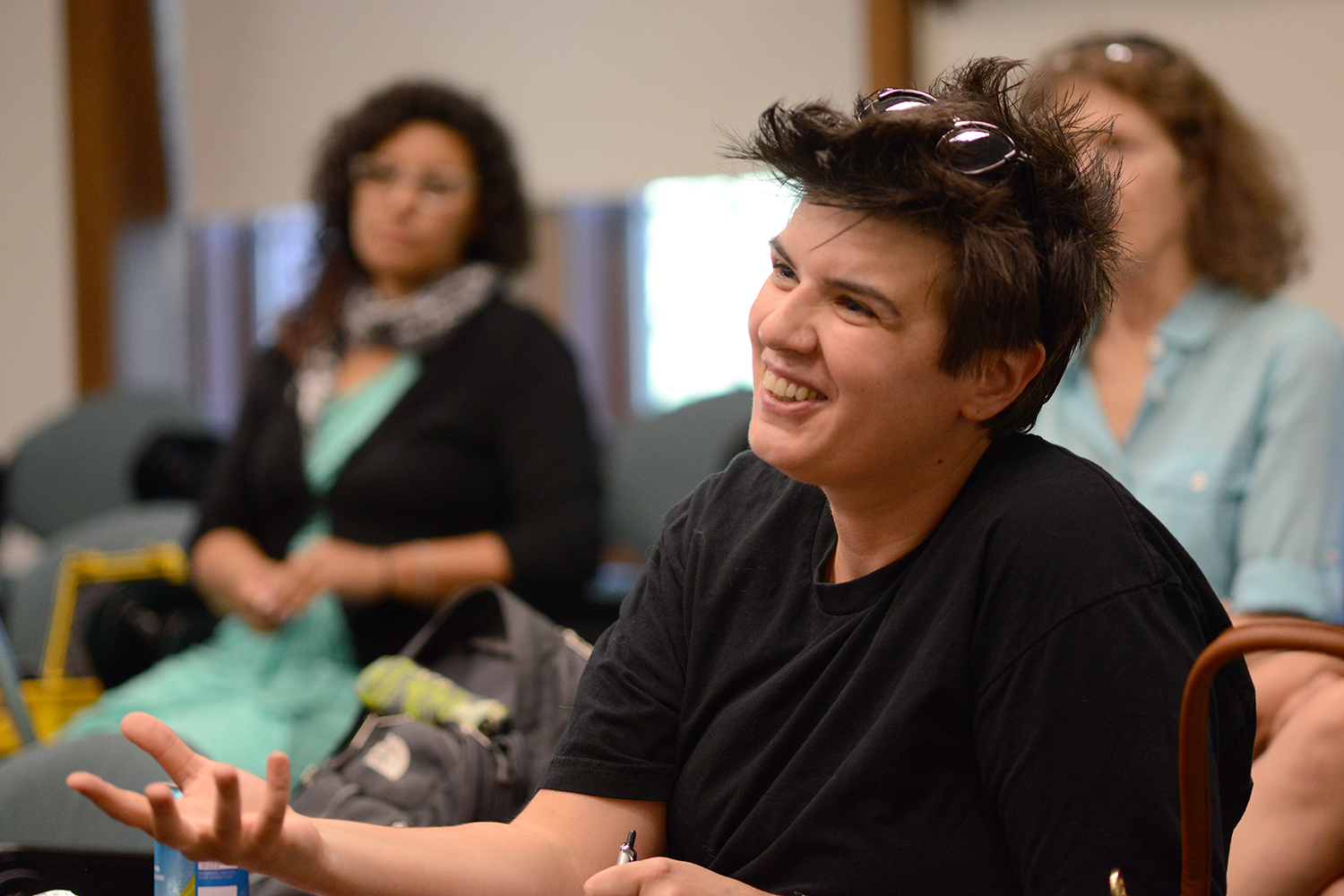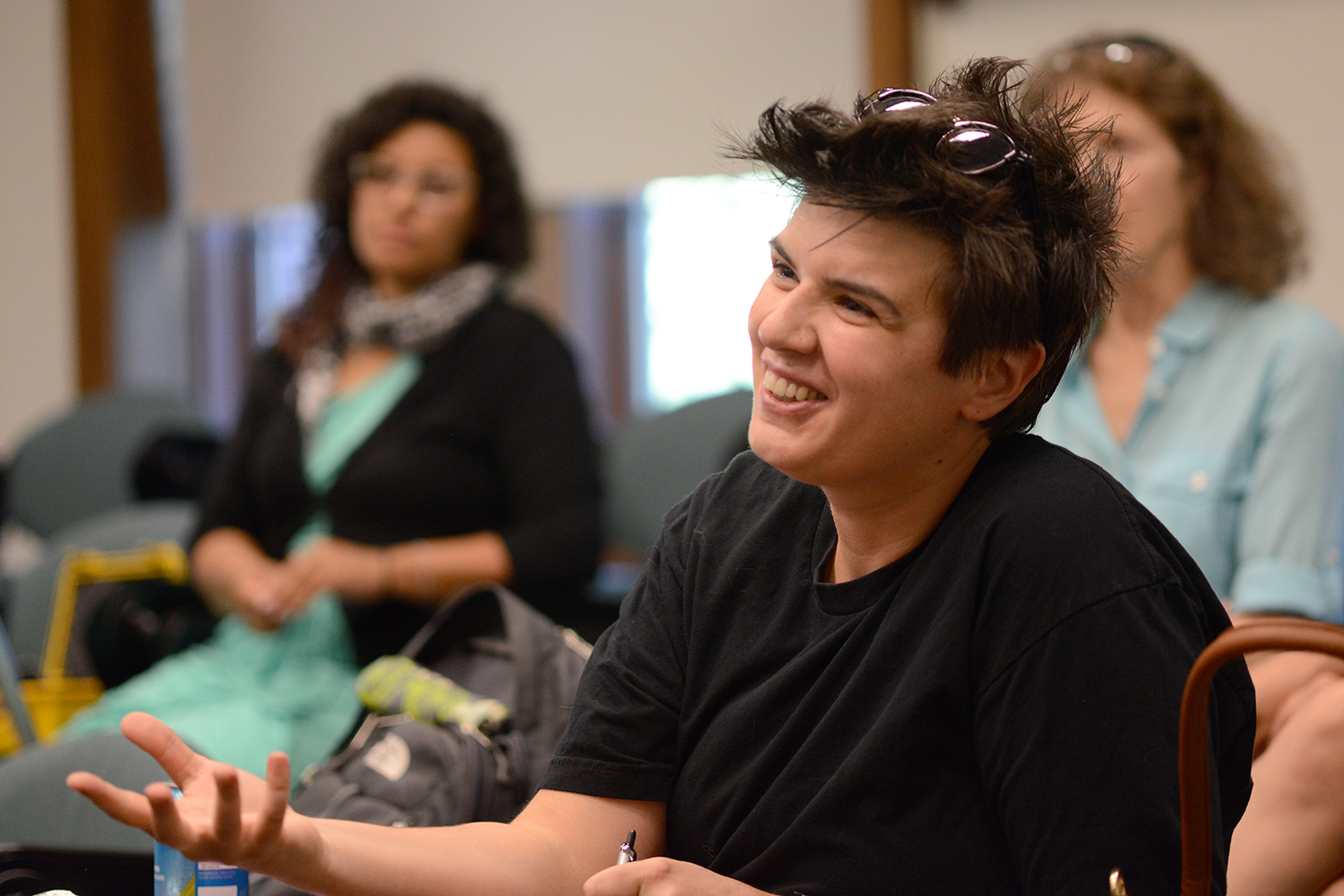 Other Wesleyan students and their projects include Daniel Maseda '16 on "Alternative Modes and American Responsibility in the Short Fiction of George Saunders"; Miranda Haymon '16 on "Show Not Tell: The Role of Political Theater for a Post-Combat Audience"; and Taina Quinones '17 on "Constructing Latino Identity: An Analysis of Nuyorican Spoken Word as Establishing Existence."
Other Queens-CUNY students and their projects include Krystal Dillon on "Deconstructing African Feminism: Colonialization, Assimilation and Western Supremacy," and Chandni Tariq on "Finding New Frontiers: Retelling the Story of American Foreign Policy."