GLS Presents Jazz Concert, Open Course Session, Nov. 30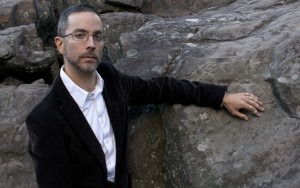 Graduate Liberal Studies will present a special concert and open session of the course Monk and Mingus: The Cutting Edge of Jazz with Jazz Ensemble Coach Noah Baerman, Nov. 30 in Russell House. Baerman will perform on piano, accompanied by bassist Henry Lugo, and Visiting Assistant Professor of Music and Private Lessons Teacher Pheeroan akLaff on percussion.
The first hour of the class (6:30-7:30 p.m.) will be a discussion, demonstration and Q&A session, followed by a performance of music composed by and associated with Thelonious Monk and Charles Mingus. Attendees interested in learning more about Graduate Liberal Studies are encouraged to arrive at 6 p.m. for an information session with GLS Director Jennifer Curran. The event is free and open to the public, and will be followed by a reception.
Baerman is a jazz pianist, composer, educator, author and social activist. He taught his first GLS course in 2002, and developed the in-class demonstration and trio performance portion for subsequent courses to illuminate the principles they had been studying. Since then, he has presented these as public performances and welcomed the broader community to share in these events. This combination of concert, education and dialogue serves as the foundation for Jazz Up Close, a series Baerman curates under the auspices of Resonant Motion, the non-profit organization for which he serves as artistic director.
"I believe that the true emotional substance of jazz is accessible to many people who don't identify as jazz fans once they have just enough understanding to provide them with a point of reference," Baerman said. "My GLS courses have always revolved around that principle. And I am very excited to be able to share some of this great music by Monk and Mingus with my students and the community at large. Their music is considered to be quirky, but they both had elements in their compositions that are not only unique, but uniquely communicative."
Graduate Liberal Studies at Wesleyan is the oldest program of its kind, founded in 1953 by the Wesleyan faculty to provide graduate opportunities to adult learners in central Connecticut. The program offers a broad variety of courses, all of which are open to anyone holding a bachelor's degree or higher. Students may take courses for personal or professional development, or take advantage of one of two degree opportunities. Both the Master of Arts in Liberal Studies and the more advanced Master of Philosophy in Liberal Arts may be pursued in one of the five major areas of concentration: Arts, Humanities, Social Sciences, Mathematics, or Sciences. The interdisciplinary courses and degrees support both part-time and full-time study. Through this program, Wesleyan offers students the tools to approach any subject with the critical reasoning, creative thinking, and high-level communication skills that will advance them in every aspect of their personal and professional lives. Rather than becoming specialists in narrow fields, GLS graduates possess the highly-valued ability to connect across disciplines, identify multiple possibilities, and argue many sides of a topic.
More information about Noah Baerman can be found on his website.
More information about Graduate Liberal Studies is here.