Gruppuso, Tamaddon, Nury Deliver "Senior Voices" Addresses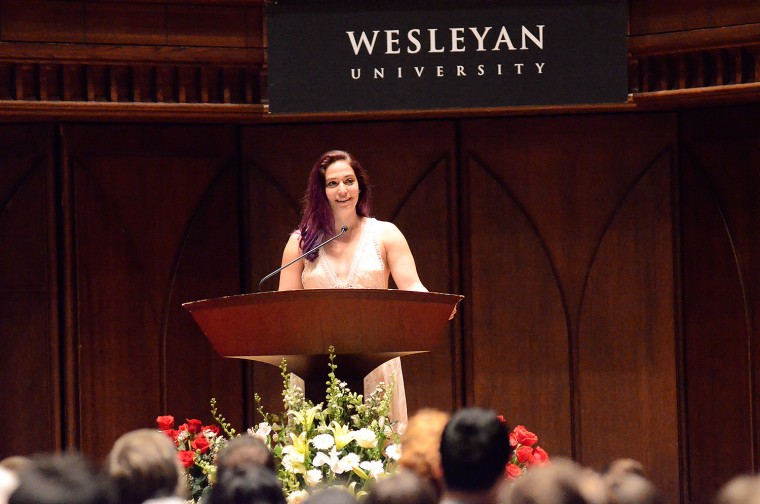 Abigail Gruppuso '16, Austin Tamaddon '16, and Cyrus Nury '16 delivered "Senior Voices" Addresses on May 21 in Memorial Chapel. Andrea Roberts, associate professor of the practice, chemistry, delivered the faculty reflection. Below are the text of their speeches: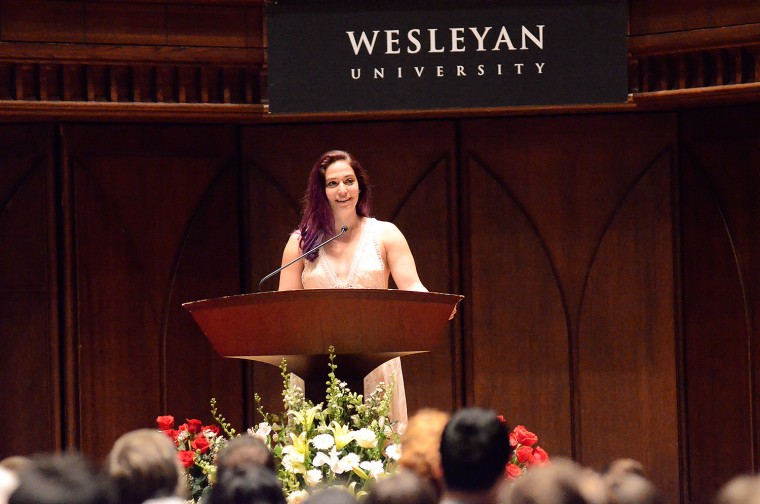 Abigail Gruppuso '16
The lunch table in Usdan is where my friends and I split into two camps and argue whether Cherry Berry or Froyo World is better. It's where Mike and I exchange stories about our study abroad experiences in Nepal and Beijing. It's where I was urged to Feel the Bern and taught how to eliminate food waste. At the table by the window, Sarah tells me about her research to find a chemical solution to antibiotic inhibitors. And Wolfi and I blabber about our ridiculous idea to start a popup restaurant on campus. Our laughs echo through the dining hall when Lainey and Sam simultaneously yell "Anotha one!" because DJ Kahled is so engrained in their vocabularies. We know everyone is staring at us when we sing Justin Timberlake at the top of our lungs but we don't care. The long rectangle table is where we support each other in times of crisis—where we tell one another they're gorgeous and too amazing for that guy, it's okay to get a bad grade once in a while and your mental health is more important than sticking with pre-med. That round table near the forks is where I made new friends—Nietzsche-obsessed intellectuals, grilled cheese-loving storytellers, and sassy jazz guitar playing coworkers.
Everyone I have befriended at lunchtime is at Wesleyan for the same reason. We're not here to pursue a practical life path; we're here to do what we love. We're here to write the next best sitcom, to open the town favorite bakery, to tell the world that Black Lives Matter, to heal the sick. And we were all lucky enough to have been brought together by someplace so simple—a dining hall.
As we watch the seasons change over Andrus Field from the table in the back left corner, we reminisce about yesterday and last month and two years ago. Fall. That time we log-rolled down Foss. Winter. That conversation on the curb next to Whey, huddled together in our down jackets. Spring. The sleepovers we had in mine and Jordan's makeshift king-size bed in Bennet.
My friends and I have had the same group text since freshman year. It's called 'Doody'. Every day someone texts the group asking, "'Dan lunch at noon?" or "Lunchie?" or "What time for Sudan? Damn autocorrect. Usdan*." As the years have passed, our lunch gatherings have gone from nine people taking over a big table in the middle of the room to just two or three of us at a small round table. We're all busy grading lab reports, training for half marathons, working 12-hour shifts at the fire department and taking much-needed naps. But we know that a text to 'Doody' will always result in at least one reply of, "I'm in!" I've learned during my time here that a true friend is someone who can pick things up where we last left them, someone who will tackle you in the middle of Usdan on the first day back from break, someone who replies enthusiastically to a 'Doody' text after a month of radio silence. Even when we pack up our houses and move to different parts of the world, our friendships will remain.
The memories of hanging out on the couches in Bennet three-short are still so visceral and many tears have been shed about the quickness of time (mostly by me—sorry), but I know I will see you all in the future, sitting across from me at a lunch table somewhere in the world, talking about the dreams you have achieved, and laughing about Wesleyan shenanigans like no time has gone by at all.
Austin Tamaddon '16
Wesleyan is what I've always wanted.
An impossibly perfect college,
and in my dreams it haunted.
It swept me off my feet like some kind of romantic comedy.
The kind where the audience is silent, yet I'm laughing audibly.
And in just four years time I was given perfection.
There's not a thing I would change about this place,
I can't name even one correction.
But it is just myself that I fault, for not taking on every single instance,
Every opportunity to learn and show my teachers that I could go the distance.
Hindsight is twenty-twenty, that's what my parents always said.
But I don't regret anything that happened here,
I won't be lying awake in bed.
I cannot encapsulate every moment Wesleyan gave me
If my life was on the line, this essay wouldn't save me.
But maybe to you, for just this moment, I can give,
A brief description, to me, what Wesleyan is.
It's the teacher's phone number awaiting a call on your phone.
And that you could make that call even if you just felt alone.
It's the A- in a class where you definitely had your doubts.
It's failing and repeatedly getting up in these boxing bouts.
It's an awe-filled gaze over the horizon, watching the sun rise.
Then changing your perspective to see the world through another's eyes.
Wesleyan is the the heartbreak that only makes you stronger.
To emerge from the crucible with the desire to stay even longer.
It's the reluctance to live within the confines of anyone's world but your own.
It's the excitement to explore every path you've been shown.
Wesleyan is the smiles on every face you wave, speak to or greet.
A place where everyone lives just down the block or across the street.
It's the encouragement to stand before a crowd, speak up and conquer your fears.
Show the world that you achieved so much more than you imagined in just these four years.
Wesleyan is the nervous laughter after gathering the courage to speak to someone you love.
The feeling— The knowing that there was nothing to be afraid of.
A place where we can exchange our time for wisdom.
Dance to the beat of our own drum, but in collective rhythm.
It's the alum who tells you that you can change the world and knowing what they're saying is true.
That every step is in the right direction, because it's not about the words we say but what we actually do.
Inside of each of us is unbridled potential.
The gravitational force this place emits, brings us together with each pull.
For when days pass, and classes end.
Text messages of promise, that we send
Find their way into the phones of friends forever.
Who may rejoin your life in your fruitful endeavor.
Vidal said that "The unfed mind devours itself".
Here our minds are fed and in good health.
If you told me that here you suffer of intellectual starvation.
I would say that's a symptom of a lack of motivation.
If Wesleyan is a dream, I pray that I may not wake.
So that I can enroll in every class I can possibly take.
Wesleyan will never leave me, it has a place in my chest.
And continues with me into the world so that I may do my very best.
Wesleyan is the future employer and employee.
Wesleyan is nothing less than our family.
It's a place of hope, promise, intrigue, desire, and self-affirmation.
A place where no bad grade can break you nor your determination.
It's where leaders can rise, and "the social norms" can fall. But most simple of them all: Wesleyan is a means to a perfect end.
Cyrus Nury '16
"Wellesley!!? I thought that was a women's college?!" says EVERYONE ALL THE TIME. I sigh, knowing that because I love this place so much, I will politely have to correct people for the rest of my life. Three years ago, before embarking on my journey, I imagined the following headline: '19 year old Iranian-American leaves protective confines of sunny Los Angeles suburbia and heads to the East. Destination: Middle-of-nowhere-town, Connecticut.' The whispers spread throughout my family quickly: "But they NEVER leave California! He won't last one winter there. GUARANTEED! 3,000 students… that's it?!" My parents teared up as I boarded the plane in late August. Letting their youngest go was hard but deep down they knew – and I knew – it would be the right decision.
Fast forward…. As a transfer student, reflecting upon these past three years has been profound. My Wesleyan experience was filled with a multitude of opportunities that undoubtedly changed and shaped the way in which I think. Putting them all into this one speech was difficult of course. But, to begin, Wesleyan has meant learning to be uncomfortable. Or rather, getting comfortable with being uncomfortable! Putting traditionalism and narrow mindedness behind has pushed me to new heights, beyond anything I could have imagined. Yes, the winters were long and hard, and no I did not adopt an 'alternative hippie lifestyle' like my parents so anxiously predicted. Well sort of…. "GOVERNMENT and FILM?" my dad still asks, raising his eyebrow. "So, you are going to start making documentaries about how Donald Trump will lead to the spiritual corruption of America?" I want to scream: "Liberal Arts DAD don't you get it?!" I have to give him some credit though. I mean it's not at every school where your son might be taking courses like "Revolution Girl Style Now: Queer and Feminist Performance Strategies" or "From Jerusalem to Ground Zero: Muslim, Jewish, Christian, Sioux, and Hindu Notions of Sacredness." And so, our 'Keep Wes Weird' campaign dares us to take risks and celebrate our achievements while appreciating the ideas of others that truly challenge our own.
Professors, classmates and the community at large have shown me what it means to question that status quo and for good reason. Life is too short as the old saying goes. But at Wesleyan life is about, looking at the world around us and taking in every moment with a fresh pair of lenses. This is why: because each day brings a new beginning, a new hope, and new wisdom. Wes students have harnessed that hope in the most beautiful way possible: fighting for what we believe in. In fact, what has really inspired me the most during my time here, is the tenacity of our student body: NEVER giving up. Like burning through the midnight oil, because you are confident that those three in a row all nighters will be worth it in the end. Because then come those glorious GLORIOUS Spring days when everyone is free to escape their prison thesis carols or the dungeons of Olin, and frolic on Foss Hill…. And maybe do some OTHER stuff on Foss Hill.
Through it all, we have learned to laugh at our 'hiccup' or 'not so triumphant' moments, as I like to call them. To illustrate a few personal bumps in the road: 1) Getting butchered – literally – by knives during Amanda Lee's film thesis when somebody forgot to put tape on the ends of the blades! – Note to self: it is always a good idea to DOUBLE check. 2) Running into Professor Moon's office at 4:59pm because oops, I'm .25 credits short from graduating, even though we went over this 6 times already but clearly I did not click the correct buttons in e-portfolio! Don't worry mom and dad we have it all sorted out! And 3), perhaps the best one of all: Spending a week, so diligently preparing for my film presentation only to watch the horrified reactions as I accidentally knocked over the ENTIRE speaker system right in the middle of my speech. Way to go Cy! Yet, as Wesleyan students have so wisely come to realize: we get back up when we fall to the ground. We are innovative, creative, and come up with quick solutions when faced with a problem. Mistakes and occasionally failure are simply just a natural part of the college experience and in the end we become stronger because of those experiences. I leave this campus knowing that I have a better sense of self and a positive path going forward. For me, these three years represent an extraordinary accomplishment and I look towards a brighter future where I am better prepared to make a difference. Thank You!
Faculty Reflection for Senior Voices 2016
Andrea Roberts, associate professor of the practice, chemistry
I would like to extend my deepest gratitude to all of you for the invitation to speak on this special night. When Father Bill informed me of this honor I was deeply humbled, and a bit perplexed. I thought, 'Why do they want me to speak? They never listened to me during my lectures. '
I could launch into all the "you are the future of the world" and "follow your bliss" stuff, but I prefer to take a different path. Tonight's reflections of your hearts and minds deserve words that go deeper than that.
In preparing for this moment I thought, 'If I were to have a quiet conversation over a cup of tea with each and every one of you as you prepare to leave, what would I say?' I have only had the pleasure of teaching 19.6 percent of you, so as you listen tonight, I invite you to imagine your favorite Wesleyan professor saying these words to you as I am sure, given the opportunity, many of them would.
I have the greatest job in the world. I have the pleasure of working with young, talented people who challenge my thinking, help me improve my teaching and who make me want me to become a better person every day. I don't teach those classes that ponder deep philosophical ideas or the cool classes about jazz or the classes with sexy names that students all want to take. I teach Organic Chemistry Lab. Some of my students are chemistry majors, but most pass through my classes only as a requirement. Our paths would never have crossed if not for that. Eighty percent of my class is pre-med students who are extremely driven, many of whom think that every quarter-point error they make will prevent them from getting into medical school.
Very few of you want to be there. And some of you even tell me that.
You have stretched my patience and the limits of my endurance. Nevertheless, you, all of you – chemistry majors, pre-meds and even those of you I have never taught – are the reason that I love to teach.
My older brother went to Middlebury College and while there, sent me a book of poetry by Robert Frost for my 15th birthday. For many years, Frost taught at Middlebury, so while David was away at college, this was a way for us to stay connected. My favorite poem of his is, "The Road Not Taken". When I first read it, there was something about this poem to which I was inexplicably drawn. I have read a great deal of poetry, taken classes on Chaucer, read John Donne and Shakespeare's sonnets and yet, to this day, I am still drawn to these words. I am sure that most of you have heard this before, but if you would indulge me for just a moment, I would like to share these words with you:
The Road Not Taken
-By Robert Frost
Two roads diverged in a yellow wood,
And sorry I could not travel both
And be one traveler, long I stood
And looked down one as far as I could
To where it bent in the undergrowth;
Then took the other, as just as fair,
And having perhaps the better claim,
Because it was grassy and wanted wear;
Though as for that, the passing there
Had worn them really about the same,
And both that morning equally lay
In leaves no step had trodden black.
Oh, I kept the first for another day!
Yet knowing how way leads on to way,
I doubted if I should ever come back.
I shall be telling this with a sigh
Somewhere ages and ages hence:
Two roads diverged in a wood, and I—
I took the one less traveled by,
And that has made all the difference.
My path to Wesleyan was not straight. At 22 I got a job as a chemist in a multi-national company. For 15 years I had the privilege of working in different labs with amazing scientists, but something was missing. I went to school at night and got a Master's degree. In 1994 – remember that date – I started as a graduate student in the Industrial Ph. D. program here in the chemistry department. I found it challenging to be a full time chemist and a part time graduate student. In 2004, I was given the unique opportunity to teach here at Wesleyan.
Teach, not TA.
I had taught as an adjunct at night for a year at another institution, but I had never given serious thought to teaching as a career. And yet, at that precise moment, my life was in transition. So I took a leap of faith, quit my job, took a pay cut greater than 50 percent of my salary, sold my house and came here. In 2010, I defended my Ph. D. thesis. Do the math…it was a long road.
Two roads diverged in a wood and I –
I took the one less traveled by,
And it has made all the difference.
There is something magical about my office. Admittedly, it is a living monument to entropy in its purest form, but there is always a wide selection of tea and a wonderfully eclectic collection of coffee mugs given to me over the years as gifts from my students. It is in this cluttered space where I keep my chemistry books, but I also have books like Citizen Kane and
Dr. Zhavago, my rubber nose and glasses with the obligatory fake mustache, my Master's thesis and Ph. D. dissertation, my ice skates, a Galileo thermometer, a plaque commemorating the issuance of my very first patent from Ciba and a picture of my parents who are gone now.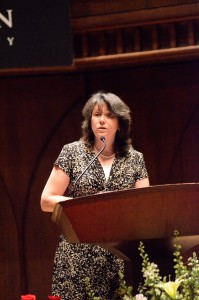 – The fiction books remind me that there is more to my life than science.
– The glasses remind me not to take myself and my life too seriously.
– My thesis and dissertation remind me of the importance of hard work, seeing a project through and never, ever giving up on something about which I am passionate
and to always be grateful for those who supported me on that long road.
– My ice skates remind me that in order to be able to take care of others,
I need to take care of myself.
– The thermometer reminds me of the scientists who developed the guiding principles
that I teach to my students.
– The plaque with my patent reminds me of where I started in chemistry when I was your age, the successes I had and the wonderful people and opportunities that helped me
to be the scientist that I am today.
– The picture of my parents reminds me of where I came from,
and the power of the love of family.
It is in this wonderfully eclectic, completely disorganized space that I call an office, where you have taught me some of my most transformative lessons.
Yes, you. And it is something for which I cannot thank you enough.
There is something about that space – maybe it's the tea or the clutter, maybe it's the rubber nose and glasses – that puts you at ease. In this space you have shared things amazing and mystical. Some things are troubling and full of sorrow. Some conversations become joyous celebrations of small victories and great successes.
It is in this space that you told me of friends who were struggling and times that you spoke up when someone was being bullied, when you gave voice to people who had none. You shared with me that you were up all night with a resident, giving advice like only an older sibling could. You talked of how difficult it was to be captain of a team, lead choreographer for a dance show, editor of the Argus, a tutor or TA for a class, while maintaining a rigorous course load. You wanted to be good at everything you did and that was so hard.
-It was through these actions that you taught me how to be a good mentor.
You came to me when you had five things due on the same day and asked for an extension on my assignment. Knowing that I am a stickler for rules and deadlines because dealing with 120 Orgo Lab students is like trying to herd cats on caffeine, you came with no expectation that an extension would be granted, you figured you would swallow your pride and just ask.
-It was through this that you taught me the importance of humility.
You said you didn't want to get out of the work, you just needed more time. I demand the best from you and a little more time would ensure just that.
-It was in those moments that you taught me that rules can be bent
without being broken.
You have come to me with arguments that passionately support one point of view, and others have confided that they do not agree, that they are not being heard, but are afraid to speak up because the inevitable backlash would be too much for them to bear.
-It was in those conversations that you taught me the importance of open discourse, even if I don't agree with everything you say, to listen quietly while you speak, and to be mindful of what I say because an electronic footprint is there forever even when you think it is gone.
You came to me when you lost a loved one, a pet or left a relationship. You trusted me enough to allow me to see into the saddest parts of your soul. While I could not really help, I could listen.
-It was in these moments that you taught me that there will be times when there are no words that I can say that will make things better but that listening is a gift.
You came by to tell me of a new job opportunity, an internship, a part you got in a play, that your work was published, that your reaction finally worked, that you got into grad school or that you won a game or a match or a meet. Your smile was electric as you shared this with me.
-It was in these moments that you reminded me how wonderful it is to share in the joy of the accomplishments of others and how proud I am of you.
You have trusted me with your deepest concerns, allowing yourself to enter a place of vulnerability that you may not like, but where you go anyway. Sometimes you stop by because you need a little encouragement, validation of your feelings, a vote of confidence, a kind word, a good laugh, a quiet place or a cup of tea. You told me that it meant everything to you.
-It was at these times that you taught me that one word, one simple act of kindness can have a profound effect on the life of another and that I should make the time,
because it really matters.
So in your life, whether you choose the well-trodden path or the road less traveled, surround yourself with the things that really matter to you.
-Know that there is more to you than your major.
-Never take yourself too seriously.
-Do not forget to take care of yourself – your whole self – for it is only then
that you can help others.
-Hold fast to the principles that guide your life; listen to your inner voice.
-Set your moral compass to do what is right, even when it is not easy.
-Take pride in your successes, but stay humbled by all that you have left to learn.
-Be quick to compliment and offer a kind word, hold back the criticism, think before you hit "Send" and never be a troll.
-Remember who you are and from whence you came.
-Reach out to your friends – your real friends, these people here tonight, not the hundreds of electronic ones who you would never recognize on the street and who come and go if you don't "like" enough of their pictures. Just say hello, tell them you thought about them.
In that moment, it can mean everything and you may never even know it.
-Give yourself permission to make mistakes. Don't look back with regret over them,
but forward with new resolve to learn from them.
-Word hard, don't look for the easy way out, complete what you start and never, ever give up.
– Don't be afraid of the road less traveled by for it can indeed, make all the difference.
I want to thank you for the lessons you have taught me. I will cherish them always. And I hope you enjoyed the tea.