Wesleyan Students Help Local Preschoolers Get a Kickstart on Kindergarten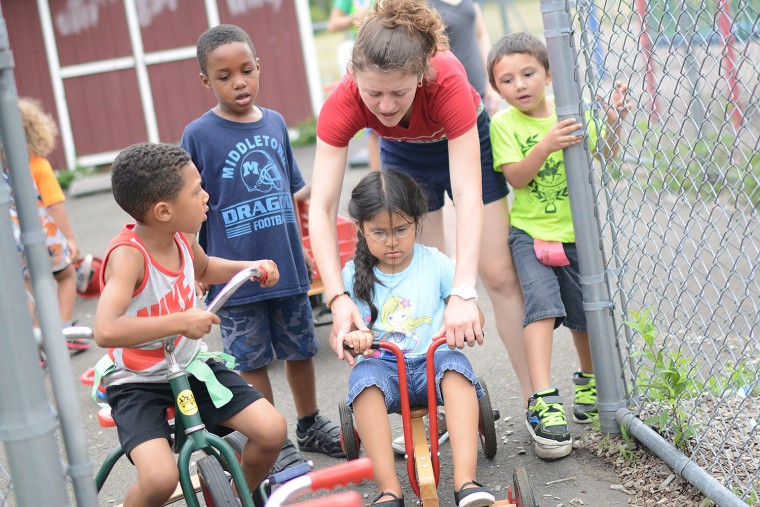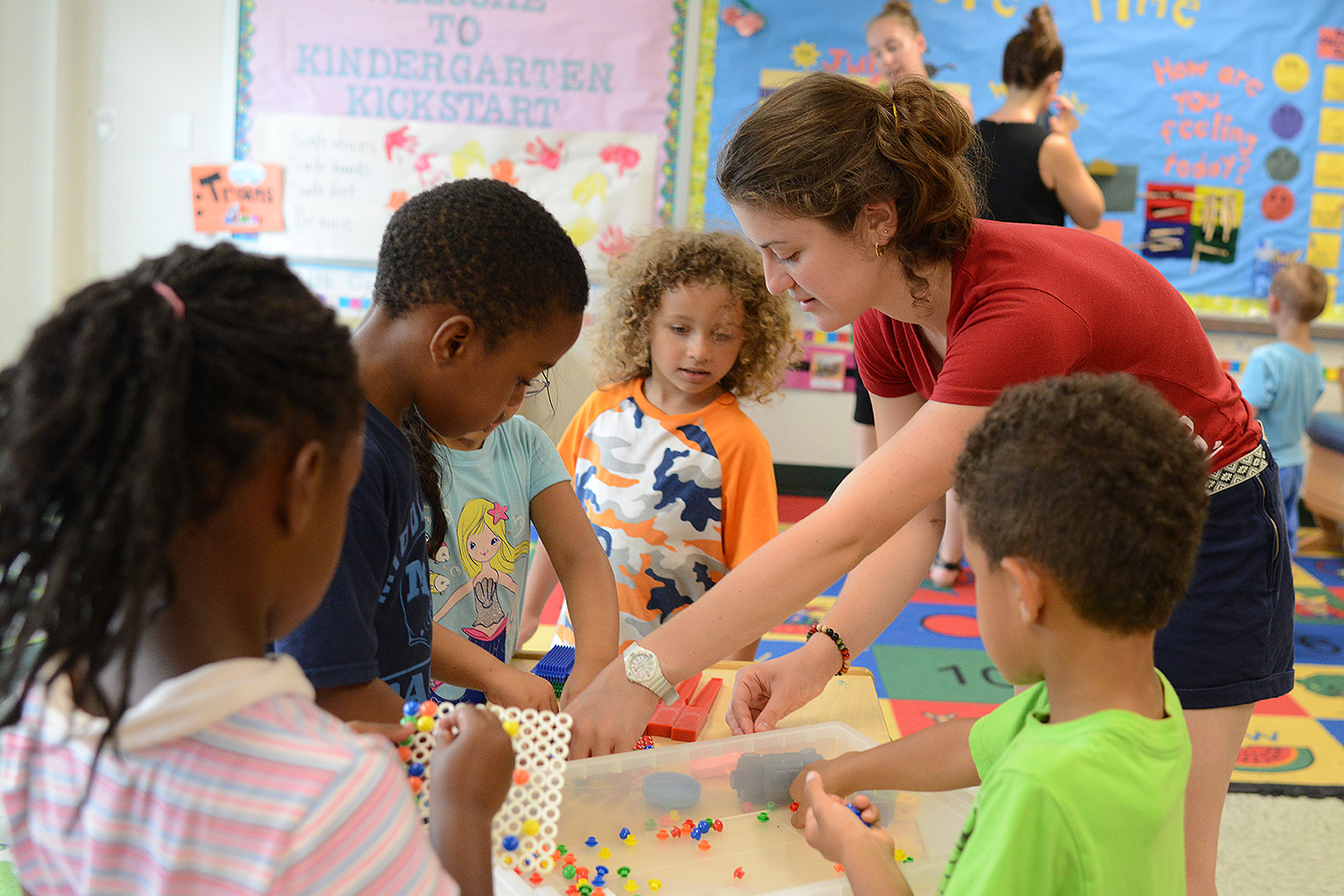 Kindergarten Kickstart, a research-based, summer pre-K program for children in Middletown created by Associate Professor of Psychology Anna Shusterman and her students, is celebrating its fifth year. It's marking the occasion with an event July 20 at the Middletown Roller Skating Rink (free for any current or past Kickstart family, 4 to 6 p.m.) and using a new grant to further develop student innovation in the program.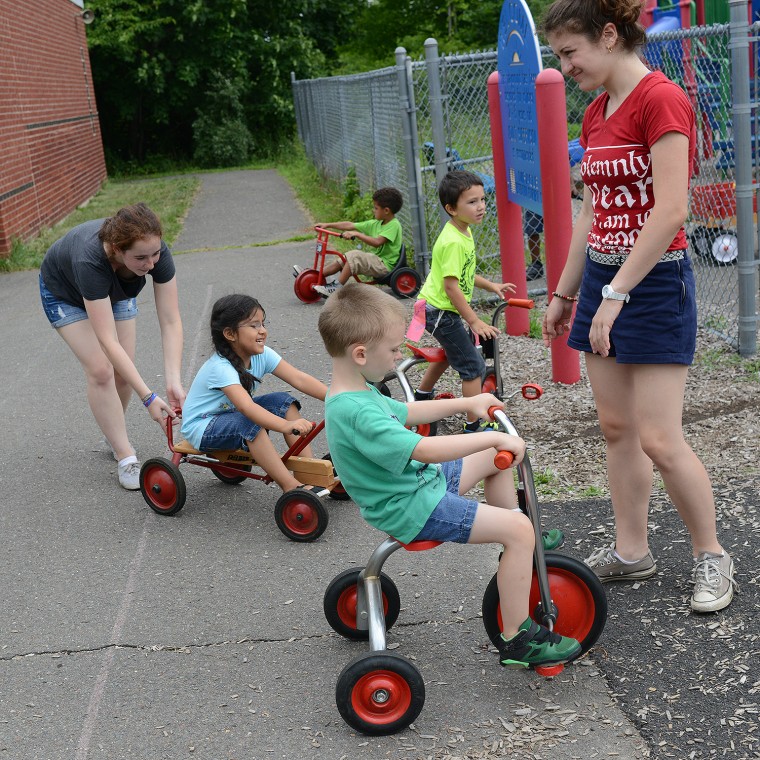 Shusterman and three of her students first launched Kindergarten Kickstart in summer 2012 as a pilot program with 15 children at MacDonough School. They designed the curriculum and taught the program together with a MacDonough teacher. Today, this five-week program serves 35 children at Bielefield and Farm Hill schools (who will be entering kindergarten at those schools plus MacDonough), with six Wesleyan undergraduates and recent alumni leading the classes and developing the curriculum. A certified teacher continues to work at each site. Funding comes from a variety of sources, including a small budget from Wesleyan's Provost, the Foundation for Greater Hartford, Safe Schools/Healthy Students, and a seed grant from Wesleyan's Patricelli Center for Social Entrepreneurship.
The program is intended for children who could benefit from an extra pre-school experience before beginning kindergarten in the fall. Through a partnership between university-based research labs, Middletown Public Schools and local community organizations, Kindergarten Kickstart aims to bridge the research-to-practice gap and improve participants' school readiness skills through a short-term, high-impact, low-cost preschool program.
According to Shusterman, children in low-income neighborhoods start kindergarten with academic skills up to two years behind their peers. Research shows that quality early childhood education makes a huge difference in helping to shrink this achievement gap. In fact, economists estimate a $7 return for every $1 invested in early childhood education, resulting from lower spending on school remediation, incarceration, unemployment and other programs that become necessary when children do not start out on the right foot.
Shusterman said Kindergarten Kickstart was started as a way to put early childhood research into practice.
"Scientists just haven't done a good job in the last several decades of disseminating to early childhood teachers information that they can use," she explained. "I wanted to run a high-quality program where we could figure out what the research findings mean in a preschool classroom. I'd like to do a better job of sharing research findings in a practical way with teachers."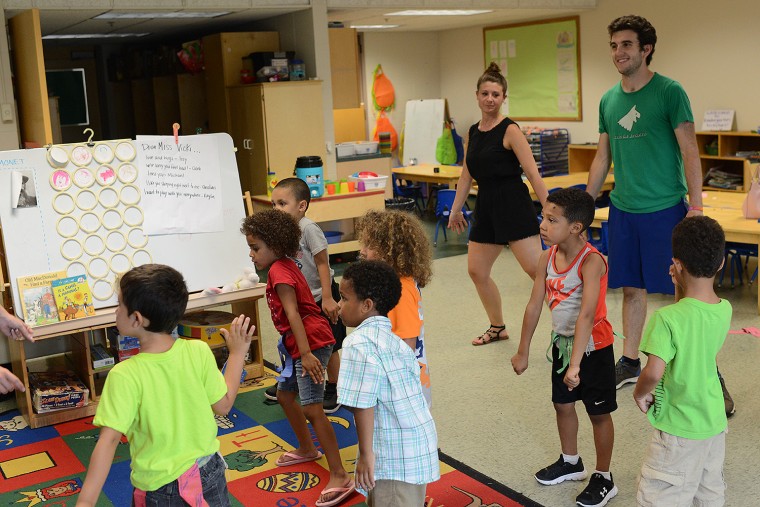 Shusterman and her students collaborate with research labs at Oregon State University and Yale University, which are developing curricula focused on self-regulation and emotional skills.
"Because the Wesleyan students can be teachers but can also look at the research with a critical eye, they can test out the curricula to see what works and what can be improved," she said. "We provide feedback to the research groups that will be rolling out the curricula."
The curriculum of Kindergarten Kickstart focuses on specific skills—including self-regulation and emotional intelligence, early math and literacy skills, background knowledge about the world, and motor development—that research has shown to predict later positive outcomes in school.
"I am interested in kids making a smoother transition to kindergarten, but I'm more interested in those factors that predict 8th grade graduation, high school success, and so on," said Shusterman.
So far, the outcomes look promising.
"In every cohort, we've seen an improvement on the DIAL 4 (Developmental Indicators for the Assessment of Learning), a standardized school readiness indicator that predicts later school success," said Shusterman. "We've seen statistically significant results—kids going from below average performance to average or above."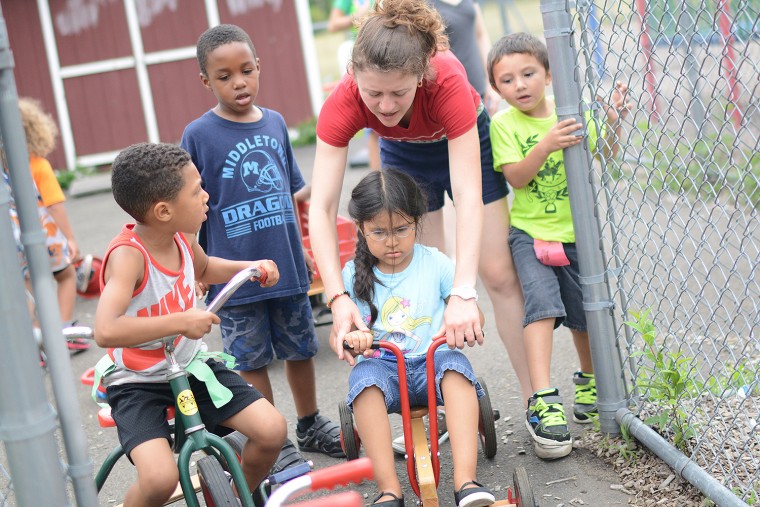 The early success of the program was recognized this spring, when Kindergarten Kickstart was one of three student social ventures to win a $5,000 seed grant in the Patricelli Center for Social Entrepreneurship's annual Seed Grant Challenge. Stephanie Blumenstock '16, one of three students to spearhead the seed grant, is working in the Kindergarten Kickstart classrooms this summer. She's assisted by Megan Dolan '17, Ben Hornung '18, Sara Dean '17. Natalie May '18 and Xavier Cornejo '18.
"The students wanted to work more closely with the educational researchers whose work we implement, and to develop our own set of literacy tools," which they hope to market to other Middletown teachers in the near future, she explained. "The seed grant offers a good opportunity for us to not just provide a preschool experience to kids who can benefit from it, but also think about the research we have access to as students, and how we can leverage those resources to make something really meaningful."
Vicki Shaw is a Middletown public schools teacher who is co-teaching Kindergarten Kickstart classes this summer.
"From a teaching perspective, we don't have a lot of time to explore all the research that the Wesleyan students have access to. The exposure to it creates a nice balance," she said. "The Wesleyan student teachers bring a great enthusiasm to the program. It's cool to see the lessons they plan, and how they adjust those based on the kids' responses."
According to Shusterman, the Kindergarten Kickstart team also holds several family engagement workshops each summer to show parents how to integrate what they're learning in the classroom.
More information is available on the Kindergarten Kickstart website, and regular updates are made on this blog. Read more about how the program was started in this 2012 story.