Students at Wesleyan, in Madrid Collaborate through Teleconferencing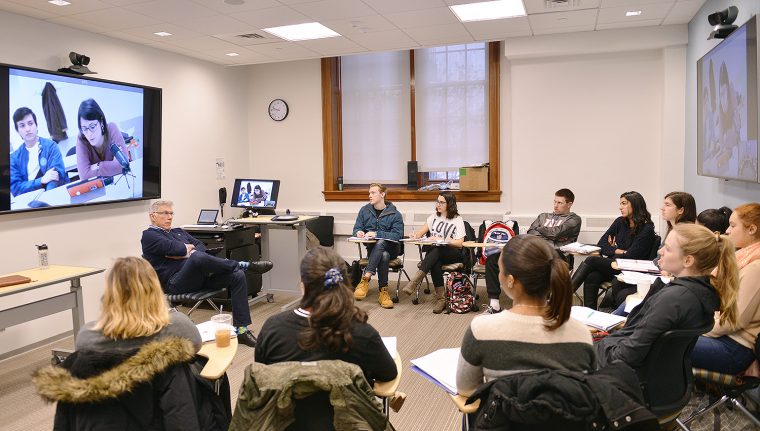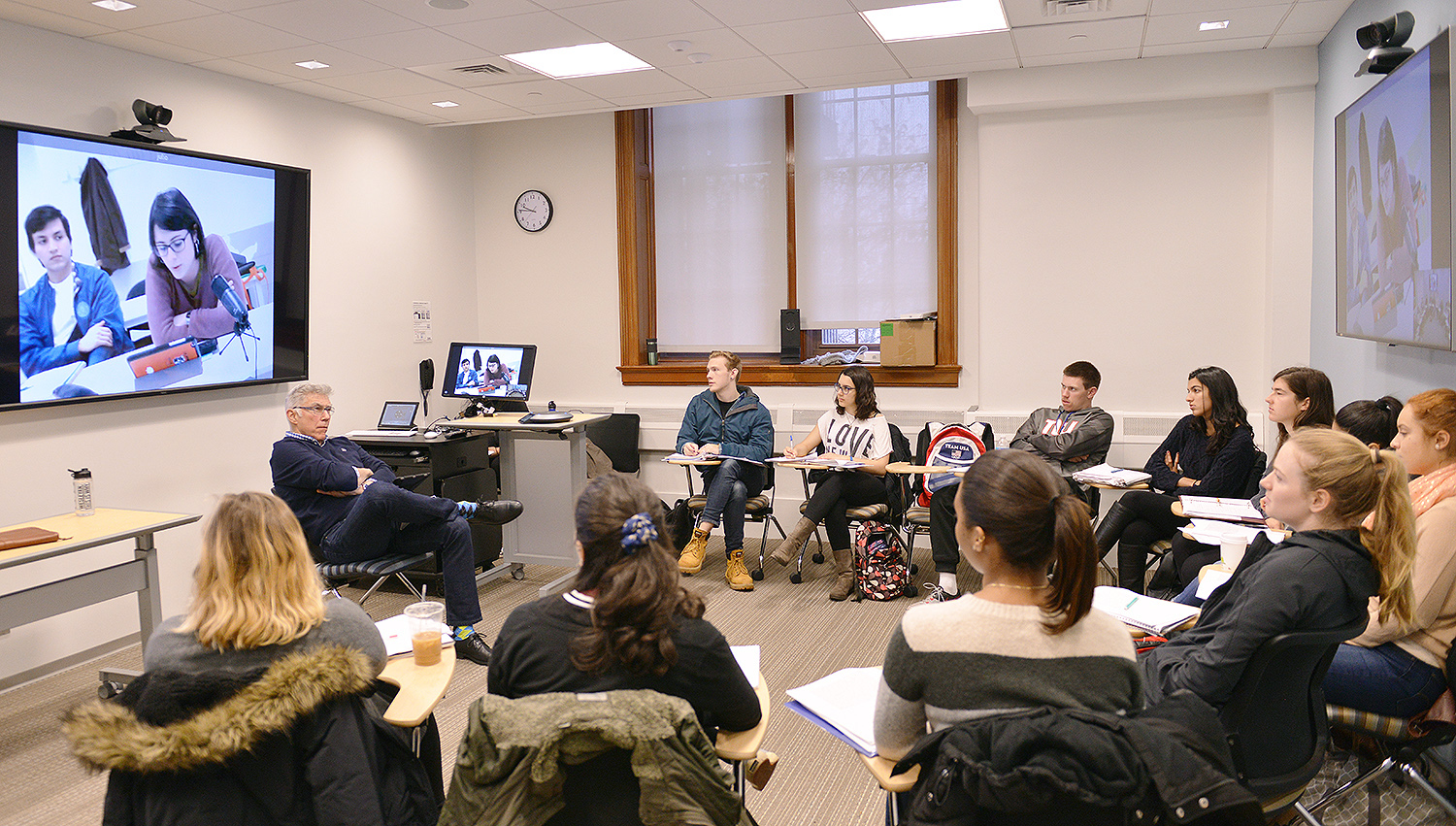 This semester, students in Antonio Gonzalez's Spanish 258, "The Intercultural Stage: Migration and the Performing Arts in the Hispanic World" have been experiencing what they study. With the assistance of a videoconferencing system, the Wesleyan students are "joined" in the classroom periodically by a group of students studying at Universidad Carlos III de Madrid (Charles III University in Madrid, Spain).
Gonzalez, professor of Spanish, co-teaches the course with his colleague in Spain, Julio Checa. Checa also works on modern/contemporary Spanish theater and performance, and the two have collaborated on various scholarly projects over the years. They previously ran the trans-Atlantic teaching project in spring 2014 using Skype, which Gonzalez said was much more rudimentary than the videoconferencing technology available now.
As director of the Center for Global Studies, Gonzalez was deeply involved in planning for the Fisk Hall renovation project, which included choosing the video conferencing system installed in the new telepresence classrooms.
"Getting this course up and running and getting the technology to function smoothly has been a huge job," he said.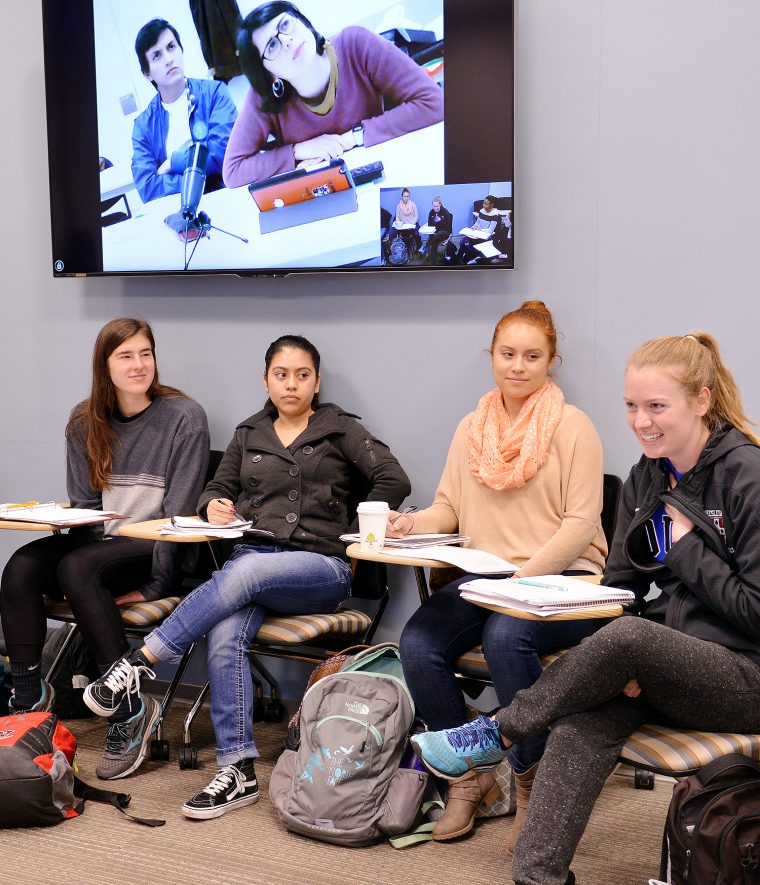 Working around their respective class schedules and the time difference, the two professors have been able to join their classes four times so far this semester. Each session involved a 40-minute debate concerning the readings for the week.
"The intercultural make-up of our joint sessions adds a certain real dimension to the class," said Gonzalez. "To a degree, we are experiencing what we study. Julio's class regularly includes students from different countries and cultural and linguistic backgrounds, as does mine.
"This past week students from Colombia, Ecuador, Spain, the U.S., Mexico and Jamaica shared their ideas concerning the representation of women in relation to the migratory experience, on the border and in their places of origin: from small towns in the Atlas mountains of Morocco, Chiapas (southern Mexico), and Guatemala, for instance, to Gibraltar, Ciudad Juarez and Tijuana" he added.
Gonzalez's students have expressed deep appreciation for the experience.
"I have found the 'intercambio' with the class at Carlos III to be very helpful and interesting so far," said Lydia Elmer '17. "I think that the intercambio offers our class at Wesleyan the opportunity to hear perspectives and ideas from students whose first language is Spanish, something not common in classes here. The opportunity to discuss with native speakers at a higher level has helped me formulate my thoughts, deepen my understanding, and improve my Spanish all at the same time. I have also found the experience to be eye-opening because the Spanish students come from different personal backgrounds and different pedagogical backgrounds that offer Wesleyan students a fresh perspective."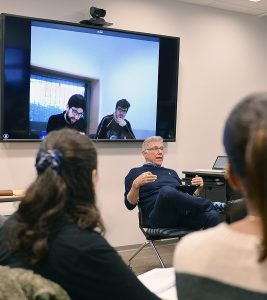 "The 'otherness' of the perspectives is huge. It has to do not only with the cultural differences: the fact that Yvonne, from Colombia, and Santiago, from Ecuador, spoke up in the Spanish classroom. There is something else at work, that we might call 'institutional' culture," said Gonzalez. "What drives students to a university degree in other countries is not necessarily what is driving students to Wesleyan. Also, Julio's students are enrolled in the master's program. These and other differences are at work; Julio and I can see them. I think that they are positive forces, even though our students may not be cognizant of them.
"In short, I think my students are having an educational experience that they will continue to process well beyond the classroom."
Thus far, the two groups have been integrated in classroom discussions and on Moodle forums. In the future, Gonzalez aims to achieve even greater integration of the two student groups through individual projects, presentations, out-of-classroom connections, and other means.
He plans to teach this course again next year, and has been in conversations with other professors about using the technology for international collaborations of their own.