Mastrogiovanni '79, Lala Pettibone and the Writing While Female Tour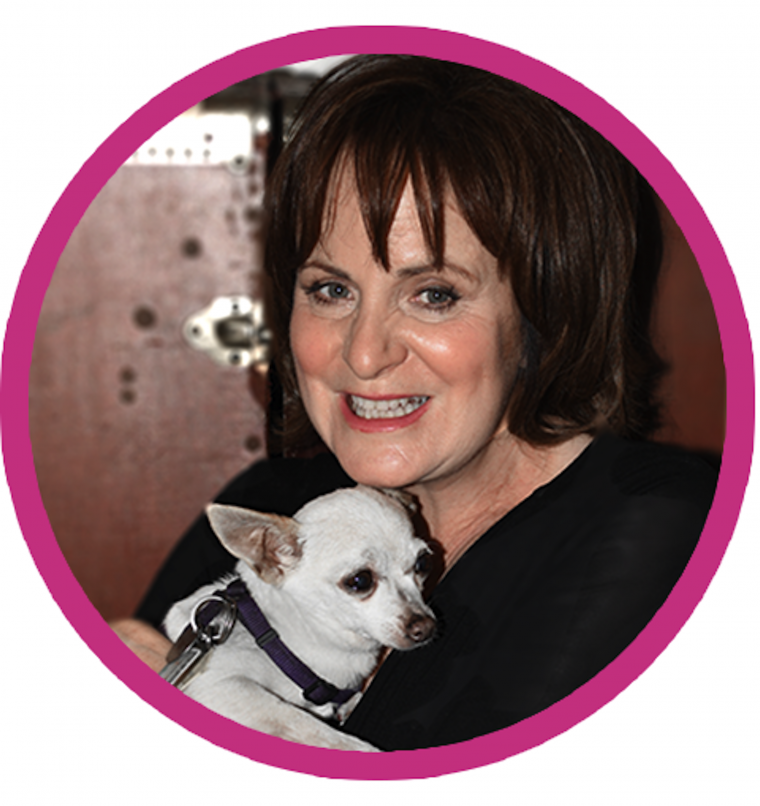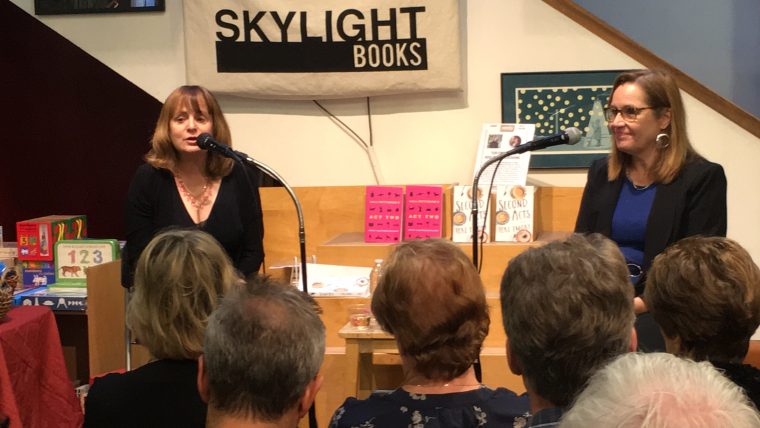 "The title character is, of course, a Wesleyan graduate," says author Heidi Mastrogiovanni '79, of her debut comic novel, Lala Pettibone's Act Two (Amberjack Publishing, 2017). The novelist herself is also a comic actor, an animal welfare advocate and a screenwriter—and her second novel, sequel Lala Pettibone: Standing Room Only, will be available in August. To celebrate, she and a fellow Amberjack author—with similarly titled books, both with a reference to a second act—visited bookstores and venues across the country to talk about the writer's life and the ways in which a book written by a female is perceived, welcomed and marketed.
In a question-and-answer interview, Mastrogiovanni speaks about her journey from Wesleyan to cross-country author's events.
Q: You were a German and theater major at Wesleyan. How did this translate into a career in writing?
H.M.: Looking back, the connection is clear. It was at Wesleyan where I really grew to love spending time in the company of words. We read so much wonderful German literature, it was almost impossible to not be inspired. And being an actor in the Theater Department provided a solid foundation for developing an ear for dialogue—absolutely essential to a writer in any medium. Both majors shared an appreciation for the profound power of words.
After college, I moved to New York (back when you could still get a one-bedroom for less than $500 a month: AKA, the Stone Age) and formed a sketch comedy group with people I met at Manhattan Punch Line Theater. That's when the urge to write really hit. We needed new material all the time, so I started writing sketches with another performer in the group. I discovered that saying a line and getting a laugh was addictive, and especially compelling when I'd also written the line.
Q: Where did the character of Lala Pettibone come from—how did she arrive in your head?
H.M.: Lala had such an unexpected arrival. My ideas for stories often come from an observed moment, a snippet of thought, a piece of overheard dialogue. Lala had two distinct phases in her journey to the forefront of my mind. It began with the first dog my husband and I adopted together, a wonderful, 12-year-old Beagle we named Eunice Petunia, because it just fit. Eunice had a lot of nicknames, among them "Baba Ganoush" and "Lala." I have always believed—to borrow from T.S. Eliot's words regarding the naming of cats—that a dog should have at least three different names.
Months after Eunice joined our family, the phrase "Lala Pettibone, Journalist to the Stars," popped into my head out of nowhere. That was the first time Lala's full name appeared to me—although she didn't end up being a journalist to the stars.
Lala Pettibone is a lot like me in many respects. We're both Wesleyan graduates, we were both widowed at a young age and found love again in our Act Two, and we both overuse ellipses in our writing. . . .
Q: And what is your writing process? How did Lala move from your head to the page?
H.M.: I have a small group of writers in Los Angeles whose work I greatly respect and whom I also count among my closest friends. We support and critique our work together, and I find that absolutely invaluable. When I get an idea for a novel, I write it out as a five-to-six double-spaced page short story in the present tense . . . "Lala goes to Paris to visit the set of the movie. During the first day of shooting on a farm outside the city, she is over-served white wine by Thierry, a charming member of the craft services staff, and ends up napping in her chair next to the director for the entire afternoon."
When I have made the short story as compelling as I can, when I have brought it to the point where I think it's the opening phase of a novel I would love to read, I send it to my friends, always with the understanding that I want to know if the story works overall, if there are pieces that don't work, and if there are places where I have missed a chance to elevate some aspect of the story. And it's always with the understanding that I trust my friends to be entirely honest. They suggest changes, I implement the changes that speak to me, and once they have signed off on the story and I have signed off on it, I start writing the manuscript.
In terms of the actual writing: I sit on my couch with my laptop on a portable desk. Our dogs are snoring in various locations around the living room, and Law and Order: SVU is on very low in the background (there's almost never a day when a marathon of that show isn't on some channel, which leads me to believe that we live in a benevolent universe). At one point in time, I would have been embarrassed to admit that, but then I went to the American Booksellers Association Winter Institute in 2017, and Roxane Gay, a writer I tremendously admire, was one of the keynote speakers. It was all I could do not to yelp when she told us that Law and Order: SVU is usually the soundtrack to her writing.
The first Lala book, Lala Pettibone's Act Two, came out in fits and starts. I think I was discovering who Lala is as I was writing. The sequel, Lala Pettibone: Standing Room Only, (and forgive me for leaning on this cliché) practically wrote itself.
In both cases, my treasured friends had to give me their stamps of approval before I sent the manuscripts to my publishers.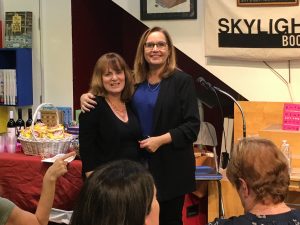 Q: Your tour—"Writing While Female"—will you talk about that? What are the challenges of "writing while female"?
H.M.: The tour came about in a wonderfully seamless way. Teri Emory, my friend and colleague on the tour, is also published by Amberjack Publishing (and may I pause to add a big "Thank You!" to the fabulous team at Amberjack; working with them is a writer's dream). We found each other because our novels have very similar titles—hers is Second Acts, and, though its tone is quite different, both our novels deal with women making big changes in their lives.
When Teri and I started talking, we began to reflect on the idea of "women's fiction." I remember commenting that John Irving, my favorite contemporary author, doesn't have his books shelved in the men's fiction section of a bookstore or library because, as far as I know, there's no such thing. John Irving's work always shows up in the fiction section, despite the fact (and I think I'm remembering this correctly) that virtually all of his protagonists are men.
Teri and I loved the idea of touring together. It just made an already fun and energizing experience even more fun and energizing. And we thought that it would be an honor to be among the writers who are giving voice to the experience of writing while female.
I do think one of the biggest challenges of writing while female—one that I certainly haven't yet mastered—is how to embrace the genre without being limited by it. Every novel is characterized in some way. There's a mystery section, and historical fiction and science fiction and fantasy. I don't know if authors who fall into those categories wonder about how to make readers who aren't especially fans of their genre read their work. But I wonder—and, again, I don't yet know the answer to this—if work that is categorized as women's fiction is passed over by many male readers.
Another challenge is to not laugh aloud when asked how we juggle our writing work and our personal lives—a question Teri and I have been asked more than once and one I suspect John Irving rarely gets.
Q: What have you learned on the trip? Is there one moment that crystallized the experience, that you think of as the epitome of what you wanted from the journey? Or, conversely, did you find an unexpected revelation?
H.M.: That's a great question. There was a revelation that was very specific and personal to me. My first reading occurred before the Writing While Female tour began. I had my book launch party for the first Lala book at Book Soup in West Hollywood, a wonderful independent bookstore with a staff of writers and readers who couldn't be more delightful and warm and encouraging and supportive. I just love them all. During the reading and the Q&A after, I was reminded of how much I love making people laugh. In realizing that, I decided that I am more of a humorist than a novelist, and that was a revelation that felt like a homecoming. It reminded me of the importance of listening to and trusting your writer's voice.
That kind of comfortable awareness is such a gift to receive from any journey.
Q: Any advice you would give another Wes grad on becoming an author?
H.M.: I love this subject so much, I selected it for an article I was asked to write on a topic of my choosing for a lovely British website, weheartwriting.com. If I may, I'll just go ahead and share the article here:
https://weheartwriting.com/2017/02/the-rule-of-three-and-other-advice-i-would-give-my-young-writer-self-heidi-mastrogiovanni/
If I had to sum up the best piece of advice I can offer to beginning authors, it would be to read and write all the time. Every day, without fail. I discovered in reading that the stories I value and enjoy most have characters with layered relationships and characters who experience transformations. And that's what I have to include in my writing, if I'm going to create work that I find satisfying as a reader.
Oh, and something I remind myself of if I'm feeling overwhelmed by that first blank screen of the manuscript of a new novel: If I were to write only one page a day, at the end of a year or so I would have a first draft. There's really no reason at all not to be able to produce at least one page a day. Don't worry about the quality; just get it written down for the first draft. I find that's also a good way to avoid any problems with writer's block. For me, it takes all the pressure off and just leaves the fun of writing.
Q: What's next? Will Lala have other escapades? Or are there other characters rattling around in your head, looking for a way out?
H.M.: She will, indeed. And I love your choice of the word "escapades" to describe her adventures. I've also been calling them "shenanigans," which is another word I love. Amberjack is releasing the second Lala book in August of 2018. And I'm currently working on the prequel. Yes, I probably have George Lucas and the Star Wars movies to thank for the concept of a prequel, but the idea itself came from one of my closest friends, who said she wanted to know how Lala met her first husband and how she was widowed. So Lala Pettibone: Curtain Up (working title) begins just after Lala graduates from Wesleyan and moves to New York City.
I'm also outlining a comedic novel inspired by P.G. Wodehouse's Jeeves and Wooster characters. I'm honored to share a birthday with Wodehouse (and Nietzsche, but that's another story . . .), and I love his characters. My versions of Jeeves and Wooster are young women who meet in college and who end up as a member of the House of Representatives and her Chief of Staff, respectively.
Q: And your work in animal rescue—how does that influence your writing?
H.M.: I can't tell you how much I appreciate that question. I want to grab every chance to be heard, to get on a soapbox, to give voice to the voiceless. Promoting animal welfare has been one of the main goals of my adult life. I feel strongly that children and animals need our help and our protection, because they are so precious and so vulnerable. If writing comedic novels brings my written and spoken words to the attention of anyone, I want to use that opportunity to advocate for animals.
My priority also finds its way into my actual work, of course. Lala and I are both vegetarians, and we both adopt senior dogs. I don't think I will be writing any scenes in any future work wherein the characters hang out in a backyard barbecuing steaks. It would probably be a very big artistic challenge for me to create a sympathetic character who didn't share my values vis-à-vis animals . . . and I have to confess that I'm pretty sure that's not a challenge I want to take on.