Research by Service-Learning Class Published in Archaeological Society Bulletin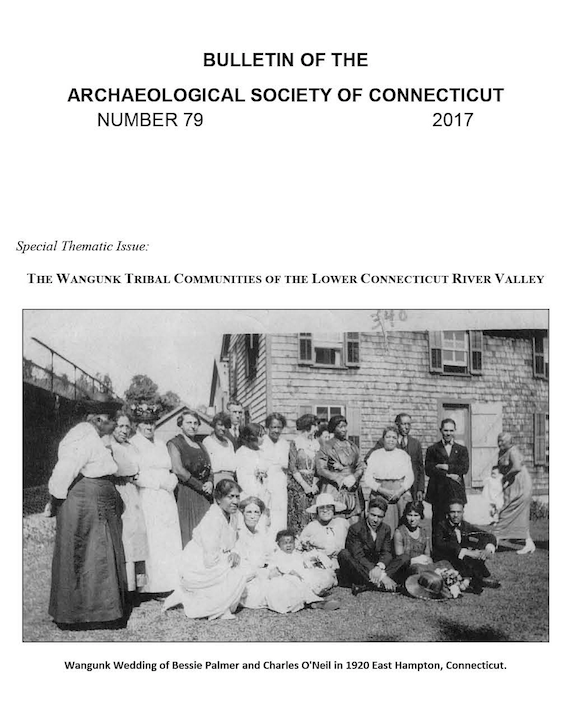 Four former students who enrolled in the service-learning course AMST 250: Decolonizing Indigenous Middletown: Native Histories of the Wangunk Indian People—taught in fall 2015—are now co-authors of articles published in the Bulletin of the Archaeological Society of Connecticut, No. 79, 2017.
Iryelis Lopez '17, Tiana Quinones '17, Abigail Cunniff '17 and Yael Horowitz '17 partnered with the Middlesex County Historical Society and spent their semester examining 17th- and 18th-century Middletown records that focused on the Algonquian peoples of the lower Connecticut River known as Wangunks. The Wangunks lived near the Connecticut River primarily in present-day Middletown and Portland, Conn.
In February 2016, self-selected students presented their class research papers to the broader Middletown community at an event held at Russell Library called, "Searching for Indigenous Middletown." The gathering was organized by course instructor J. Kehaulani Kauanui. Kauanui is professor of American studies, professor of anthropology, chair of the American Studies Department and director of the Center for the Americas.
The Bulletin's editor, Lucianne Lavin, was in attendance and heard the students' presentations. Lavin, who also directs the American Indian Studies Institute in Washington, Conn., later invited the young researchers to have their papers published in the Bulletin.
In addition to being published in the Bulletin, research by the students resulted in the first Wikipedia entry on the Wangunk.
The published papers include "Town Bills of Middletown: Material Histories of Settler Colonialism and Indigenous Erasure" by Yael Horowitz '17; "Decolonizing Indigenous Middletown" by Iryelis Lopez '17 and Tiana Quinones '17; and "Militia, Security, and Smallpox in Middletown Settler Society as Related to the Wangunk People (1754–1785)" by Abigail Cunniff '17.
The special issue contains five other pieces that emerged from an event Kauanui organized in December 2015 on campus at the Russell House, including "Challenging Settler Colonialism in the Recovery of Wangunk Tribal History" by Kauanui; "Pre-Colonial History of the Wangunk" by Lucianne Lavin; "A Brief History of the Wangunk Reservation" by Timothy Ives; "Indigenous Middletown: Settler Colonial and Wangunk Tribal History" by Reginald Bacon; and "Growing Up Wangunk" by Gary O'Neil.
Kauanui has since retooled the course as a "First Year Initiative" class that was taught last semester as a seminar for first-year students, called "Indigenous Middletown." Besides focusing on the sparsely documented history of the Wangunk, students are introduced to the fields of settler colonial studies, the rapidly transforming field of critical indigenous studies, along with Native American history and historiography addressing southern New England. "And perhaps most importantly," Kauanui says, "they learn that the Wangunk people continue to live into the 21st century."