Wes Press Poet Wins Anisfield-Wolf Book Award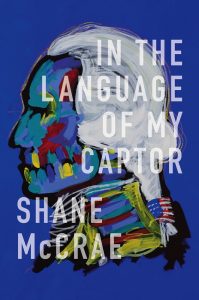 In the Language of My Captor, a much-lauded book of poetry by Shane McCrae published by Wesleyan University Press, is the recipient of the 83rd Annual Anisfield-Wolf Book Award in the category of poetry. This is the only national juried prize for literature that confronts racism and explores diversity.
According to the Cleveland Foundation, which presents the award, McCrae "interrogates history and perspective" with In the Language of My Captor, "including the connections between racism and love."
"He uses historic persona poems and prose memoir to address the illusory freedom between both black and white Americans," according to the foundation's press release.
"These voices worm their way inside your head; deceptively simple language layers complexity upon complexity until we are shaped in the same socialized racial webbing as the African exhibited at the zoo or the Jim Crow universe that Banjo Yes learned to survive in ('You can be free//Or you can live')," said Rita Dove, one of the jurors for the prize.
In the Language of My Captor was previously long-listed for the National Book Award and chosen as a finalist for the Los Angeles Times Book Prize.