Students Organize TEDxWesleyanU, Host Distinguished Speakers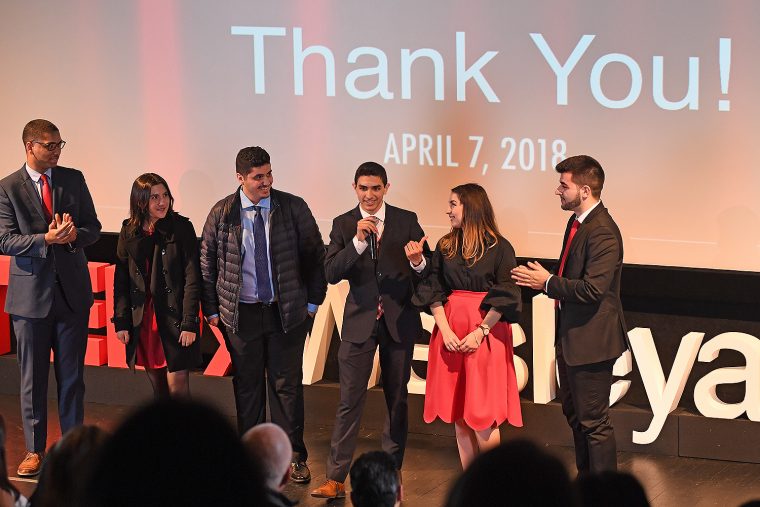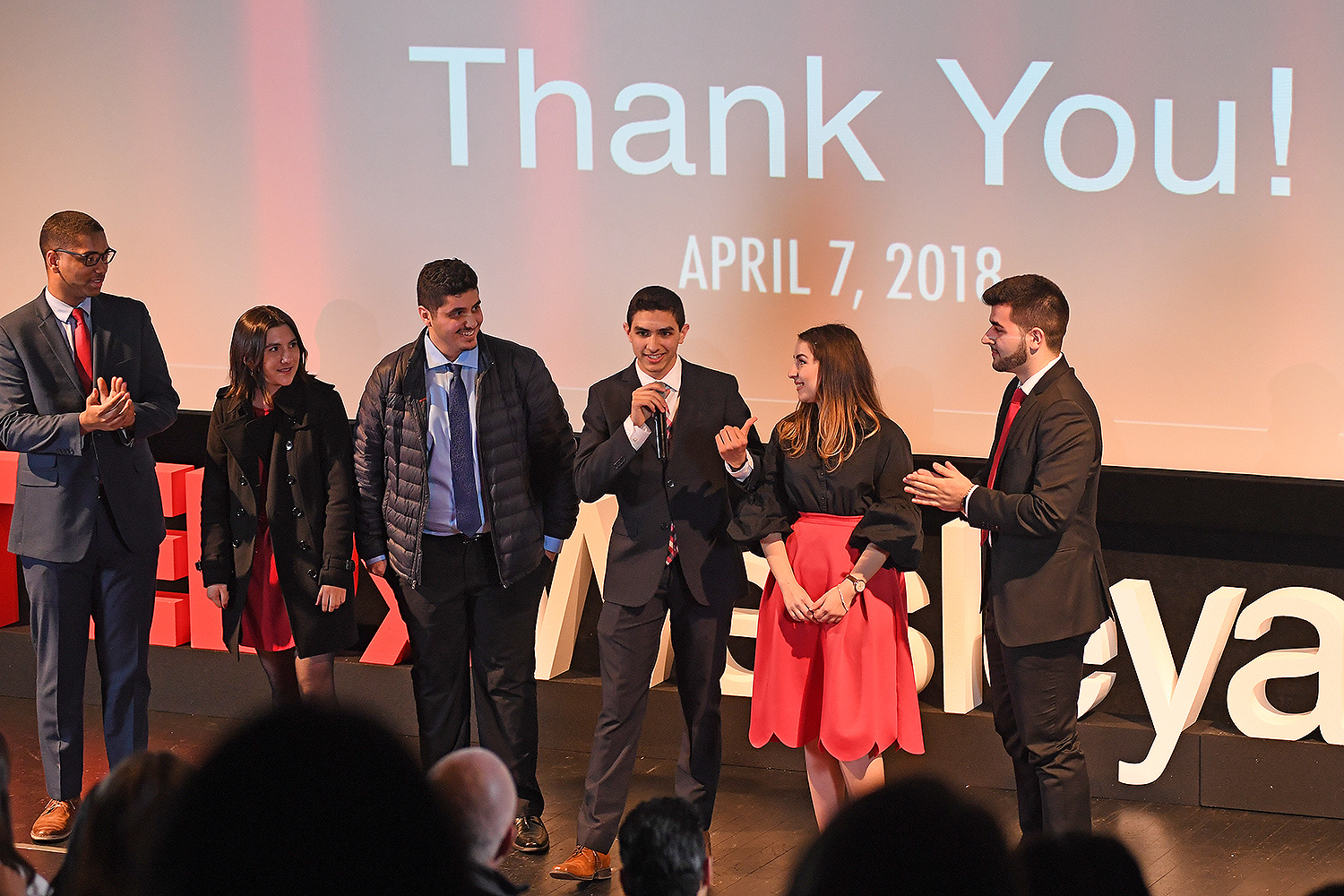 Nationally known leaders and distinguished Wesleyan alumni and faculty presented short, powerful talks during the inaugural TEDxWesleyanU event April 7 in the Ring Family Performing Arts Hall.
Launched in 2009, TEDx is a program of locally organized events that bring the community together to share a TED-like experience. At a TEDx event, TED Talks video and live speakers combine to spark deep discussion and connection. Some of the best talks from TEDx events have gone on to be featured on TED.com and garnered millions of views from audiences across the globe.
Speakers included Maria Santana '98, a correspondent for CNN en Español; Connecticut State Representative Matthew Lesser '10; Middletown Mayor Dan Drew; National Geographic photographer Michael Yamashita '71; national radio host Angela Yee '97, and others. (View photos of the speakers below this article. View bios of all 13 speakers here.)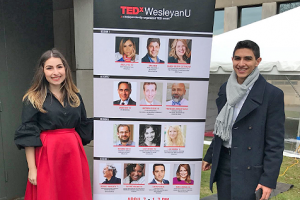 "The current political climate is characterized by the lack of conversations taking place between people of opposing sides and viewpoints. TEDxWesleyanU is the launchpad we need to kickstart an unprecedented level of dialogue," said Eunes Harun '20, who spearheaded the event. "The TEDx mission and Wesleyan's values align so heavily in the fostering of ideas and sparking dialogue. This event further emphasizes how Wesleyan is at the forefront of confronting current political and social issues in an effort to ultimately make the world a better place."
Harun came up with the idea to host a TEDx event after tossing off ideas to his roommate, Alex Harold '20, and neighbor Leo Merturi '20. The tri-founders soon created a TEDxWesleyanU core team including Melisa Olgun '20; Anthony Price '20, and Thafir Elzofri '19. Zoe Reifel '21, who organized a TEDx event as a high school student, joined the team late to offer her experiences and input. Collaboratively, the group spent more than a year-and-a-half planning the inaugural event, which "has been one of the most impactful learning experiences of my life," Harun said.
"The team was blown away by the response to TEDxWesleyanU. After sessions began to sell out minutes after going on sale, we were ecstatic to see nearly 1,000 people be inspired by the TEDx talks both in person as well as online (watching through live, streaming media) from 10 countries."
TED is a nonprofit organization devoted to "ideas worth spreading" delivered by today's leading thinkers and doers. Many of these talks are given at TED's annual conference in Vancouver, British Columbia, and made available, free, on TED.com.
"None of this would've been possible if it weren't for Wesleyan, so my message to individuals who believe that Wesleyan doesn't teach valuable and real-life skills is this: They simply don't know what Wes is really like," said Harun. "It's our vision that TEDxWesleyanU 2019 will be an even bigger, more inspiring, and exhilaratingly special, weaving it into the fabric of Wesleyan."
Videos of the TEDxWesleyanU talks will be available soon at http://tedxwesleyanu.com/. Photos of the event are below: