Wesleyan Students Win Prestigious Consulting Competition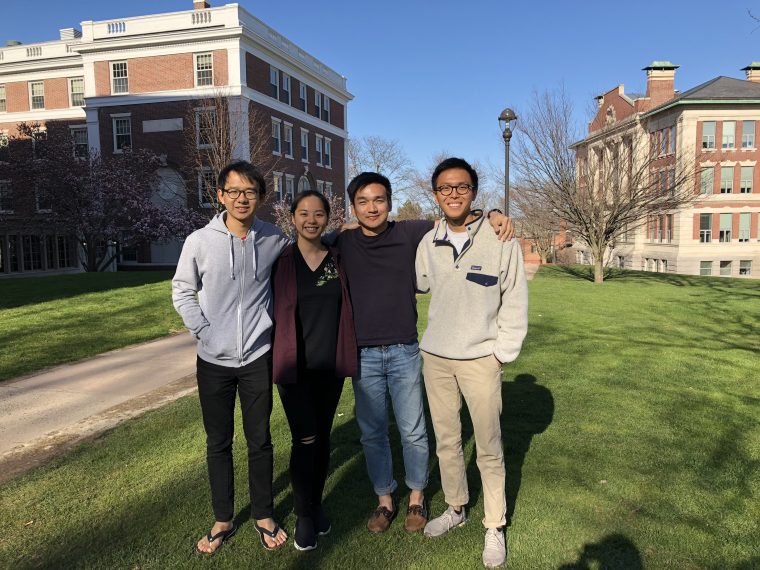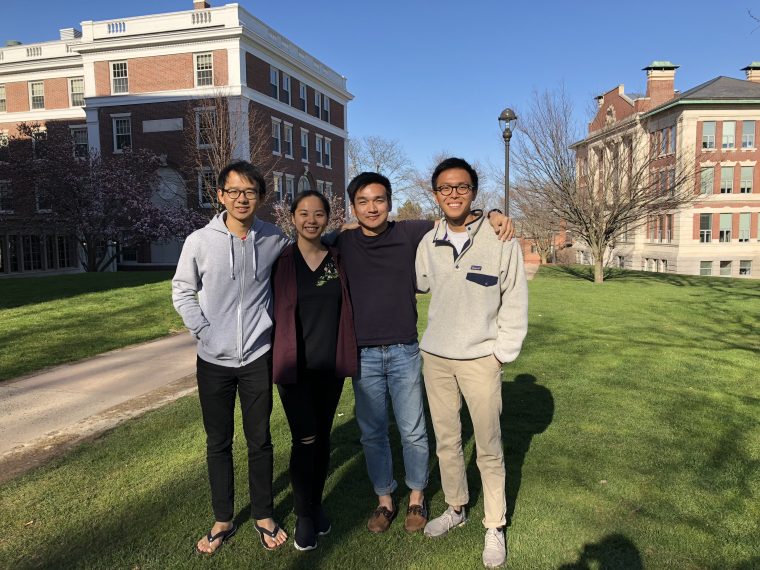 Imagine you are advising a company that is a leading producer of a certain type of fruit product in the United States. The Chinese market has recently opened for export of this fruit product. How should the company best respond to this new market opportunity in China? What is the competition likely to do?
This was the scenario facing 30 teams of students from across 16 schools in the Roland Berger Case for a Cause 2018 competition, which simulates the work of a strategy consultant. Wesleyan's team of four students, sponsored by The Gordon Career Center, tied for first place in the competition, which benefits Make-A-Wish Massachusetts and Rhode Island.
According to Anne Laskowksi, business career advisor at the Gordon Career Center, this was Wesleyan's second year participating in the competition. This year, the four students—Jake Kwang '20, Rosanne Ng '19, Carlo Medina '18, and Justin Liew '18—formed the team on their own. The group met up to three times each week to work on the case, with many additional hours of individual work each week.
Kwang said the team members' diversity of backgrounds—in experience, gender, major, and home country—allowed them to build a strategy based on many unique perspectives. The students broke down the case into two steps using a top-down market approach. First, they used data provided to identify which products and which region would have unmet demand. Then, they developed a strategy to help the client firm enter the product markets while mitigating potential risks and constraints, said Kwang, a sophomore studying computer science and economics.
"We pitched a long-term growth strategy for a berry farm. It involved expanding their product line (without additional capital investment in production capabilities or sacrificing their current market share in North America) and expanding abroad into China through a mutually beneficial joint venture with a competitor," he explained. "In the final round, we made an additional recommendation that the berry farm acquire a smaller supplier of berries at a fair price, because it synergized well with our expansion strategy."
Wesleyan outcompeted 26 teams to make it to the finalist round with 3 other teams from different schools. Finalists in the competition were invited to the Boston offices of Roland Berger—a top global strategy consulting firm headquartered in Munich, Germany—in April to present in front of the firm's partners and principals. Finalists also had a chance to participate in career mentorship discussions and private networking events.
As a result of their win, the Wesleyan students were awarded an automatic first-round interview with Roland Berger, which has 50 offices in 34 different countries.
"I strongly encourage Wes students to participate—even if they are freshmen or sophomores—because not only is it for a meaningful cause, but it's also a way to break into the consulting profession," said Kwang. "The prize is a guaranteed first-round interview for a summer internship or a full-time position."
In addition, the competition helped the students learn many hard skills—including basic financial modeling, data visualization, and different forms of consulting frameworks—and soft skills, such as how to listen to colleagues, the right balance between taking charge and stepping back, and staying cheerful and friendly with colleagues at 4:00 in the morning, Kwang added.
"We are incredibly proud of these students, whose hard work and well-reasoned analysis allowed them to beat out top schools and represent Wesleyan at the highest level," said Sharon Belden Castonguay, director of the Gordon Career Center. "We look forward to sponsoring another team next year!"