Students Inducted into Honor Society, Present Research at American Society for Biochemistry and Molecular Biology Meeting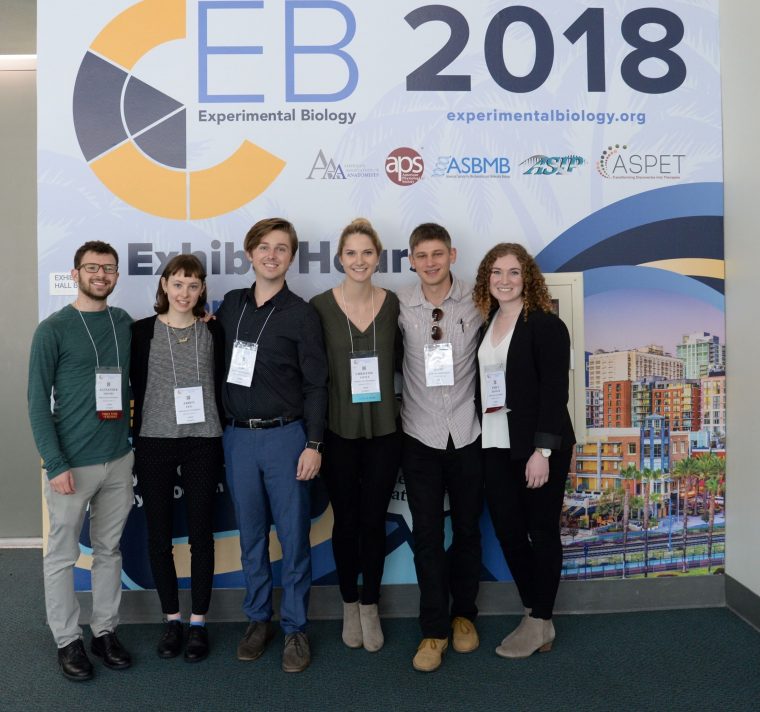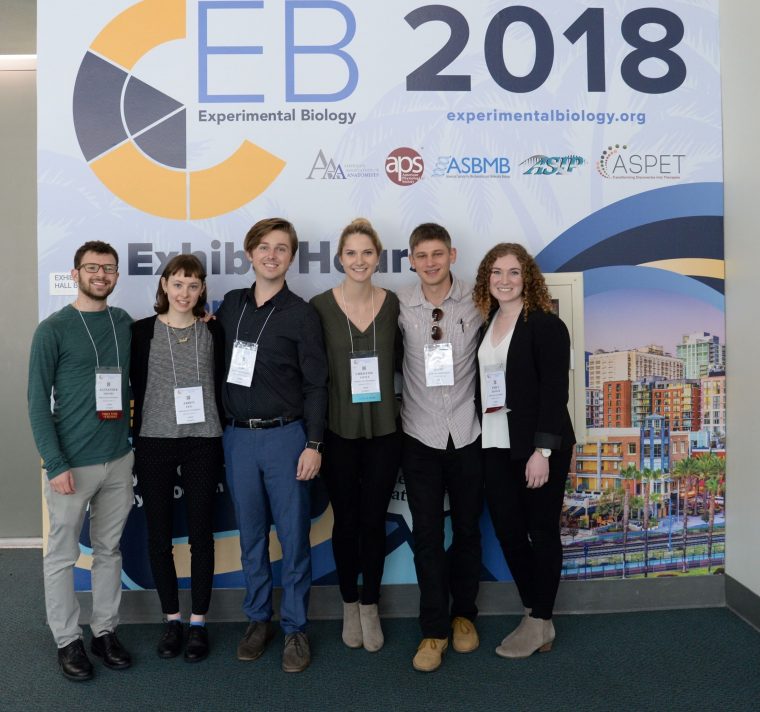 Seven Wesleyan students recently were inducted into the American Society for Biochemistry and Molecular Biology (ASBMB) Honor Society, and many of them presented research posters at the ASBMB annual meeting in San Diego, April 21–25.
The ASBMB Honor Society recognizes exceptional undergraduate juniors and seniors who are pursuing a degree in the molecular life sciences for their scholarly achievement, research accomplishments, and outreach activities. The Wesleyan students inducted were Will Barr '18, Alexa Strauss '19, Emily Kessler '18, Christine Little '18, Julie McDonald '18, Rubye Peyser '18, and Alexander Shames '18.
The following students attended the annual meeting:
• Kessler, whose poster was titled, "Investigating the Mechanistic Basis of Mutant MutS DNA Repair Protein Malfunction in Lynch Syndrome"
• Barr, "An mRNA-rRNA base pairing model for efficient protein translation"
• Little, "Investigation into the Binding Interactions of Saccharomyces cerevisiae Histone H1 with Holliday Junction"
• Shames, "The Long and Short of Synaptonemal Complex Assembly: Investigating the genesis and functional relevance of a smaller Zip1 isoform"
• Cody Hecht '18, "Escherichia coli Heptosyltransferase I: Examining Protein Dynamics with Pyrene Excimer Fluorescence and Tryptophan-Induced Quenching"
• Arden Feil BA/MA '18, "Scraping the Tip of Zip1's Role in Meiotic Chromosome Dynamics: Using lacO/LacI corecruitment to identify crossover promoting factors that interface with the N-terminus of a synaptonemal complex protein"
"It was a joy to present the research that I've been working on for the past two years as a part of Wesleyan's Beckman Scholars Program," said Barr. "Science research can seem like a roller coaster at times, and presenting my research in the company of scientists at all levels of their careers helped me remember just how thrilling this process has been."
The mission of ASBMB is to advance the science of biochemistry and molecular biology through organization of scientific meetings, advocacy for funding of basic research and education, support of science education at all levels, promotion of the diversity of individuals entering the scientific workforce, and publication of a number of scientific and educational journals, including the Journal of Biological Chemistry and the Journal of Lipid Research.