Paik '16 Wins Goldman Sachs Funds for 3D-Printed Housing Nonprofit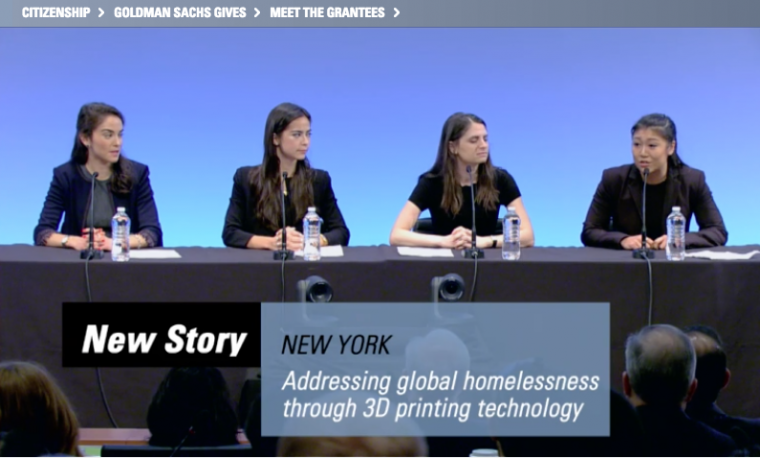 Ellen Paik '16, an analyst at Goldman Sachs, teamed up with three colleagues to pitch New Story, an organization working on developing low-cost housing solutions via 3D printing technology, to Goldman Sachs' CEO and Partnership Committee as part of the Analyst Impact Fund, a global firmwide competition. The prize: a grant to the finalist teams' selected nonprofits. The event was broadcasted live online on Yahoo Finance (see Paik's team come in around 38 minutes).
Paik's group placed second in the global finals and earned New Story $75,000 in support of the organization's 3D printing initiative. The grant will go towards building the very first complex of 3D printed homes constructed by a nonprofit, in El Salvador by 2019.
"The four of us were attracted to the idea of promoting a scalable technology solution that addresses a global issue," explains Paik. "We came across New Story, an organization that we really admired because they involve the local community and government in every step of the home-building process—planning, design, and construction—in ways that many existing organizations do not. New Story has helped over a thousand families in Haiti, El Salvador, and Bolivia that used to live in life-threatening conditions and that have been affected by natural disaster. Now, these families are empowered homeowners and able to better secure economic opportunity, safety, access to education, and a sense of community."
As Paik describes it, "the 3D-home printer developed by New Story works the way a soft-serve ice cream machine would 'print' ice cream—it's a large machine that prints cement in one continuous motion to build each home."
Of importance: the printer can print a home in less than 24 hours for about two-thirds of the cost of building a traditional cinderblock home, while producing zero waste, employing local labor, and utilizing local materials. "That's about 45 times the rate that homes can currently be built, for customizable homes that are simultaneously more durable and cost-efficient," she notes.
This is cutting edge. "New Story printed the first proof-of-concept 3D-printed home in March of this year. In the long term, New Story hopes to democratize this technology and share it with other nonprofit organizations and governments around the world. Working with New Story has been an incredibly exciting experience, as the potential impact of 3D printing technology on the global social housing sector is truly boundless."
"This experience has left me even more appreciative of my time at Wesleyan," says Paik. "My Wesleyan background played a role in giving me the confidence to speak to a large audience about an initiative I deeply care about—advancing social entrepreneurship was a core theme of my college education and a key aspect of the culture I grew up with on campus."