Art by 4 Alumni Featured in Popular Michael Jackson Exhibit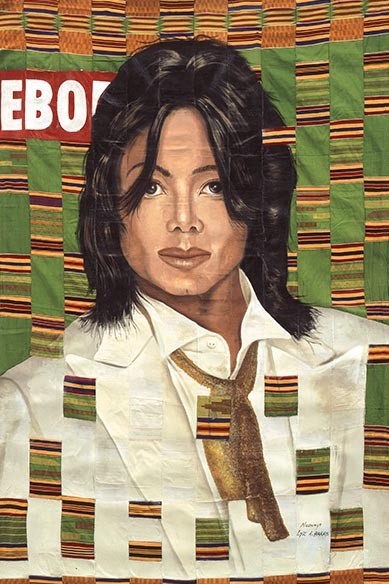 Artistic creations by four Wesleyan alumni are displayed as part of the National Portrait Gallery's landmark exhibit, Michael Jackson on the Wall.
The contemporary art exhibition, which closes on Oct. 21, explores the influence of pop-music icon Michael Jackson and spans several generations of artists across all media. The exhibition opened to coincide with what would have been Jackson's 60th birthday, on Aug. 29, 2018.
The exhibit occupies 14 rooms and includes the works of Glenn Ligon '82, Jonathan Horowitz '87, Michael Gittes '10, and Lyle Ashton Harris '88. The Wesleyan alumni are among 48 artists who have their work displayed, including Andy Warhol,  KAWS, Candice Breitz, David LaChapelle, Kehinde Wiley, and Mark Ryden.
Although the majority of the pieces are drawn from public and private collections around the world, some works were made especially for the exhibition, including an experimental video by American studies major Gittes. Gittes was honored by 43 Wesleyan alumni, students, parents, and friends in London on July 3.
Horowitz, who majored in philosophy at Wesleyan, also contributed a video to On the Wall. In 1997, Horowitz created "The Body Song," which is a video reverse of Jackson's "The Earth Song" music video. In the original video, disaster occurs and is undone through Michael's healing rage. In "The Body Song," disaster occurs and is undone through the repression of Michael's rage.
Ligon '82, an art major, contributed his ink drawing of "Self-Portrait at Seven Years Old."
And Harris, an art studio major, recreated a 2017 cover of Ebony magazine on an African funerary fabric, a year after the King of Pop's death.