Students Perform at 45th Annual Worlds of Dance Concert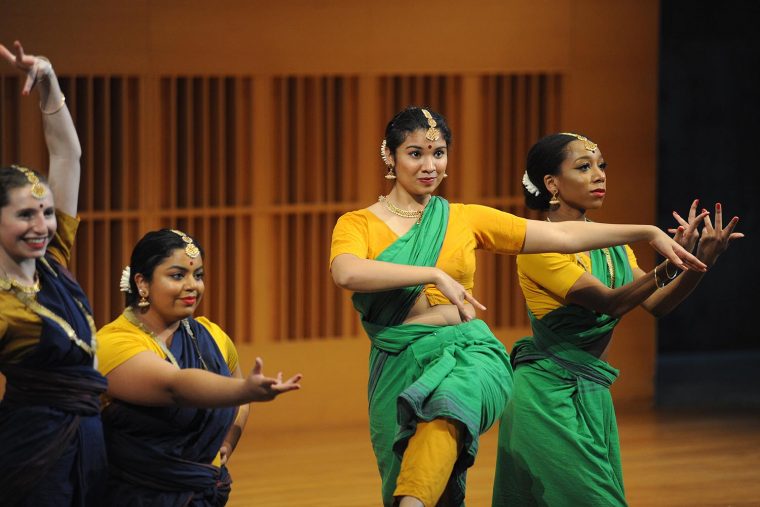 Students who are enrolled in Introduction to Dance, Bharata Natyam I, and Jazz Technique performed during the 45th annual Worlds of Dance Concert Dec. 2 in Crowell Concert Hall.
Introduction to Dance covers the basic components of dance technique—stretching, strengthening, aligning the body, and developing coordination in the execution of rhythmic movement patterns. Through improvisation, composition, and performing, students develop a solid framework applicable to all forms of dance. The class is taught by Katja Kolcio, chair and associate professor of dance; associate professor, environmental studies; and associate professor, Russian, East European, and Eurasian studies.
Bharata Natyam I: Introduction of South Indian Classical Dance is designed to introduce students to the fundamental aesthetic, social, and technical principles underscoring the culture of Bharata Natyam dance in both its indigenous and modern contexts. The course introduces students to Bharata Natyam largely through classroom practice (in the form of rhythmic and interpretive exercises), supplemented by brief lectures outlining the sociohistorical and cultural contexts of the form. The class is taught by Hari Krishnan, associate professor of dance and associate professor, feminist, gender, and sexuality studies.
Jazz Technique is an introduction to the African American jazz dance vernacular. Students learn about alignment, centering, and technique through the context of jazz's African roots. Class sessions consist of movement exploration including a comprehensive warm-up and online discussions and media to better understand the place of jazz dance in society and culture at large. The class is taught by Joya Powell, visiting assistant professor of dance.
Photos of the concert are below: (Photos by Rebecca Goldfarb Terry '19)